Everything in this universe is an amalgamation of the five basic elements of nature – the Panchatantra. The right proportions of these elements concoct together a force to be reckoned with.
A team of five at IIM Udaipur exudes these very qualities –
Aleeza – Fire. The energy and passion that defines the group. Replete with dedication and determination, she pulls the group together to put their best foot forward, never giving up until the end. Living by the ideology that fortune favours the brave, she believes that courage is what it takes to accomplish the best.
Anshul – Space.The vastness and stability of the group. A keen observer and a great listener, Anshul is the trump card of the pack. Known for his focus and concentration he is forever prepared for all challenges that come his way. He uses these innate abilities to interpret everyone's perspective and finally presents the right blend of all ideas.
Rahul – Earth.The bedrock which upholds the group. They say with experience comes wisdom, and rightly so. Rahul brings with his 9 years of experience, an unparalleled vision and an optimistic outlook, which makes him the most respected and admired gem of the team. Exuding the qualities of a great personality, he truly defines selflessness.
Siddhartha – Water.The pervasive flow that strengthens the group. Putting his heart and soul to every task, synonymous with water, he adapts to every situation – perfectly delivering, rather exceeding on every expectation. Armed with sound technical abilities, the team believes he stores magic tricks up his sleeve to reduce mountains into molehills. He is the team's Mr Dependable.
Vibhas– Wind.The perpetual progression of the group. He brings the winds of change to the team's thought-process, compelling them to think differently, to think out-of-the-box. The youngest of the lot, but with the deepest of thoughts, he has the vital ability to read between the lines, cutting through multi-layered information and revealing the hidden picture.
The synergy of these 5 disparate forces has the strength to achieve the unthinkable.
Exemplifying the meaning of team productivity, they possess the spirit that everyone looks up to. Having set the standards high at IIM Udaipur, they hope to encounter a team that will raise the bar even higher.
About the Author: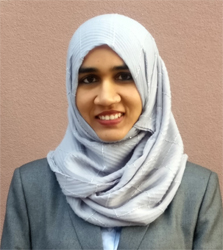 Aleeza is an MBA graduate from the Class of 2020. She is enthusiastic about technology, and continues to work professionally in the Tech domain post her MBA. Passionate about the Art of Public Speaking, Aleeza has vast and proven Stage experience along with being an active theater-artist. Interestingly, she has a keen interest in psychology and is a trained Graphologist as well. You can connect with her on LinkedIn