I do not know if you will come across this note. But I thought of thanking you today. Recognize me? I am IIM Udaipur, five years old, and past my nascent stage now, and walking the road we decided to walk together.
Not very long ago, sixty of you made a choice. A tough one, considering I was just a sapling then, unlike the age old trees that could have perhaps sheltered you better. But you believed in me, watered me every day, every single day, and smiled as each day, I grew just a little bit more. I saw you attend classes, prepare notes, give presentations and tried to be the best that I could, in taking you closer to your dreams.
The gentleman whom they call the Director, gave me my own mission – to be a research institution, an academic institution, an institution which believes in supporting dreams whether they are dreams of starting a new business or those of studying further. Good placements, we believe, is the consequence of good academics, not the cause for it. Five years down the line, we see it has worked. People know me now. They might not agree with everything I do, but I make them think, ponder and wonder. And that itself is my reason to smile. None of this would have worked had it not been for the people who came and became a part of me in the last five years. They enriched me with a part of themselves as well. My walls have stories of success, those of fighting back after every day defeats and stories of learning from mistakes, much like any other place. What makes me special is, there are still a lot of place to scribble new tales, those that have not been written before. Thank you, for filling the first few pages of my book. That gave the courage of hundreds of other students, to write many more chapters. In my halls, we still have your handprints framed. The décor perhaps has changed, but the soul – the soul has not.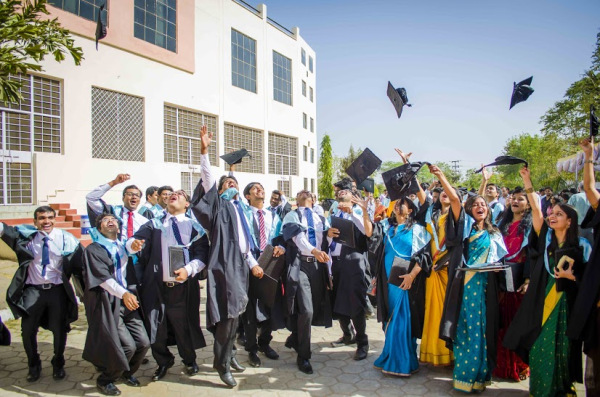 Every batch that comes in IIMU takes up that baton to write a legacy, a new story with a new twist. I look back and think of the batch that framed my Constitution. That must have been tough! To frame rules for yourself. Even harder to make sure everyone followed them. But you never gave up. Thank you for that. Thank you for telling everyone you could how wonderful it was with me. Thank you for putting in your good word for me whenever possible. Thank you for coming back as friends, and guides to the current students. They loved meeting you, really!
I am now seen as an institute with a vision, honest and transparent. Integrity itself is a part of my identity. I am young and taking bold strokes on that canvas. And there is a lot of space to draw more. I like that. I know you are not too many in number considering I have been around a short time, but you will be very glad to know that with each year, our numbers are growing. With each year, we are dreaming bigger, and trying to grow with humility. I saw the library grow fantastically, cultural fests open in grand celebration of life and youthfulness, management fests housing best of minds, literary fest breathing life into corporate and much more. I witnessed student committee elections, sports events, entrepreneurial life choices, social work initiatives, as well as competitions that brought home laurels. We had a good run so far, didn't we? Most of you didn't have a tradition handed down to you. You stepped up and decided on the culture. Starting from scratch must have been frightening, but you took up that challenge, and here we are, ready to take on every hurdle that might come our way.
I have come a long way from my baby steps and soon, I shall exist in a new form, amid hills and lakes in Balicha. But home is not made of bricks, but of souls. I will always be a home to you. I would still carry your essence, and your wishes, and tell everyone who comes in that they are now vested with the responsibility of building a legacy – not just being part of one. On starry nights, when they wonder what makes them special, I will tell them what you told yourself on that afternoon five years ago – "Do not go where the path may lead, go instead where there is no path and leave a trail".