IIM Udaipur's One-Year MBA in Digital Enterprise Management (DEM) helps students gain insights into digital technologies and data that can be leveraged for competitive business solutions. The program's pedagogy provides the participants with the opportunity to work on cutting-edge technologies to develop managerial skills. The focus is primarily on providing a thorough grounding in the fundamentals of business management and digital enterprises' management. The project work expects each student to spend about 200 hours of effort. Read the article and find out what Uttara Krishnakumar, a current student, has to say on the live project she is working on along with two of her batchmates.
1. Please provide an overview of the project. What is the problem that you are trying to solve?
For our technology project, we have been tasked with creating reporting dashboards using a popular BI tool to help key decision-makers in small to medium size financial institutions to make data-supported business decisions easily. This dashboard would need to be interactive and modular allowing different stakeholders to easily leverage the data to make specific decisions based on their business needs.
2. What has been your biggest learning from the project so far?
Personally, the biggest learning of the project so far has been in understanding how better to approach research-based problems with a more targeted point of view from a business context as opposed to an academic one. Additional learning is being able to interact with clients and stakeholders to collaborate with them on what the requirements of the project are.
3. Please share how is the live project helping you

a) understand the needs of the client better

b) project management

c) problem-solving

d) teamwork?
This project has allowed me to understand that sometimes the "best" or most technically advanced product may not always be to the client's needs or preferences and that the process must be fluid,interactive and collaborative in the beginning stages for the team to be able to best understand the client's needs.
This project has allowed me to explore the nuances of tech projects and the specific factors that influence project management in this domain – through documentation, specific research and terminology as well as the nature of the milestones that are important in a project of this nature. It has also allowed me to implement what we had learned during our Agile and DevOps module in a live project for an external client.
Problem-solving has been a point of interest to me, more so in the context of preparation for interviews and placements, and this project has allowed me to put into practice my learnings from different theories and readings such as root-cause analysis or even design thinking methodologies.
Finally, I have greatly appreciated my team and the work we have put into this project. I have realized the value of having motivated and dedicated members of a team and how important it is to play to each of our strengths and complement each other when completing various tasks.
4. How is it different from your previous professional experience?
Having a background in Production and Program Management in different domains, I expected to have a clear understanding of the project management process and be well prepared for a project of this nature. However, I have found that domain plays a large part in being able to feel prepared for any project, and spending time to research and better understand each industry – in this case, the FinTech industry and different BI Tools – is paramount in being able to be successful. I have had the good fortune of having a great team and an extremely helpful and accessible client organization that has allowed me to gain much more through this process so far.
5. How is the live project preparing you for the industry?
I will be moving into a technology-first industry upon my graduation from IIM Udaipur. I feel this project prepared me not only in terms of project management, timelines, milestones and expectations, but it also gave me the opportunity to interface directly with clients and key stakeholders when solutionizing and this, I believe, will hold me in good stead as I enter the industry after completion of my MBA.
About the Author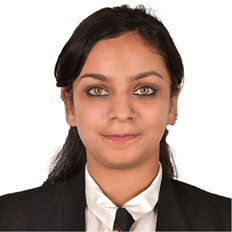 Uttara is an MBA – Digital Enterprise Management student. With over 3.5 years of experience in the education, sports & media domains, she sees herself as a bridge between multiple disciplines & is passionate about helping translate a vision into reality. She is an internationally certified tennis coach and host of the IIMU Podcast Series "Once Impossible". You can connect with her on LinkedIn