Globalization has significantly altered the strategies of the organization from time to time, and it is continuing to do so. Efficiency and speed of response have become critical components for organizations to compete. So, supply chains have become their weapon to compete and move ahead in the race. Take, for example, a firm like Asian Paints that has managed higher levels of profits and growth due to its superior supply chain capability. Now the question that pops up is what is supply chain precisely, and how supply chain excellence is helping firms reap its benefits?
The supply chain involves all activities that are required in the transformation of raw material to finished goods that reach the consumer. Vendors, manufacturing plants, warehouses, retail outlets are all part of the supply chain. Even the vehicles used to deliver goods to end consumers or intermediate consumers are part of the supply chain excellence. Most firms are actively involved in one or two links of the chain, while other activities are outsourced to partners. Still, suppose end consumers observe inefficiency on account of non-availability or insufficient packaging about an organization's product. In that case, they attribute these inefficiencies to an organization and not to any other chain partners. The firms that are coordinating activities with chain partners to meet the requirements of end consumers at the right time and price are thriving while others are struggling even to survive.
With changing lifestyles and growing incomes, consumer preferences are changing rapidly. Firms have realized that more product varieties are needed to attain consumer satisfaction. Hence, firms that do not have excellence in supply chain management will eventually end up losing customers because the right products will not be available at the right place, time and at the right price. The importance of supply chain excellence is visible, and organizations are looking to plug in all the holes more. To strive in a competitive environment, firms are continuously looking for experts in the field of supply chain through innovations. Industry stalwarts from the supply chain field will help individuals gain a competitive edge and seize various opportunities offered by organizations to achieve supply chain excellence.
Recognizing the industry trend towards the need to attain supply chain excellence, IIM Udaipur offers a full-time One-Year MBA in Global Supply Chain Management, an intensive specialization under the guidance of supply chain expert Dr Janat Shah. The supply chain MBA course provides insights into various aspects of the supply chain, such as logistics, operations, sourcing, vendor management, etc. The times have changed from "jack of all trades to the master of one," and the supply chain MBA offered by IIM Udaipur helps become master of a critical one.
About the Author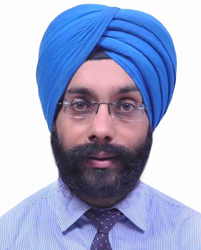 Pushpinder Singh, student of One-Year MBA in Global Supply Chain Management (GSCM), batch 2020-21 has pursued Mechanical Engineering from NIT Jalandhar. Post his engineering, he went on to work for Alstom India Ltd. for about two years. He was involved in the execution of thermal projects for various clients all over India. He has also worked in MazagonDock Shipbuilders Ltd.,Ministry of Defence Undertaking for three and a half years. He has led cross-functional teams on two projects – INS Visakhapatnam and INS Nilgiri. You can connect with him on LinkedIn