IIM Udaipur under the banner of Potpourri – The literary and debating club successfully hosted The Udaipur Leap-day LitFest 2016 (ULLF), IIMU's annual literature festival at the institute. This is the fourth such edition of the event, held on 28th of February, 2016.
ULLF is an event which aims at promoting love for reading and writing amongst IIMU students and the Udaipur Community. Started in 2013, ULLF is an annual event that aims to bring together connoisseurs of literature and arts to share their views, and provide an opportunity to students and residents of Udaipur to interact with eminent personalities. This annual event is organized on every February 28, with a special two-day festival during leap years.
The event aimed at celebrating the charming order that takes shape in the turbulent journey of an artist. Apart from prominent authors, this year's festival featured artists, directors, poets, dancers and journalists who shared their perspectives the many facets of art as a way of expressing the unspoken.
The event began with the director of the institute, Prof. Janat Shah, inviting the speakers for the lamp lighting ceremony followed by a brief video about Udaipur. The first speaker to grace the stage was world renowned Bharatnatyam and Yoga virtuoso Mr. Navtej Johar. Mr. Johar gave an illuminating speech on the perception of classical dance in modern times and how the intertwining of various ideologies has helped redefine modern Yoga. He spoke on concepts of Sankhya and gave strong arguments to dispel the whim that concepts such as materialism, rationalism etc. are alien to Indians. He was critical of the present scenario of dance and described it as show and tell and hence in a shambolic state. His insights regarding the significance of our religious scriptures to help shape the dance of today was certainly an eye opener and a significant learning for the audience.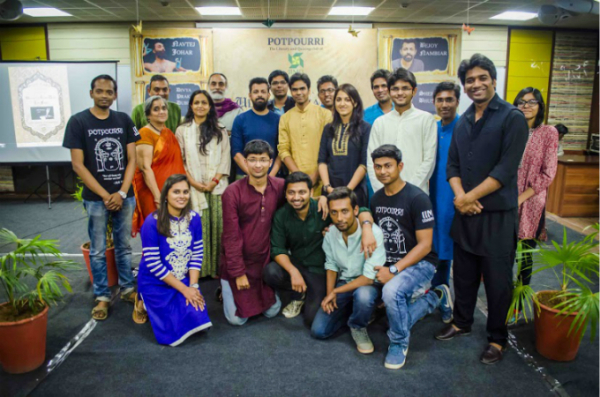 Udaipur Leapday Litfest 2016
The next speaker to grace the dais was eminent director Bejoy Nambiar, famous for critical and commercial successes such as Wazir and Shaitaan. His was a freewheeling speech regarding the changing cinema landscape of the country and how movies based on biopics etc. are receiving recognition. He gave a detailed account of his journey through theatre and to mainstream cinema. A very heart-warming moment was when he acknowledged the role of his mother, who was present in the audience, as his inspiration and pillar of support throughout his journey. His speech was interspersed with various clips from celebrated movies from around the world based on which he provided insights into the psyche of directors during those clips. He also conveyed an extremely important message by requesting the audience to support content driven cinema to develop a culture of similar movies in the industry.
Prominent journalist, Mr. Hridayesh Joshi was the next speaker and his account of the several problems plaguing people in conflict areas of the country such as North East, Bastar etc. made the audience hang onto every word of his speech and was certainly an eye opener for everyone. He stressed on the importance of the role of the media and was a strong exponent of how reporters should target news related to important issues. He delivered a profound message for the students present that conflict management is an important area of study for today's business managers and that each of us had a duty to be aware of such events.
Ms. Margie Sastry, one of the authors of the famous Amar Chitra Katha and Tinkle series, explained the rationale behind Amar Chitra Katha and how it proved to be a significant medium for educating Indian children regarding Indian mythology. She not only explained how mythology like Mahabharata and historical figures like Nehru make for excellent comic props but also spoke regarding the general misconception surrounding comics. She also spoke about her illustrations of people from all walks of life, starting from scientists of the early 1900s to Kalpana Chawla.
Ms Shefali Bhushan is a painter, director and writer who made her directorial debut with the musical Jugni. She has also worked relentlessly to promote folk music in India in association with the website Beats of India. She spoke about how it is difficult to find folk musicians in this day and age when everything is capital intensive. The same went for budding directors who wanted to make a movie with an alternative idea with lesser known actors. She spoke of the principles of the film industry where a movie starring a famous actor would be funded much more easily. Ms. Bhushan also showed the audience scenes from her movie which really instilled a sense of intrigue in them. The movie presents an alternative idea of a mother-son relationship which shows a sense of competition between them.
The final speaker of the day was Divya Prakash Dubey who is an eminent Hindi author and has written screenplays for various short movies. Mr. Dubey is a young Indian author who has to his credit the books "Terms and Conditions apply" and "Masala Chay". He harbours a passion for both Hindi and English Literature and writes poems, stories to go on air, and also screenplays for short films. He spoke about his life and how different instances in his life led him to eventually pursue his passion of writing. Mr. Dubey's chat ended with a candid discussion on reasons why Hindi literature has still not gained popularity in India.
The event ended with the vote of thanks to the guests and audiences. Udaipur's LeapDay LitFest was a grand success and was applauded by the speakers and audience alike with everyone in attendance eagerly looking forward to the next edition.