Disclaimer : Previously published on Thump 6.0, IIMU's yearly Alumni Magazine
"Reading one book is like eating one potato chip," said Diane Duane. I guess I took the quote too seriously because, on the 31st of December, I was extremely elated to find out that I had managed to read 74 books in 2018; 23 of these in the last 6 months at IIM Udaipur, in spite of a rather eventful schedule. So, in this article, I open my pandora's box and share three of the best books I read in 2018.
The first is 'Fact fullness: Ten Reasons We're Wrong About the World and Why Things Are Better Than You Think' by the famous statistician and Star TED speaker Hans Rosling. Bill Gates called this book as 'breakthrough' in his blog about reading Gatesnotes. I was not surprised when at least a couple of speakers at Netratva sessions at Solaris mentioned this book. This book gives us an entirely new lens to understand the world. It also argues that in spite of the tonnes of negative media news we receive every day, our world today is, in fact, becoming a better place to live in!
The second genre apart from Non-fiction which I absolutely love is Autobiographies, and on one of my journey's homes, I read a fantastic book titled 'Leading' by Sir Alex Ferguson. Although I have zero interest in soccer, the reflections of Alex Ferguson on his life, his long, illustrious career at Manchester United and leadership, in general, were so insightful that I could not keep the book down. His thoughts about team spirit and discipline unfolded a lot of things that go on behind the glamorous world of star teams and players.
While I have a meagre interest in Football, since the last two years I have been interested in long distance running. In parallel to running a few half marathons, I read many interesting books this year about Marathoners, triathletes, but the best of the lot was 'Anywhere but Home: Adventures in Endurance' by Anu Vaidyanathan. She is the first Indian Women to successfully run the coveted 'Ironman' race (which involves 3.8km swim followed by 180 km of cycling and 42 km of running, all to be completed within 15 hours) and the first Asian to finish the Ultraman race. This book narrates the inspiring story of her preparation and how she managed to balance these activities with her academic and entrepreneurial ventures.
So, these were the select 3 of the many books I enjoyed reading in 2018. With the work for our much-anticipated hanging library in full swing, 2019 has begun on the right note for us book lovers. I hope someday in midnight I will dash against one of you in that library searching for that elusive book on the bookshelf. I urge you to not only try out the above three books but also try adding reading to your list of new year goals, for in the words of Frederick Douglas, the famous American social reformer, "Once you learn to read, you will forever be free…". Happy New Reading Year 2019!
About the Author: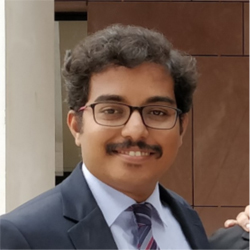 Vaibhav Sarkale is a recent graduate from the class of MBA'20. His interests lie in the fields of business policy and strategy, storytelling and public policy. He is an active Toastmaster, runner, and cyclist. You can connect with him on LinkedIn