I expected we would hear about how extraordinary this B-school was, how lucky we were to be here, and how we had to maintain its legacy. But thankfully, I was wrong.
The first day of college is always an exciting and confusing one. Funnily enough, the feeling does not change much, whether you are fresh out of high school just getting started on the undergrad journey or a seasoned professional who joined a postgraduation course. However, the feeling was a bit different for those of us who joined IIM Udaipur on the 17th of August as the new batch for the institute's flagship two-year MBA program.
What was different? Well, while all of us would have preferred getting lost in the vast 300-acre campus in Balicha as we searched for our classes, we found ourselves waking up at our homes, flipping open our laptops, and desperately trying to untangle our earphones. Yes, the pandemic had made us the digital pioneer batch, and this was our first day of college. Early days usually meant trying to give good impressions. If this was the first day on campus, I had no doubt everyone would make an extra effort to put on their best clothes and winning smiles to gain the favour of the professors and peers. Instead, I lazily pulled out a shirt from my cupboard knowing full well my low-quality webcam would not do my outfit justice anyway. I debated whether to join the induction meeting wearing shorts but heaved a sigh and told myself that starting an MBA, it was probably time I started acting a bit professionally. And so, like 334 students across India, I powered up my laptop at 10.15 am for the inauguration program of IIMU.
I had already been through the induction ceremony of another B-school before I had jumped ship to IIMU and so I thought I knew what to expect. The inauguration day was not the most exciting of times. I expected we would hear about how extraordinary this B-school was, how lucky we were to be here, and how we had to maintain its legacy. But thankfully, I was wrong.
IIMU did not harp on about its previous achievements during the orientation. While the Global QS rankings and FT rankings were mentioned, they were quickly swatted aside as though we had better things to discuss. And discuss we did. The vision for the future was explained and how IIMU is seeking to better itself. We were told the current position of the college is not where it is meant to be, and we as students were not expected to carry on the legacy but instead raise the bar for the institute. Yes, IIMU is ambitious, it is hungry, and it wants to be not only one of the best institutes in India but also the world.
I was impressed. This introduction was not what I had expected on the first day! I had expected a listing of the institute's achievements. Perhaps a feel-good speech about us arriving here. But no, this was a call to action, a call to join in on an ambitious plan, and I was more than eager to begin. Even after the orientation sessions ended, I spent some time reflecting on what I heard. While there are many prestigious B-schools in the country, it is easy for them to be complacent or get carried away with their success. Contrary to this, IIMU seemed to be going ahead full speed as they knew there was much still to achieve.
This principle does not apply only to institutions. Many times in life, we get complacent and bask in our glory. It is easy to think we are smart because some of us were college toppers, or because we aced CAT or worked in a fancy company. It is easy to get carried away and recall the achievements of our past. Yet there is still much to achieve. I think one of the secrets to getting there is to stay hungry. Hungry for success, for more achievements, and more experiences.
Another thing is to keep realising we know nothing. We are foolish. The one who knows everything has nothing more to learn. Stay hungry, stay foolish. My first day at IIMU had already given me a life lesson.
Of course, it is important to pat oneself in the back every once in a while. Appreciate what we have achieved in our lives. So maybe a few years down the line, after a long day of work, we can sit in the living rooms of our houses, pour ourselves a glass of wine and reflect on all we've achieved over the years. Smile at ourselves as we savour the results of our hard work.
And then we wake up early the next morning and do it all over again.
About the Author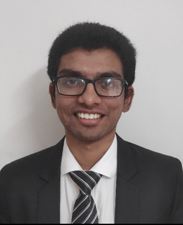 Delvin is a first year MBA student at IIM Udaipur. He is a BCom graduate and has worked for a year as a Financial Analyst. He enjoys reading fictional novels and tries his hand at writing short stories or blog pieces in his free time. He is also a major football fan and hopes to visit the Camp Nou one day. You can connect with him on LinkedIn