The COVID-19 turned the supply chain upside down. Market volatility shot through the roof, influencing the consumer industry segments in diverse ways. The global markets are over-served, and global supply chains will evolve to the next logical configuration while adapting to the new world economy. Moving forward, the entanglements of the pandemic will continue to reshape the consumer industry, and supply chain priorities for manufacturers and retailers will continue to turn more towards inventory, agility and cost. A few key imperatives that can help organizations include synchronizing supply, driving flexibility and responsiveness in execution, realigning and optimizing costs and the end-to-end journey.
Revamping Supply Chain
A synchronized supply chain ideally performs at highest efficiency, ensuring each step of the process executes precisely and on time. Most of the operations are physical labour dominant, and technology adoption can help create a transparent communication network driving ample interaction between humans and technology, resulting in the delivery of best products with lower wait time. Using barcode can be a starting point for businesses, making business integration processes in supply chain management more straightforward and efficient. Barcodes are a useful identification tool that help track products and significantly reduce errors. This technology features a range of benefits, like being affordable, easy to handle and accurate. These advantages make barcodes widely utilized in supply chain management and accepted across the planet. In inventory practices, employing barcode technology allows up-to-date and definite information to work with more incredible warehouse performance and lower inventory available. Forecasted demand has undoubtedly been the driving force of operations. Still, given the recent volatility experienced in the market, more emphasis is required to be placed on the pull. The industry can then meet the actual demand with flexible and responsive execution. Flexibility and responsiveness in operations have become even more critical, and companies need it to respond to the unanticipated shifts in stock keeping unit (SKU) demand. Further, it will also target higher asset efficiency at a lower cost by optimizing utilization across plants, trucks, distribution and stores. Although forecasts predominantly drive some industries, like FMCG, moving towards pull in these will be a challenge.
Reforming the End-to-End Journey
While looking at the end-to-end journey, businesses have mostly focused on what happens within their four walls. Indeed, including the consumer in this change has excellent potential. The focus needs to move to transactional efficiency, building relationships and engaging in joint value creation. In the setting of high scepticism levels about the future of global trade and the statutes that shape mandatory corporate declarations about sourcing practices, futuristic supply chain leaders can prepare for various possible future scenarios by enhancing both discernibility into supply chain practices and disclosures about those practices. Furthermore, elevating the standard and scope of supply chain disclosure will enable managers to be ready should regulatory requirements increase and endure the increased stakeholder scrutiny that's the possible results of a weaker regulatory environment. Cost reduction strategy is the most certain to work for any business and will be a focal point driving the supply chains globally. Having achieved greater efficiency with the solutions proposed before a company can look at more accurate and faster orders, how the transactions are processed will undoubtedly affect the costs. Supply chain network plan may be a compelling modelling method proven to significantly reduce supply chain costs and improvements in commission levels by better aligning supply chain strategies. It incorporates end-to-end supply chain cost, including purchase, production, inventory, warehousing, and transportation. While this is usually a strategic supply chain planning action, organizations can gain a competitive edge by administering supply chain network scenarios, and assessing and proactively implementing changes in response to dynamic business situations.
To create a thriving supply chain in the future, supply chain managers should anticipate how critical forces of change will influence their supply chains and evolve their supply chain management approaches accordingly. This inflexion point could also allow forward-thinking supply chain leaders to form future-ready supply chains that drive development in top procurement priorities and advance the sustainable business plan. Though there is notable uncertainty in how these forces will unfold, supply chain leaders can take decisive steps today to plan for a broad set of possible future situations. The current pandemic has opened a lot of avenues of growth and a business can go in any direction to manage operations in a new way.
About the Author: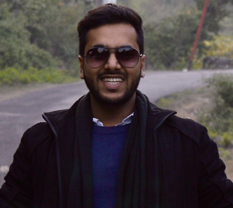 Vasu is an MBA 2020-22 student at IIM Udaipur and an elected student representative of the Media and Industry Interaction Cell. He holds a bachelors in Commerce from the University of Delhi and has 20 months of corporate experience. Outside professional life, he is a proficient guitarist, blogger, flautist, and a photographer. He has successfully run a blog 'mottled milieu', for over 5 years with 1000+ subscribers. He is also an avid reader and believes he is inspired by the learnings from 'The Art of War' by Sun Tzu. You can connect with him on LinkedIn