I consider myself extremely fortunate to have been a part of an extraordinary institution in the making – IIM Udaipur. My very presence at the institute has provided me with a plethora of opportunities, which I never imagined would be a part of my life. Be it interning in Dubai or winning scholarships and case competitions, everything has been a tribute from IIMU. But the most remarkable feat came in the form of my selection for the Ministry of Youth Affairs' educational and cultural exchange program at Russia. The two weeks spent in the 19th World Festival for Youth & Students (WFYS) at Russia, being an Indian delegate, was a transforming experience; an experience which has instilled in me the confidence of pursuing the ideas which can change the shape of the world.
WFYS saw participation from twenty thousand students from 160 countries around the world. Such a huge number could only have been accommodated at the Olympic Park in Sochi. The gigantic venue and meticulous planning speak volumes about the efforts that went behind organizing an event of this scale.
'20000 different students, 20000 different ideas' sums up the ideology behind the festival. The activities at WFYS were broadly classified into 3 categories – educational, sports and cultural. Given my educational background, my participation was primarily in Environmental & Medical discussion forum. The forum saw participation from 42 students from 30 different countries. It started out with an establishment of the fact that environmental degradation is as real as us, then transformed into discussions about why corporations need to imbibe environmental protection in their day to day working and finally transformed into business ideas, which the group presented to Mr. Vladimir Putin, President of the Russian Federation. Apart from discussion forums, there were exhibitions about how social media is transforming literature in the present world, exhibitions about advancements in the automobile sector and many more such unique ideas that I would have otherwise remained oblivious of.
The first edition of the festival was organized in the aftermath of the Second World War, with an idea that bringing the youth together would bring the world closer. That being the reason, why cultural activities have been an important focus of the event. Every evening the center stage witnessed mesmerizing traditional performances from several countries around the world. Everything made me appreciate the value of traditions for people around the world and why we, as future business leaders, should learn to respect them.
It is extremely difficult to weave down an experience of a lifetime into words. It can best be understood by being there. But what I can summarize is that the festival touched many lives in many different ways – in the form of making new friends, exploring different cultures, sowing the beads of new business ideas, instilling the self-belief of achieving things in life and most importantly, the value of having fun.
About the Author: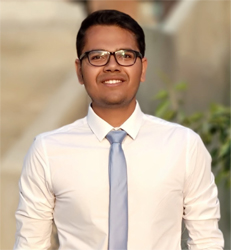 Rishabh is a 2018 MBA graduate from IIMU. He continues to fulfil his analytical aspirations in the financial services industry. Rishabh is a keen sports enthusiast and spends a chunk of his personal time engaged in sports. He is also an avid movie watcher and believes they are a gateway to a world which we may never experience in our day-to-day lives. You can connect with him on LinkedIn