Disclaimer: Previously published in Kathan – Annual HR Magazine of IIM Udaipur
EdTech, the abbreviation for Educational Technology, is essentially an educational approach that compliments effective integration of technology. EdTech, first adopted by schools, colleges, and universities initially, is slowly paving its way into the corporate world. This perhaps is a demonstration of the fact that learning is a life-long process and does not stop on graduation day.
The Surge of EdTech Owing to the fact that Covid Pandemic has caused severe unrest in the world, daily activities have come to a halt, students and professional settings are grappling and adopting new technology as alternatives. This hibernation into the digital space has led to a boost in the EdTech sector. EdTech Company Byju's experienced a 150% increase in the number of new students enrolled for learning through the App and Coursera India added 363,000 learners in March which was about a 173% surge in the number of registrations.
Sensing the dynamic nature of modern-day work many corporate establishments are investing in upskilling and reskilling of the employees. AT&T has spent $250 million on employee education and professional development programs and more than $30 million on tuition assistance annually. Another example is LinkedIn that has developed AI Academy to bolster the AI skills of the employees.
Why is upskilling and reskilling needed?
Talking about a personal experience, I was a summer intern in an organization that had been averse to data analytics to date. As they hired us as data analysts for the first time, in order to be in line and follow our proceedings with the projects, the employees themselves took various courses on Coursera. This was my first-hand experience of how EdTech is helpful in reskilling.
Upskilling is a major part of the training of fresh hires who just pass out of the traditional education system that lacks in imparting up to date skills. According to the 2019 National Employability report for Engineers, 37.7% of Indian engineers fail to write an error-free code whereas this percentage is 10.4% in China. It was estimated that 80% of Indian engineers deemed unfit for professional jobs demanding fine technical skills. Talking in terms of a global perspective, according to an AT & T review, 39% of the large company executives said that the companies are either "barely able" or "unable" to find talent that their firms require. Even though India has the 3rd largest development base and a substantial tech-savvy talent pool, this statistic highlights the importance of professional training of the youth to develop competence in the world.
The Indian IT industry has grown by leaps and bounds in the last few decades and the emerging technologies like Data Engineering, Data Analytics, Machine learning and AI intensely demands adaptation as each day passes. Thus, the magnitude of what is coming our way is huge and jobs will be largely configured as we go forward. This would lead to a bigger migration than any we have seen in terms of the migration of skillset.
Thus, the Talent Gap continues to widen and the shelf life of acquired skills continues to shrink giving us the only way out – constant reskilling. This fact clearly suggests that the Rise of EdTech is indeed not surprising. The online reskilling market is now over $93 million and experiences exponential growth of around 38% annually and revolves mostly around B2C business. This sector has its roots in business analytics courses and thus learning in the fields like AI, Data, and Machine learning gets the center stage.
Also, another important factor that comes into the picture is job security which would remain to be low unless and until the people in an organization are well-equipped with the latest professional skills. Reskilling the current employees while scaling a culture of lifelong learning is the only solution to put things in place. In recent times, organizations can deal with this outbreak of digital knowledge only if they are preparing themselves to invest in the employees. Airbnb, for example, is running its internal universities to teach data handling.
How can EdTech help with this?
The corporate workers spend about 1700 hours facing computers each year and are highly dependent on tech devices. Thus, it makes it a relevant act to make the training and development integrate with technology. Hence gaining knowledge through EdTech gives a platform that is reliable, efficient, and of high convenience which would ultimately result in improved bottom lines of businesses. Approximately six out of ten youngsters use smartphones for learning and use the latest tools and techniques to take notes or retain knowledge. Voice notes, One Note, etc has empowered them to have a great learning experience. Thus, the next generation is tech-savvy and hence EdTech is in line with the expectations of the GenZ giving way to an effective and desirable learning experience by removing barriers like geography, lengthy admission processes, etc. Self and autonomous education are gaining an impetus as EdTech makes distance learning options and collaboration of cloud technologies available.
The structure of EdTech does not only make the learning through traditional ways like book, chalk, and board redundant but also impart practical skills in the form of capstone projects and assignments exposing them to scenarios that would be highly beneficial to sail through several business issues conveniently proving their competence in the actual ecosystem. Moreover, the virtual experience is highly cost-effective and flexible making it easily adaptable.
About the Author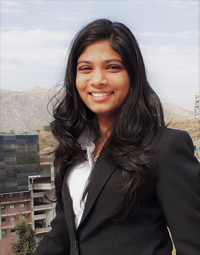 A student at IIM Udaipur's MBA batch of 2019-21, Vidhya has an inclination towards Marketing and has worked as an intern in the field of Analytics. A B.Sc graduate from Mumbai University in life-science subjects, she thoroughly enjoys walking through the woods and experiencing nature. You can connect with her on LinkedIn.