Hello, Managers-in-the-making! When you join a B-School, you shouldn't just overwhelm yourself with academics, party, fun, night outs etc. but also look beyond them and focus on your wholesome development before you leave the college and step into the corporate world.
Life at a B-school is the one roller coaster ride and terrain of new opportunities and experiences, which provides you ample occasions to step out of your comfort zone and make the best use of them to build your own brand in the MBA space.
Are you the one who is looking for such opportunities? You are in for a treat. Here are the five ideal internship opportunities which every college student must strive to grab:
InsideIIM Student Team:
InsideIIM Student Team Program is an exclusive program which gives students of primer b-schools a chance to work on and contribute to real-life business. Every year InsideIIM launches its Student Team Program where they handpick a team of ONLY 10-15 students from b-schools in India to virtually run an online platform while they are still studying. This program not only helps students build their own brand but also give them hands-on experience in running a digital platform.
This program is fit for all those students who are good writers as well as readers, well networked and has a high social media quotient, excellent in communication and proud of his/her background, university, business school etc.
For a B-school student, this is a massive opportunity to create content that is not only creative but also relevant, learn the basics of Content and Digital Marketing, build your Personal Brand in the MBA space, become a Brand Ambassador for your b-school, assume the role of a mentor for your juniors and aspirants and last but not least a reasonable stipend and e-certificates at the end of the tenure.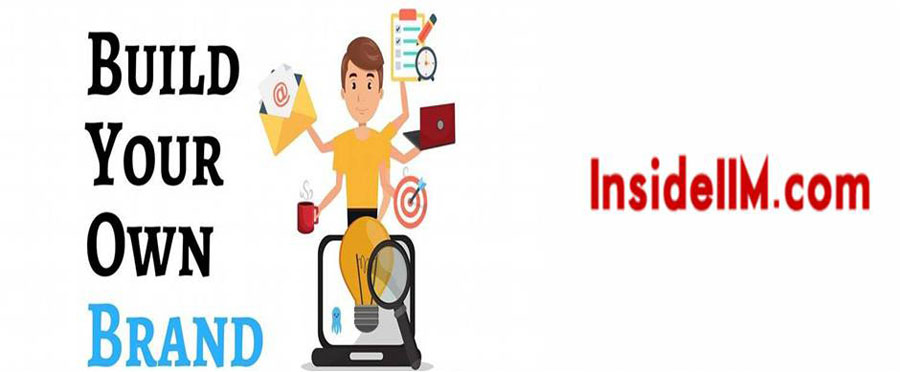 Board of Young Leaders at EMN:
Eat My News is a student-run community-driven media platform that endeavours to make the world more inspired, informed and intelligent. It enrols students in their Board of Young Leaders Program (BOYL) where they get the opportunity to attend their Youth Leadership Conference, which trains them in Personality Growth, Soft-Skill development and General Awareness. After the conference, students directly become the members of the organization and get to work in the department of their choice namely Content Writing, Human Resource & Talent Management, Marketing, Online Reputation Management, Social Media Marketing, YouTube Content Creation and Global/Community Expansion.
EMN's Board of Young Leaders not only provides a platform to young students to gain experience in the domain of their choice but also enables them with more confidence, better public speaking skills, higher chances of a better Placement. They also provide certificates and letters of recommendation to good performers. Eat My News has a national as well as an international reach which gives their students a plethora of exposure and contacts that makes their experience highly productive. You can apply to Eat My News by filling up this form: bit.ly/boardofyoungleaders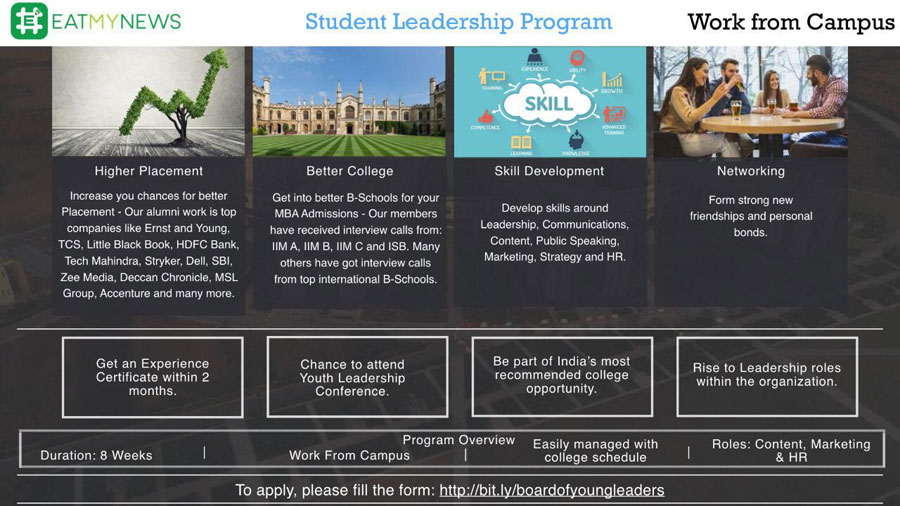 OnePlus Student Ambassador Program:
OnePlus Student Ambassador Program is a campus connect program that aims to form a network of like-minded students across India. The program facilitates and nurtures future leaders of the country and contributes to their career growth. They want to empower, and groom select students across India who will serve as OnePlus community specialists, brand evangelists and technology experts in their respective institutions. This program is your opportunity to develop strategic, communication, leadership skills and get rewarded for it. As a Student Ambassador for OnePlus, you are required to do the following:
Ideate on and execute innovative campaign plans
Work on live marketing projects for the brand
Strategize and drive Word of Mouth in campus events and activities
Apart from learnings that will benefit your career, you will also get incentives like their latest products, exclusive accessories, a monthly stipend. Selected Ambassadors also stand a chance to intern at OnePlus' offices globally. For more details:https://www.oneplus.in/campus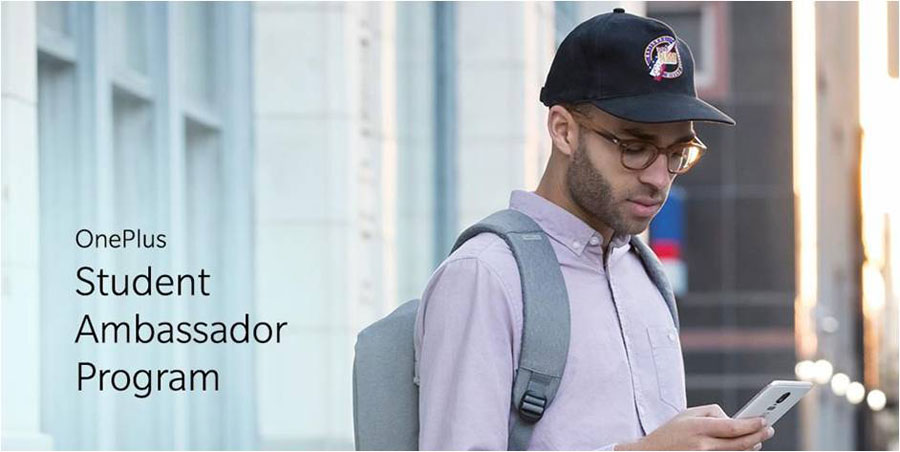 MindGrad's Content Jedi:
MindGrad is a platform which provides personalized workshop training on soft-skill development such as Public Speaking, Corporate Readiness and Political Marketing for career advancement and job readiness. Currently, it offers internships in Content Writing & Content Marketing to the dedicated students who are committed to the role for three months if selected. This internship experience extensively focuses on the value development of their interns.
Excellent performing interns also receive a certificate and a letter of recommendation. Moreover, interns can apply for certified courses which will add a whole another jewel to their dynamic personality. You can apply to MindGrad by filling up this form: https://goo.gl/forms/IDMF0O7K0uG409Jr1

Experience with an NGO:
Working with an NGO must be a checklist for every college student. Even though you can associate with NGOs virtually and help them to achieve their goals but I will recommend everyone to join them in person and work on the ground. Such experiences not only elevate one's personality by transform him/her into a sensitive and socially aware person but also provides an opportunity to give to society. Experience in an NGO will help you to gain a good knowledge of leadership and make you empathetic towards social issues. Working with an NGO helps in learning leadership skills, increases employable and professional development skills and broadens your horizon. This experience also counts in extracurricular activities, and if you do good work it impacts your overall career.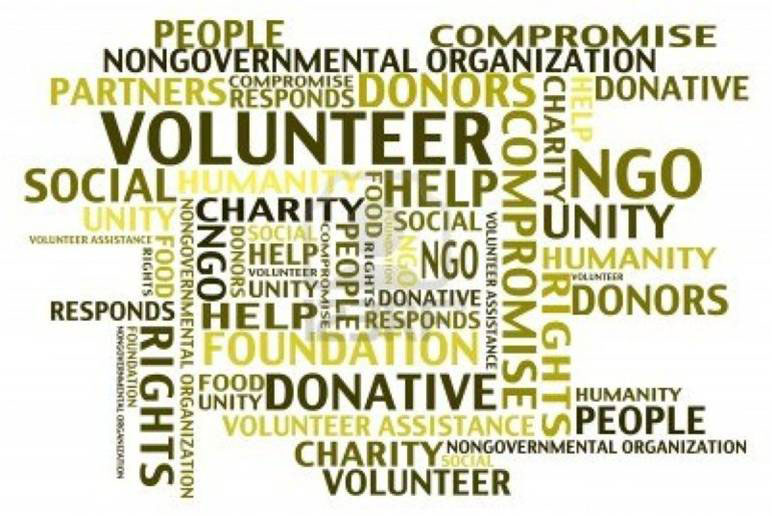 Opportunities like these must be on the agenda list of every b-school student. Learning and experiences from these opportunities will add many colours to one's personality and make their college life more productive and worthy.