With CAT finally over, begins an altogether different era. A time of anticipation, wait and anxiety. While some people go on to take up certain other examinations, some have Indian Institutes of Management as their sole target and are positive and confident about making it to one. What precedes the results is a long wait and sudden availability of time which earlier used to go in practicing problems and attempting mocks. With significant time left for the calls to be rolled out and Written Ability Tests and Personal Interviews to begin, here are some activities to invest time in and skills to develop which will not only significantly help you in any b-school but also in life, in general.
General Skills
There are certain essential traits which if incorporated in your personality will help you go a long way. These are:
Communication

The importance of having good communication skills can never be emphasized enough, particularly when you are going to hold a senior leadership position in the future. The difference between those who have excellent communication skills and those who don't is quite clear and visible since day one in a business school. Whether it is your classroom discussions, committee selections, or that dream interview for summer internship, your communication skills are crucial.

Invest time and put in deliberate efforts to improve your communication skills, both written and spoken. This is one investment which will pay off the most. Take opportunities to write and speak in formal settings as and when possible. Join clubs such as Toastmasters if need be.

Make sure you communicate well!

Reading and Comprehending Speed

This point might come across as another headache after all those grueling and painful reading comprehensions you practiced for CAT. But the fact of the matter is that almost all of the time you spend studying in a b-school would be spent in reading and solving lengthy business cases. And it would definitely help you if you could actually read and understand them fast rather than just counting the pages.

Read as much as possible. Fiction or non-fiction, novels or short stories, research papers or magazines, read whatever you can!

Be Aware, in General

Well, yes, that means general awareness. But hold on, you are not being asked to do hefty newspaper readings, or follow news websites and take notes of whatever happens, for there will be a time when you will do that when you specifically prepare for WAT-PI. For now, be present and make a deliberate effort of understanding and analyzing whatever happens around, may it be on a global level or your individual level. It is not the actual news but your understanding and opinion of it which will help you impress the interviewer and bag a seat in that coveted institute.
Specific/Technical Skills
There are certain activities, which will help you substantially if you invest a little time and effort in them now. These skills include:
Spreadsheet Modelling

The life of a manager is incomplete without data, and in turn, excel. The earlier you learn it, the bigger blessing it is for you. Spreadsheet modelling doesn't only help you later in your internships and jobs, but it is instrumental in assignments and a number of management activities. Most institutes also offer a course in it. Having learnt excel on a basic/intermediate level beforehand certainly gives you a firm footing and an added advantage in your management course.

Power-point Skills

As a manager, it will be your task to make impressive power-point presentations time and again. Better learn it early and be at ease rather than learning it later the hard way.

E-mail Writing

Given the fact that you're going to be a manager, e-mails are always going to be an integral part of your life. And e-mails indeed can make or break things. Though it sounds like a manageable activity, yet there are certain basic etiquettes of e-mail writing which many are unaware of. It would be useful to get them right!

LinkedIn

Having an impressive LinkedIn profile is an underrated achievement. It significantly helps you network, and also increases reachability to recruiters and vice-versa. Having a decent LinkedIn profile is undoubtedly going to be one of your agendas once you get into a b-school. Why not prepare a little, beforehand? Make that about section your strength!

Curriculum Vitae

Work on your CV! Work on it now. You won't even realize when your first term would pass by, and summer internship placements would be on your head. Have a basic draft of your CV ready, so that it can undergo iterations and get to its best possible form in time, with minimal effort.
Some General Tips
These come from the experience of many who have made it to management courses and wish they had done these when they had time:
Travel

Go to the Himalayas or the backwaters of Kerala or the beaches of Gokarna. Paraglide in Bir, river raft in Rishikesh, skydive in Dubai. Do whatever you have been deferring. Take that trip! For soon you won't have any time.

Follow Your Hobby/Passion Actively

Again, due to lack of time that you will encounter once you start your management degree, now is the time; tosketch, cook, swim, dance, write or do whatever you hold close to your heart. You'll take quite some time to adjust to the new atmosphere, and it won't be soon when you will get back to following your interests. Spare some time for them now.

Spend Time with Your Family, Friends and Those Who Matter

There would be times when you'd crave that one long conversation with a loved one but won't be able to do it for certain reasons. Appreciate them now.

Health Comes First

A b-school is rigorous, grueling, and competitive, especially the first term. However, being in good health will lead to a healthy mind which will help you not only survive, but thrive. Take care of your health. Just follow the basics of healthy eating and exercising, light or heavy, whatever suits you.

Chill

For you won't get to do it often, soon!
About the Author: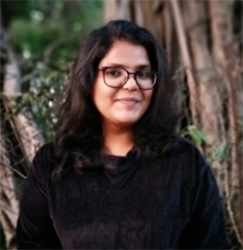 A student at Indian Institute of Management Udaipur's MBA batch of 2021, Nandini has formerly had trysts with engineering, corporate, and development sector. Often found ruminating during the day and stargazing at nights, she is on an incessant pursuit to unsheathe the 'extra' from her 'ordinary'. You can connect with her on LinkedIn