Critical Thinking is one of the most sought-after skills for jobs today. The World Economic Forum ranked critical thinking fourth among the top 15 skills for 2025, in "The Future of Jobs".
Some of the career that requires critical thinking include:
Manager
Human resources specialist
Lawyer
Marketing associate
Business analyst
There is hardly any profession that does not require any critical thinking
Critical thinking is an essential skill for students who are aspiring to pursue an MBA. With the current status of management education , critical thinking skills are looked at while completing assignments, analyzing data, reasoning or communicating. Candidates need to base their decisions after critically analyzing the relevant data, generated by observation, experience, reflection, reasoning or communication.
Critical thinking in management is increasingly being looked at in MBA interviews. A person who possesses and displays such skills would have a better chance of getting admission to top MBA institutes. Before we delve further into the importance of critical thinking, let's look at what critical thinking is.
What is Critical Thinking?
Critical thinking can be broadly defined as the objective analysis and evaluation of an issue in order to form a judgement. It is the ability to analyse a situation by asking searching questions, identifying assumptions about problems, and logically and objectively testing the accuracy of inferences . It includes an objective identification and analysis of facts without the interference of emotions and biases.
Critical thinking is a process. Critical thinking is essential to use observation, reasoning or experience to formulate and draw conclusions about a specific business problem.
Why is Critical Thinking Important?
Critical thinking skills are essential in every aspect of life. The inability to think critically about issues leads to poor decision making. In the business environment, critical thinking is vital in a fiercely competitive global economy.
A good leader does not always accept information and claim it at face value. MBA students need to learn to ask relevant, analytical questions that lead to better decisions. They need not only to know the theory but, more importantly, how to use it, that is, think critically about it to apply it effectively. By striving to understand the big picture, find out how different aspects of a business relate to each other and gain insights that can significantly improve the organization's processes.
In this VUCA (Volatile, Uncertain, Complex and Ambiguous) world, business managers need to deal with a diverse range of problems with a calm mind and decode the difficulties to find the solutions. Applying critical thinking in management enables them to make wise decisions by considering all the variables. If executed well, critical thinking helps develop "out of box" ideas to provide new solutions to problems.
Critical thinking has a positive impact on the average academic performance of MBA students, as found in a study done to analyse the effects of critical thinking on the academic performance in a sample of 1620 executive MBA students, published in Science Direct journal.
Mary Lippit, a professor of business analytics at the USF Muma College of Business, says in her article "Are Today's MBA Students Bad Critical Thinkers?", that students have difficulties navigating complex environments due to a lack of critical thinking. Some students assume that the issue is simple, ignore the issue's complexity, and adopt a narrow perspective, all due to the inability to think critically.
Having established the importance of critical thinking, let us now see how one can develop critical thinking in management.
How to Develop Critical Thinking?
For a critical thinking process, students must shed their preconceived notions and be ready to unlearn what they have learnt in their previous experience. They must not limit their thinking and instead look beyond the obvious.
Like any tool, critical thinking must be practised and perfected. One method to practice this tool is the use of case studies used in an MBA curriculum, especially courses offered by IIM. In such an environment, the student may analyze an enterprise's current state and provide an analysis. It includes fundamental research on the background, present condition, financials, a SWOT or Porter model and finally, the recommendation on the following steps to be taken. This last piece allows the learner to analyze further and comment; this is where critical thinking resides. It requires the learner to take the information given and formulate the next steps.
In business cases, we use critical thinking to answer "so what", "what if" and "what's next" types of questions. Asking questions is a vital aspect of the critical thinking process.
Conclusion
Critical thinking is more than just necessary. It is one of the most crucial cognitive skills one should develop. Pursuing an MBA is a great training ground for practising and perfecting critical thinking in management. The case-driven curriculum of the courses offered by IIM enables the learner to simulate real-world conditions for critical thinking. Working on critical thinking skills can remarkably improve your life. By practising critical thinking, your thoughts and decisions can positively change your life, on both professional and personal levels.
About the Author: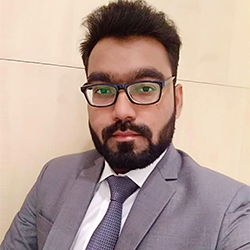 Mustafizur Ali is an MBA student at IIM Udaipur. He is the Vice President of SKEIN, the Operations and Supply Chain Club of IIM Udaipur. He worked at Tata Consultancy Services for 3.5 years as a System Engineer where he was involved in multiple projects for a Netherlands-based BFSI client. Mustafizur graduated in Electronics and Communication Engineering. He has a profound interest in Mathematics and enjoys teaching the subject. He is looking to leverage his analytical and problem-solving skills towards a career in the analytics or operations domain. During his leisure time, he enjoys playing Sudoku and writes about his experiences in a personal journal. You can connect with him on LinkedIn.