What goes "behind the scene" to get an essential item in the grocery store? How Unilever delivers 12000Lt of ice-cream through a desert without melting it? Or, how Amazon can deliver goods to your doorstep within a day?
Do these questions make you curious? If yes, then you should know that it takes months of planning to get the right product at the right time at the right place. Behind every such planning, there is a Supply Chain Manager who plans, procures, and distributes products to its end customer. Supply Chain Management might look simple at first, but there are many layers to it. Join us as we uncover the fundamentals of the field and, more importantly, the supply chain management jobs you could land in this industry.
What is Supply Chain Management
Supply Chain Management is managing the movement of products from raw material to supermarket shelves in an optimized and efficient way. Logistics, an aspect of supply chain management, was born as a necessity in World War II to meet the demand of the front line. Logistics analysts were required to develop an organized structure for the transportation of necessary material to the troops.
With the advent of technology and the rise of e-commerce, the importance of supply chain management and logistics has grown significantly. There are ample amounts of logistics and Supply Chain Management jobs available for anyone who has comprehensive knowledge about supply chain and logistics. Each industry needs to procure, store, and distribute goods (or services) to their end customer. Every company has a supply chain, so this is an area where there are multiple logistics and supply chain jobs.
Supply chain management jobs for degree holders
If the above definition has intrigued you, keep reading to learn more about the logistics and supply chain management jobs you could pursue. Companies rely on Supply Chain activities for their operations to run smoothly, which, in turn, converts into various supply chain management jobs. Below are the nine supply chain jobs that anyone with an MBA in logistics and supply chain management can apply for:
1. Procurement Manager
They manage the complete procurement of a category from raw material to a finished package
They are responsible for analyzing the supply market capacity and import/export economics in the supply chain of the raw material
They manage the supplier relationship and the purchasing procedures and also overlook contracts
2. Operations management
Leverage different methodologies to improve the operations of the process for the shop as well as the network without compromising the quality, delivery, and cost
Managing the team to ensure the project is delivered on time without compromising the budget and provide a creative solution to complex issues
3. Supply Chain Specialist
Collaborate with logistics and supply chain team to ensure smooth delivery product and information flow
Analyze KPIs to drive supply chain improvements
Execute solutions which solve routine problems and ensure customer satisfaction
4. Purchasing Manager
Coordinate with corporate procurement managers across the company to create strategies and contract consistency without compromising the budget
Negotiate with the suppliers for advantageous price and terms for the company
Identify the best supplier for the company and form a strong partnership with them
5. Supply Chain Manager
Design and implement process for logistics covering the first mile to last-mile operations
Use the operations concept to debottleneck the day-to-day tasks and improve efficiency
Collaborate with the team to drive incremental changes to improve productivity
6. Logistician
Responsible for the entire life cycle of logistics services including acquisition, internal allocation, distribution, and delivery
Responsible for reviewing the logistics performance against the SLAs and targets
Establishing task priority, scheduling, and tracking the work assignments
7. Logistics Manager
Responsible for keeping the optimum inventory level, delivery times, transport costs, and quality
Strategically plan the warehouse, transportation and logistics operations to achieve best results
Arrange warehouse, goods catalogue and design distribution network for the company
8. Production Planner
Supporting the input forecast trend analysis using a statistical model to make decisions
Strategically build operational plans to optimize costs associated with resources
Responsible for production planning for cost and service optimization for various network modes
9. Storage and Distribution Manager
Accountable for managing and executing transportation, administrative, and other strategic activities
Responsible for the cross-functional partnership to ensure fill rate and on-time delivery
The manager also must apply operations concepts to optimize transportation and shipping docks operations
Take the Next Step
Once the person attains more experience in the supply chain jobs, there are many opportunities at the top-tier level as well. The person may take up the responsibilities of upper management as President or Vice President. In the highly globalized economy, many companies work with distributors from different countries to conduct business. As a supply chain consultant, one may get an opportunity to interact with foreign clients from a variety of companies from various industries. Graduates of logistics and supply chain management will have a variety of avenues to follow. But no matter what role you play in the logistics and supply chain system, you can feel good knowing you're helping the people by providing the products they need. If you're still looking for more details, visit here.
About the Author: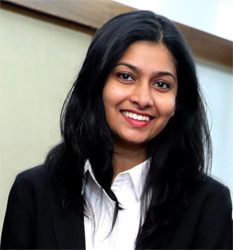 Sanjula is a MBA GSCM Graduate from IIM Udaipur. Before her MBA, she was working with IBM India Pvt Ltd for 4years. She is now working with 3PL logistics company Delhivery in the Project Execution department. She loves reading novels and was also a freelance content writer for a start-up in New Delhi. You can connect with her on LinkedIn