It is December 2019. With the year headed towards its end and people busy in planning their new year's parties and resolutions, a piece of news breaks out. It is about an unreasonable outbreak of pneumonia in a particular province of a country. Considering it another seasonal flu, most of us turn a deaf ear towards it, and the routine goes on. With diplomats negotiating deals, managers performing their office duties and kids attending school, almost nothing changes except for the fact that the news of the flu getting bigger in impact and transmission keeps on hitting our ears with more frequency. Most of us still think of it as a menace in a distant land, which could never affect us, until, a few months later, when the fear comes true.
It is the year 2020. First few cases of the flu are reported in India. The inevitable follows and leads us into a quandary. The cases increase exponentially, causing shut down of various services and areas and finally arrives a day when there is a complete lockdown, and we find ourselves amidst a cliffhanger.
Empty roads, closed down markets, malls and institutions, doctors and officials working around the clock putting themselves at risk, the numbers of the reported cases surging each day, and the growing panic among the masses, instil in us not only fear but also thoughts. Thoughts about our problems, about our loved ones, about the economy, the society and the world as a whole. We do not know where all this is headed, when it would stop, and how everything would look like post the pandemic, and it causes more concern.
As current and future managers, there is a lot we can learn from the predicament. The given situation can very well be perceived as a test for us, as management students and professionals. The times are tough, yet, if one considers, it is also an opportunity for us to learn from this challenge.
The Current and the Outgoing Batches
With exams and job on-boardings delayed, internships in a fix, convocation almost cancelled, and missing clarity about nearly everything, the time is indeed severe. But the problem statement also states the solution. 'There is time.' Time that we can invest in ourselves. Time which we didn't have earlier due to the rigor in our lives. It is after long that we have got so much time for ourselves and our thoughts that we can act on them. It also teaches us to be empathetic for those who are suffering and gratitude towards our peers, our community and our lives.
This time apart from up-skilling could be used to reflect. To reflect on our journeys hitherto, and also think about what further direction we would like to go in once the world aligns back on its axis. What we would do differently and how would that make a difference in contributing to the greater good.
The current crisis is also an opportunity for some hands-on learning, by observing the actions of different stakeholders in the world, and the impact of them. The magnitude of the outbreak is enough to stir everybody ranging from heads of countries to the daily wage labourers. With the governments, doctors, corporates, diplomats and even the common people taking different approaches to combat this world-changing event, there's a lot of management we can learn.
It is also vital that during these times, we inculcate in ourselves the habit of practising gratitude. No matter how puerile the idea might have sounded at the outset, clanging of utensils and clapping on the day of 'Junta Curfew' was a sight to behold, and it did make it a little easier to bear with a lot that was to follow. It is essential to recognize our privileges and be thankful to all those who have contributed to them, they may it be our caregivers, helpers, peers or our loved ones.
Another imperative thing is having compassion and empathy and for once instead of turning a blind eye, intently look at how the worst affected ones are dealing with the disaster, and how we can create a difference for them. Now that we realize how disheartening it is to lose our internship while we dwell comfortably in our houses, we must also try to imagine how it would feel for a daily wage labourer to lose months of her income while her kids have no food.
Most importantly, we need to make efforts at being a part of the solution. Many campaigns are being run by different governments wherein we can volunteer. Several awareness initiatives are being run by students themselves. Given the tools and the technology that we possess today, we do not need to go out there in the field to create an impact.
Aspirants
The incoming batch is worried about the ongoing situation because the pandemic can have an impact on them. The concern is also reasonable. However, what we need to understand that it is the same for everybody, and it is out of our control. What we can do instead of worrying is utilize this time to amass the necessary skills and be better prepared for our journey into a business school. A specific list of activities which can help can be found here.
Alumni
The alumni base of any institute is one of its most valuable stakeholders, and indeed a crucial one in such tough times. Their contribution always is immense, from being as sincere as helping people find work from home internships, or as simple as hearing out an anxious student. You being there for us in need makes a difference!
With everybody doing their work with utmost sincerity and diligence, we are sure to get out of the crisis, sooner or later. Ultimately, we are all in this together. However, streamlining our efforts and approach could not only help us emerge better but also teach us lessons which would be valuable for life.
Amidst the havoc, through our solidarity, let's make the world a better place, yet again!
About the Author: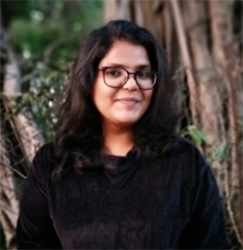 A student at Indian Institute of Management Udaipur's MBA batch of 2021, Nandini has formerly had trysts with engineering, corporate, and development sector. Often found ruminating during the day and stargazing at nights, she is on an incessant pursuit to unsheathe the 'extra' from her 'ordinary'. You can connect with her on LinkedIn