A digital enterprise is an organization that has a digital-first mindset and is leveraging digital technology to re-imagine the business and is actively working to transform internal and customer facing services to digital services. An example could be a healthcare company trying to create AI chatbots to answer about the general queries asked by customers or healthcare providers enabling doctors to be available via video conferencing through designated apps.
Digital Transformation involves four pillars of technological disruption, namely Big Data and analytics, Cloud Computing, Mobility and Social Networks. It helps an enterprise to get more customer reach, provide personalised customer care, improve productivity which leads to increased revenue, reduced cost and organizational growth. Enterprises today have greater access to data than ever before. With the right set of analytical tools data can be converted to valuable business insights that helps a business to make informed and quick decisions. Many businesses are leveraging AI based technologies to modernise their existing applications and shift through data at a faster and reliable rate.
Digital enterprises are undergoing massive automation and adoption of digital services and are helping to re-invent the workplace and serve consumers with unprecedented ease and efficiency. With increasing demands and speed of delivery or in other words with agility that cannot compromise on the quality and security, the old ways of managing technology are getting obsolete and organizations should now adopt a new innovative approach that operates in real-time and is automated, secure and open.
Today's world is changing rapidly and organizations are moving more towards rapid adoption of digital in order to grow and sustain in the competitive landscape. Some of the skills that organizations are looking for in an employee to have in this VUCA world are – creativity, problem solving, adaptability, leadership and emotional intelligence. The one-year MBA program in Digital Enterprise Management at IIM Udaipur teaches students the skills and knowledge for utilizing digital technologies to solve business management and organizational problems in creative and innovative ways. Apart from the traditional management knowledge, the IIM one year courses focus on all the latest technologies like big data, IOT, blockchain, analytics, artificial intelligence that are getting more prominent and will dominate the market in future.
About the Author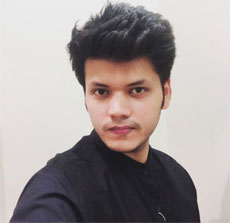 Navonil Chatterjee is an MBA student of Digital Enterprise Management batch. He has overall 7 years of experience in software development. He aspires to be a project manager. He is a travel enthusiast and passionate about swimming. In spare time he loves to read fiction novels, write blogs and loves to play lawn tennis. You can connect him on LinkedIn.