Admissions closed for 2022-23 batch.
Watch the webinar held about the program at https://bit.ly/3qPiWW2
The first-ever One Year MBA program in Digital Enterprise Management (DEM) introduces candidates with work experience to management concepts and leadership styles in the emerging digital business enterprises.
The program aims at developing business leaders who will drive the Digital Economy. It is the first MBA in the country in which students focus on learning how to manage digital systems and how to use those systems to make data-driven decisions, lead complex and diverse teams in digital environments.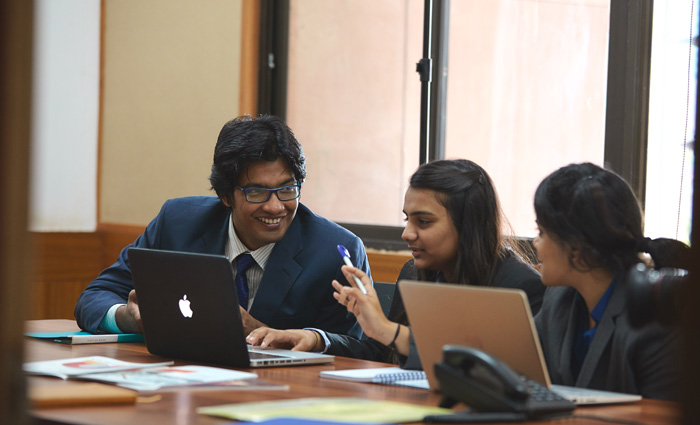 Structured around leadership, innovation, strategy, decision-making, and entrepreneurship, this program provides a well-rounded exposure to business management, data analytics and emerging technologies that are high in demand in the corporate world.
Designed as a full-time residential* program, the admission requires a GMAT/GRE/CAT score from a recent period along with a minimum of 3 years of full-time work experience that followed a graduate degree. Generally the program starts in April of the first year and ends in March of the following year. For the academic year 2022-2023, the program shall start on April 6, 2022.
The one year program provides participants with a solid foundation in management fundamentals and also exposes them to contemporary practices of data-driven decision making. Students will learn from academicians and industry practitioners through case studies, simulations and practical lab projects about processes and practices prevalent in digital enterprises, which will prepare them to face the challenges of the emerging digital world.
The structured courses are in five pillars and these are:
Fundamentals of Business Management
Fundamentals of Digital Enterprise
Data Analytics and Technology Management
Digital Industry Practices
Solving Business Problems (Projects)
Projects provide practical experiences to students, who work in teams to solve real-world business problems using management concepts and prowess of technology and analytical techniques.
One Year MBA in DEM enables professionals to prepare for the next phase of their careers in management and leadership roles in emerging digital enterprises. By reinforcing their existing strengths and helping them acquire new skills in managing emerging technologies like AI, Blockchain and IoT, the DEM program fosters experiential learning from interactions with academicians and practitioners from the digital world.
Placements
The programme provides placement assistance to the students as part of the campus placement activity. The companies visiting the campus for placements have the prerogative to make an offer to the students, which may involve selection processes that are specific to each organisation.
In the previous year, 100% of the students had received placement offers before their convocation happened. Prominent Management Consulting firms and Tech firms were the chief recruiters. Some of them were Accenture, CGI, Cognizant, Deloitte, Persistent Systems and Thoughtworks.
Roles offered were in Digital Experience, Digital Transformation and as Business Analyst.