IIM Udaipur has established itself as one of the top management schools in India. Our rankings in academics and research along with international recognition set us apart.
AACSB Accreditation

IIM Udaipur has taken its place among the top global B-schools by receiving accreditation from the AACSB (Association to Advance Collegiate Schools of Business). AACSB is one of the two most prestigious international accreditations for management education along with EQUIS. With this recognition, IIM Udaipur becomes just the fourth IIM to gain either of these distinctions, entering the ranks of IIM Ahmedabad, Bangalore, and Calcutta.
Previously, only seven schools in India had earned this acclaimed global recognition. ISB was the first B-school in India in 2011, ten years after its inception. By attaining accreditation in less than eight years, IIM Udaipur is now the youngest AACSB-accredited B-school in India. Read more.
QS Masters in Management Ranking

Indian Institute of Management Udaipur featured in the prestigious Masters in Management (MIM) QS World University Rankings 2022 for the third consecutive year. The management institute is ranked 151+ among programs from across 33 countries, maintaining its listing for the third consecutive year.
The institute also recorded a rise in performance indicators to 28.7% in 2022 from 27.7% in 2021 rankings. Read more.
FT Master in Management Ranking 2021
Indian Institute of Management Udaipur featured in the prestigious FT Masters in Management 2021 Global MIM Ranking today at the 82nd Rank for its two-year MBA program. In just 10 years of history since its establishment in 2011, IIMU is only the third IIM in the prestigious rankings holding a spot in the Top 100 for the third consecutive year along with IIMs Ahmedabad and Bangalore.
The FT MIM ranking lists the top 100 Masters in Management programs globally. IIMU is also ranked 77th globally in the Three-Year Average ranking. IIM Udaipur continues to be the youngest in Asia and second youngest B-school globally along with the University of Sydney Business School to be listed in the FT 2021 MIM Rankings. Read more.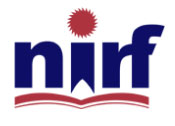 The National Institutional Ranking Framework (NIRF) was established by the Ministry of Human Resource Development in September 2015. This framework outlines a methodology to rank institutions across the country according to parameters covering: Teaching, Learning, and Resources; Research and Professional Practice; Graduation Outcomes; Outreach and Inclusivity; and Perception.
IIM Udaipur is recently ranked 18th by the National Institutional Ranking Framework (NIRF) Rankings 2021 of the HRD Ministry. The institute attained a whopping score of 60.94 and remains in the Top 20 Management Institutes in India again. Read more.

A key component of IIMU's mission is to establish itself as a leader in management research in India. To achieve this, IIMU is recruiting young faculty who have attained doctoral-level degrees from leading schools in India and abroad and providing them with the working environment, funding, mentorship and other support they need so they can realize their full potential as researchers.
These efforts have already started to show impressive results. According to the methodology deployed by the UT Dallas' Naveen Jindal School of Management, IIMU is now rated 4th among Indian business schools based on research published in leading global journals. Read More.
Know more about the rankings Click Here.
GBSN Membership

IIMU Udaipur is a member of Global Business School Network (GBSN). GBSN is a nonprofit organization that partners with business schools, industry, foundations and aid agencies to improve access to quality, locally relevant management education for the developing world.
With a growing network of over 90 leading business schools on six continents, GBSN fosters cross-border networking, knowledge sharing and collaboration both within their network membership and with the broader business education and development communities. Read more.