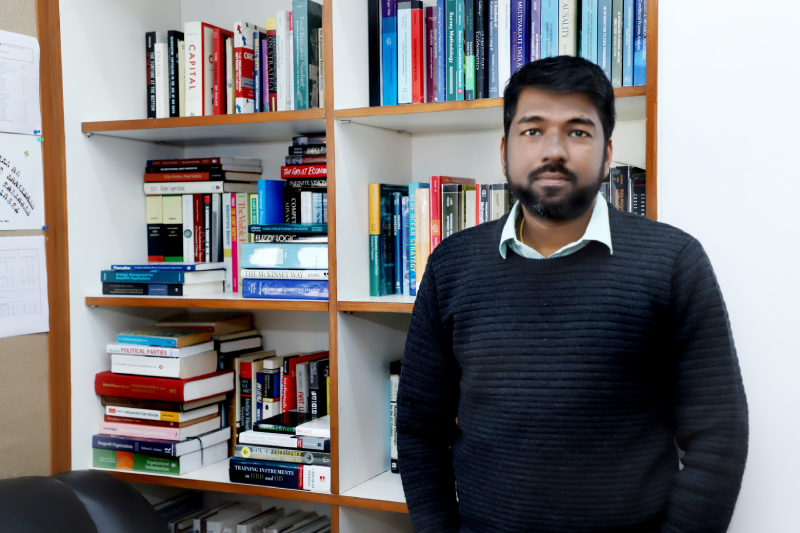 "A key component of IIM Udaipur's mission is to establish itself as a significant contributor to management research globally. To achieve this, IIMU has a research-friendly working environment, funding facilitation, mentorship, and other support that faculty needs to make them realize their full potential as researchers. The research ecosystem put in place at IIMU attracts young faculty with the potential to do high-quality peer-reviewed research that their peers find meaningful. The Ph.D. program at the institute caters to students with strong academic credentials who aspire to undertake demanding original research. The rigorous coursework covers foundational subjects, methods, and advanced courses in their area of specialization, equipping students to make significant scholarly contributions in their field.
The IIMU Research office - R&D Office collaborates with various organizations and provides support and assistance to faculty and staff on research-related or allied administrative issues. The R&D office also helps the faculty raise the overall research productivity and enhance the visibility of researchers in international research journals and platforms.
IIMU's goal is to not only increase the quantity of research but, more importantly, to ensure impact through high-quality research. Our strengths and successes in research have already started to show impressive results. According to the methodology deployed by the UT Dallas' Naveen Jindal School of Management, IIMU is rated 4th among Indian business schools based on research published in leading global journals.
While we are excited about our growth and plans ahead, IIMU has set aspirational goals for its Vision 2030, focusing on high-quality research and student transformation to build on our proud legacy. We look forward enthusiastically to continuing to strengthen our research ecosystem by publishing original research in peer-reviewed journals.
With Vision 2030 in place, IIM Udaipur aspires to be a leading business school in high-quality research and become a globally recognized management school. As we advance, we want to continue to break new ground by focusing on all the facets to achieve this vision. I invite management aspirants, faculty, and research scholars to be part of our journey towards establishing IIM Udaipur as a leading management institute in the field of high-quality research."
Prof. Soorjith Illickal Karthikeyan
Faculty, Organizational Behavior, and Human Resource Management
Dean, Faculty & Research
Research Interest
Organizations, Industry Dynamics, Economic Sociology
Publication Summary
Karthikeyan, S. I., and Wezel, F.C. "Identity repositioning: The case of Liberal Democrats and audience attention in British politics, 1950- 2005." Research in the Sociology of Organizations, 31:295-320, 2010
Karthikeyan, S. I., Jonsson, S., and Wezel, F.C. "Things fall apart: category change and misalignment in British politics, 1970-1992." Working paper, 2013
Karthikeyan, S. I., Jonsson, S., and Wezel, F.C. "Boundary crossing and category change" Working paper, 2013
Karthikeyan, S.I., and Wezel, F.C. "The architecture of organizational identity: Dynamics of social codes and audience attention among British political parties, 1950- 2005." Working paper, 2012
Experience
Post-doctoral Fellow (2011-2013), Dept of Business Studies, Uppsala University, Sweden
Teaching Assistant (2007-2011), University of Lugano, Switzerland
Research Assistant (2005-2006), ICEPA, Dept of Applied Economics, CUSAT, India
Honors and Affiliations
Honors
Fellowship for prospective researchers (2011), Swiss National Science Foundation, Switzerland.
Finalist (2008 & 2009), Best PhD Student Paper Award, European Group of Organization Studies Conference (Amsterdam & Barcelona)
Affiliations
European Group of Organizational Studies (EGOS)- 2008 onwards Academy of Management (AoM)- 2009 onwards