IIM Udaipur alumni community is a robust and increasingly diverse network of dynamic young professionals making their mark in the corporate world, social sector and entrepreneurial ventures. IIMU is actively working to forge a lifelong relationship with every alumni.
IIMU Support for Alumni
The Corporate Relations Office provides alumni with ongoing career support. The IIMU Incubation Center provides a range of support and resources for entrepreneurs of IIMU. Effective communication with alumni is assured through the IIMU Alumni Portal which is designed to strengthen and facilitate the relationship between alumni and the Institute. The Portal makes it easy to locate and contact batchmates and friends and share information about career changes and promotions, personal announcements and other news.
On the portal you can find:
Directories and contact information
Discussion boards
Online job database and postings
Networking opportunities
Events information
All graduates of IIMU's diploma and degree programs are eligible to use the Alumni Portal. Alumni can register or login here:
https://iimu.almaconnect.com/
Visit AlmaConnect- The Alumni Portal
Alumni Support for IIMU
Alumni continue to support the Institute and its mission in many ways:
Acting as mentors
Helping with interview preparation and career guidance
Offering students opportunities for projects and internships
Coming back to share their expertise and experience as participants in conclaves and summits
Supporting on-campus recruitment

Alumni Chapter Meet
A4, IIMU's Alumni Association, organizes chapter meets known as 'Adhyay'.
Being a part of city Adhyay, our alumni get opportunities to connect with their peers working in the same city. Adhyay events have been conducted not only in India (Bangalore, Delhi, Hyderabad and Mumbai) but also in Dubai to connect our international alumni.
New cities will be added to the list of Adhyay locations when there are at least 15 alumni in a given location. An Adhyay will help achieve the following:
Enhance the alumni network
Encourage alumni to stay updated about institutional activities
Involve the alumni with the Institute by being mentors or getting involved in the placement activities
Provide academic and career-related support to alumni
Contact information of IIMU Alumni Chapters
International
Alumni and Allies Association (A4)
Alumni and Allies Association (A4) is the student cell that acts as a liaison between the alumni of IIMU and the Institute. A4 organises Sampark to assist two year MBA students with their summer placement preparation. Among its other activities, A4 organizes Flashback, the annual alumni reunion, which is one of the most anticipated events each year at IIMU.
Read More
Global Footprint
IIMU Udaipur's alumni community is working in leading MNCs in over 15 countries spanning in global including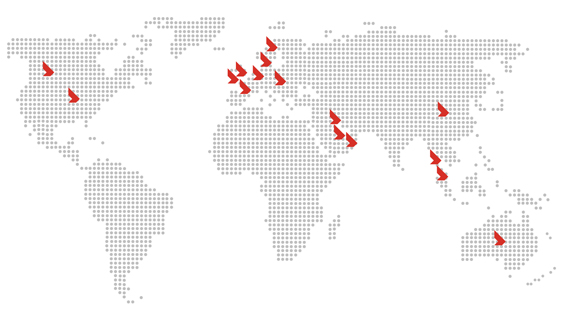 Contact
A4 Team: a4@iimu.ac.in
Alumni Reflection videos Click Here
Thump – the Alumni Magazine Download PDF