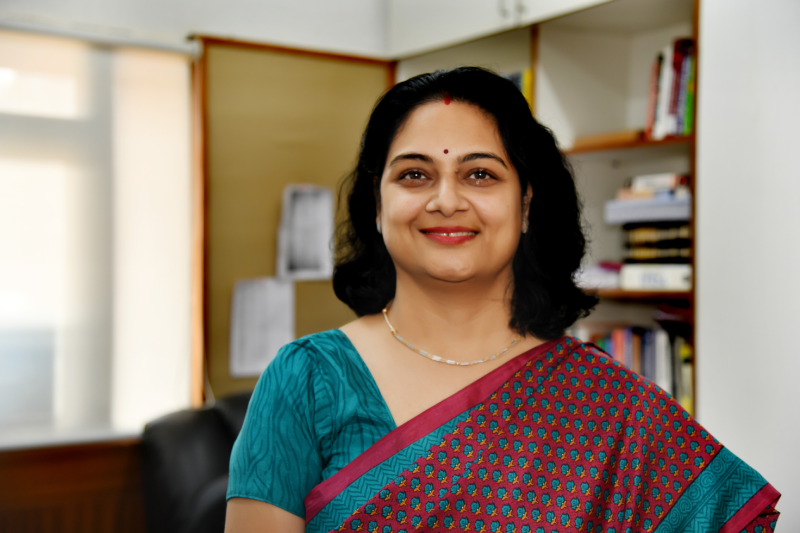 "Warm greetings and welcome to the Indian Institute of Management Udaipur!! As Dean, Programs of the institute, I am incredibly proud of our rich tradition of providing transformational business management education. Besides academic learning, our students organize and participate in various activities throughout the year. All student activities on campus are governed by the Council of Student Affairs, making our Institute a student-run campus.
IIMU marks the tenth anniversary of its establishment in 2021, a year for looking back at our successes and for looking forward to our Vision 2030. IIMU has always embraced change and forged ahead, be it the global MBA rankings or AACSB accreditation. Our MBA and Ph.D. programs prepare students for enhanced career opportunities and research, respectively. Our Institute has an excellent research ecosystem, outstanding faculty that continues to build on the strengths of our core values, and exceptional students who have a bright future.
The diversity and inclusiveness within the IIMU community have been at the heart of our collegial learning environment. IIMU is a place where students take ownership and responsibility for themselves and critical aspects of student affairs. Our collaborative program structures wherein faculty members share resources and work together in developing rich curriculum content and innovative instructional activities are unique. Our vibrant and valued partnerships with corporates and industry leaders bring together academia and industry.
IIMU's placement record is a testimony to the corporate world's confidence in our academic rigor and professional outlook. We will continue to focus on academic superiority, with improved placements being a byproduct of our Focus on academic excellence. The efforts of our competent faculty and staff, brilliant students, and exceptional alumni have guided us to the enviable position we are in today with respect to Global Rankings. Alumni are one of the fundamental building blocks of any institute and at IIMU we have a special relationship with our alumni. Their wholehearted support in multiple activities, including interactions with prospective students, mentoring of current students, and industry connect is a testimony to the relationship the institute created with them while they were students.
With a culture of academic excellence and an inclusive environment for growth, we have set a course for our Vision 2030. I, therefore, invite all the aspiring management and research students to experience a transformational journey of business education and research here at IIMU.
Prof. Sandhya Bhatia
Faculty, Finance, and Accounting
Dean, Programs
Research and Consulting Interests
Financial Accounting, Financial Management, Management Accounting, Strategic Financial Management, Cost and Management Accounting, Corporate Finance and Working Capital Management, Business, Restructuring, Merger and Acquisition, Management of Financial Services
Publications in Peer Reviewed Journals
Bhatia Sandhya (2010): World Bank's Poverty Alleviation Mission, Shrinathji Journal of Business and Research, Vol.1,No.1, July- Dec. 2010,pp115-122
Trivedi, I.V.and, Bhatia Sandhya (2010): World Bank's Poverty Alleviation Mission Evinces Moderate Success in Rajasthan, TRIBE Vol.42(1-2), pp.114-120
Bhatia Sandhya (2009), Inclusive growth: An Essentiality for Achieving Growth Without Poverty, SPACE, Vol. 1 No. 1, July- September09, pp 43-49
Gupta Naveen and Bhatia Sandhya (2009), Bye- Bye to Classical Management: HRD NEWSLETTER, Vol. 24, Issue 11, February 2009, pp 35-36.
Bhatia Sandhya (2011): Evaluatory Assessment of World Bank's Poverty Reduction Interventions in Rajasthan – Accepted for publication in 'International Journal of Humanities and Social Science, USA'.
Bhatia Sandhya (2011): Evaluatory Assessment of World Bank's Poverty Reduction Interventions in Rajasthan –International Journal of Humanities and Social Science, Vol. 1 No. 13 [Special Issue – September 2011]
Book Chapters/Review
USA.Indian Banking System, Ramesh Book Depot, Jaipur: Edition 3rd, 2011
Experience
Sir Padampat Singhania University, Udaipur January 2011-July 2011-Assistant Professor
Pacific Institute of Management & Technology, Udaipur, Rajasthan February 2009 - December 2010 - Associate Professor
Coordinator-Industry Academia Interface Advent Institute of Management Studies, Udaipur, May 2006 - January 2009 - Assistant Professor, Academic Coordinator of BMS Program
ICFAI National College, Udaipur, September 2004 - April 2006 - Faculty Member and Coordinator (Autumn batch 2005-06)
The Rajsamand Urban Cooperative Bank, Rajsamand May 2006 - April 2011 - Expert Director and Member of Audit committee
State Project Management Unit, DPIP, Government of Rajasthan, September 2005 - December 2007 - Member of Panel of Expert. Consultancy on Sub- plan Project Activities of DPIP
Consultancy assignment of Vishvas Sansthan, Udaipur for the year 2006-07 on Financial Planning and Internal Control
Kumar Sandhya & Associates, Chartered Accountants, Udaipur July 2003 - August 2004 - Proprietor handling accounts and taxation assignment
Umesh Lodha & Associates, Chartered Accountants, Udaipur July 2002 - June 2003 - Manager Accounts and Audit Department
Case Study
Sundaravaradhan Venkatesh, Sandhya Bhatia, 2013, "Case study research on 7-ELEVEN IN THAILAND ", IVEY Publishing House (9B13B021), pages 11.