The COVID-19 (Coronavirus) pandemic has affected businesses worldwide, spreading not only the disease but also uncertainty and apprehension in its wake. It has thwarted routine course of operations and forced companies to reimagine their business models to remain functional. The world economy is disrupted and heading towards a deep recession. Such a scenario is unprecedented and forces one to think about how fickle and volatile the business ecosystem can be.
So how do we manage when the most unexpected happens? The best way to handle any crisis is to learn lessons from the crisis and move forward. There are numerous management lessons that we can learn from this pandemic, and the most important one is the significance of 'Communication.' Following are seven management lessons for communicating in the crisis that business leaders can derive from this unforeseen predicament:
1. Silence is Not Always Golden
The first thing to be done when dealing with a crisis is to communicate. Studies have shown that seeing the leader's face in the time of need instils hope and alleviates fear in people. Being absent at such a crucial time spells disaster for your firm. Share with your stakeholders the steps that the company is taking to ensure their safety, and how they can contribute in return. Set up a team to arrange webinars, or send out letters, and make sure to keep in touch.
2. Stop Procrastinating
The biggest communication mistake you could be making is to wait until you have all the answers. We should not wait for any right time; instead, the best way is to choose transparency in the time of crisis. Instead of attempting to conceal the bad news, reassure your key constituencies that you are working on a solution and not leaving them hanging. On social media, respond to queries at the earliest. A single errant comment could be damaging to your brand reputation if not dealt with properly.
3. Ask the Right Questions
Every firm must have a professional crisis management plan in place. However, for crises that creep up on you as unexpectedly as the COVID-19 pandemic, no one can be fully prepared. Such an event presents specific management lessons. One is to always prepare for the worst, even when you're flourishing. Another is to ask important questions like, "Do I have stable cash reserves?" or "How do I ensure the safety of my people in a time of crisis?"
4. Do Not "Over-promise" and "Under-deliver."
Another blunder that you could make is to over assure people. Review your deliverables to see how feasible is the current scenario, and be upfront about the same. Avoid committing more than your team can accomplish and be open to renegotiation on deals, to avoid damaging your reputation.
5. Let the Data Speak for Itself
Work on strengthening your financials and reclaiming lost market share. The Coronavirus pandemic has brutally hit almost all sectors of the economy. Since numbers would be more effective than words in regaining your shareholders' trust, make sure your team is on top of it. Utilize your crisis management plan to the fullest, and also take lessons from crisis to update it.
6. Be Agile
Supply Chain Agility is the need of the hour. Gone are the days when we had the luxury to be set in our ways. Communicate regularly with your suppliers to keep your business up and running, but do remember to put safety first. Be ready to identify broken links in your supply chain, and work to restore them by considering alternative arrangements quickly. It is good to evaluate your value chain to understand where you need to be agile.
7. Do Your Bit
In addition to saving your business from the crisis, now is the time to be empathetic and show genuine loyalty. Put yourself in the shoes of those dependent on you and put employee well-being above all else. Further, extend your philanthropic arm to uplift the underserved parts of the society by donating in cash and kind, and rolling out authentic information. In doing so, you will send out a strong message to the communities saying that they can count on you.
Communication is the most important tool that governments and companies can wield to curb uncertainty. However, to avoid sending out a wrong message, make sure to look at communication from the receiver's perspective. Non-verbal cues are just as important, as taught in an MBA Graduate Program. In the case of studies, the most successful companies often lead by example. So be there for your people and society and beat the crisis
About the Author: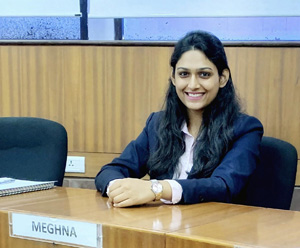 Meghna is a management student at IIM Udaipur and a student representative in the institute's Media & Industry Interaction Cell. With prior experience of two years in the IT industry and a lifetime in literature, she loves to write both codes and blogs. An adventure seeker at heart, she enjoys psychological thrillers and feels at home on a beach and a boardroom alike. You can connect with her on LinkedIn