Universities worldwide have had to shift their mode of teaching from classroom to virtual discussions in the wake of the COVID-19 pandemic. Educators are embracing the internet as a new classroom tool. To discover how this online teaching has impacted students, Snehalkumar Ghaytadkar, a student of One Year MBA GSCM batch 2020-21, shared his experiences of online learning. He has also shared how to be productive during virtual lectures and his thoughts on the future of education.
Getting into an IIM without enduring the hassle of dreaded competition was not less than a dream come true. Ten days before my flight to Udaipur to pursue my MBA, lockdown happened. Within a few days, it was clear that this is not going to end very soon. And in a few days came the news of online commencement of the program from the institute.
It was not what I had thought of while I was planning my MBA from an IIM. I had many questions on my mind and a few misconceptions about learning online before I started. Having worked in the supply chain field, I was very much excited to join the program and enhance my skills to the next level. Come May 14th, the program started. A completely new experience was awaited. Despite all odds, there were quite a few things I found most interesting about online learning.
In the first week, it took a bit of time to get into the online mode, interacting with classmates I had not personally contacted. I pictured a virtual classroom full of glassy-eyed students improving their understanding, learning new skills, and gaining valuable hands-on experience.
Various classroom discussions, involvement in exercises, case studies discussion, and interactive sessions allowed us to know each other. The ice was breaking, and the batch gradually started to enjoy the flexibility of virtual learning. The Institute paced up the program with more activities planned for the day.
For a situation unfamiliar to both students and the Institute, IIM Udaipur has planned the schedule so perfectly that it has been a smooth transition for all of us. Zoom sessions replaced classrooms, WhatsApp calls renewed discussions, and we got along. All the faculty members were so conversant with the usage of these platforms that it made the adjustments easy to adapt.
Peers pitched in, bringing in their experiences, making learning more exciting. After a few lectures, I now understand how things on which I used to work were making an impact on a larger level. I became a part of a community that will reach out to me for any support.
The One Year MBA in GSCM program that I am part of has many concepts that are relatable with the work I did in the past. Day by day and lecture after the lecture, I kept on learning many more ideas, and I am eagerly waiting to use those concepts again when I start working.
I'm thankful to the Institute, professors, and my classmates for making the most of the situation. Yes, I miss the campus life, late-night tea breaks from studies, gaming nights, parties, but I am equally proud of how we have quickly adapted to the new normal. I'm looking forward to joining the Institute and meeting my classmates in-person not only to make learning better but also create memories for a lifetime."
About the Author: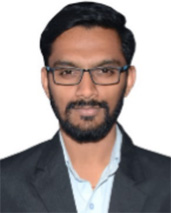 Snehalkumar is a SCM professional with almost six years of experience with Larsen and Toubro Ltd and Flex Technologies India Pvt Ltd. A mechanical Engineer by qualification, he is currently pursuing his MBA from IIM Udaipur. His interest lies in travelling and exploring new places and trekking. You can connect with him on LinkedIn