Every company meticulously plans for its finances, employees' wellbeing and expansion strategy. The strategists think of the business strategies and their outcomes in a way that they often neglect the other factors that could adversely affect their business – fire, floods, cyberattacks or widespread pandemics, what the world is currently witnessing. These threats are often unforeseeable, and all other planning and strategies could go for a toss if the organization does not plan for these contingencies. In the wake of the recent COVID-19 breakout, a lot of organizations have failed, ever more emphasizing the importance of Business Continuity Planning.
What is a Business Continuity Plan?
Business Continuity Planning (BCP) is creating and updating a set of procedures for an organization to cope up, maintain productivity and recover quickly in the unfortunate event of a catastrophic setback to the business.
Why is BCP necessary?
Cover for Losses

One might say that covering losses is the job of insurance, how does BCP come into play? It's essential to understand that insurance does pay for some physical damages. Simultaneously, some other peripheral costs need to be taken care of, like customer retention, abruption in the current workflows, missing deadlines or falling behind the schedule in your business plans, which can potentially cause significant losses. A well in place business continuity plan defines a set of actions that you can take to bring your business up to speed in no time.

Create Awareness and Preparedness

A number of things suddenly come to one's head in such urgent situations, and a state of shock and dismay can affect the decision making of an individual, and hence the business. With a proper BCP, the organization can create a sense of preparedness for the employees and warn them of such circumstances to productively help when a disaster strikes.

Competitive Edge

In times of disasters, most organizations fail in their operations, planning, execution, etc. A well laid out plan can help you get your business back on track very quickly and create an opportunity to capture more market. At the same time, the competitors are busy figuring out their path to recovery.
How should an Organization Prepare its Business Continuity Plan?
Every organization needs to create a BCP team. This team is full of enthusiastic and visionary leaders, who can appropriately analyze and gauge the impact of disasters on the organizations, and are aware of the critical business aspects that need to be protected, lest such a time arrives. The team decides upon an acceptable threshold of losses and downtime the company can withstand, and develop the recovery plan for every given situation.
Mock drills and awareness seminars should be conducted around the BCP and the coping mechanisms to ensure the employees understand the importance of a Business Continuity Plan.
Additionally, it is critical to know why business continuity is essential and update the BCP according to the added technologies and new SoPs and ensure that it can cater to a long future.
How to Equip Yourself with the Vision to Build a Business Continuity Plan?
You can pursue several routes to get yourself certified as a Business Continuity Planning Specialist or a Business Continuity Management Specialist. While these certifications give you the credibility to hold your organization's position, a much broader vision and experience are required to be an active professional in the field. Exclusive postgraduate courses like IIM Udaipur's One Year MBA in Global Supply Chain Management provide a platform for professionals to gain a deeper understanding of why is business continuity important and thereby become better equipped to formulate business continuity plans.
About the Author: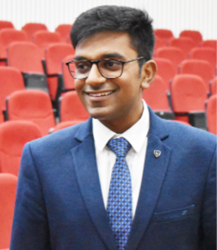 Sparsh is a part of the IIMU family, from the batch of 2021. Sparsh has explored his interest in computer science and is now aspiring to be a product manager. He is enthusiastic about technology and gadgets and anything on wheels, and spends a lot of time browsing through blogs, vlogs and articles about them. He has a keen interest in graphic designing, painting and, of course, writing. On a chill day, you could expect to accompany Sparsh on his exotic food quest and long drives! You can connect with him on LinkedIn