It often comes to one's mind, "How can I add value to my career? Will MBA help me move up the ladder? If yes, should I go for a degree in Finance, Marketing, or HR? Or should I explore new options? How can I become an irreplaceable resource for my employer?" It is not uncommon to get caught up in this dilemma and sit perplexed when one of the biggest career questions hits you. No barriers contain today's business world, and education is parallelly supporting it. MBA in today's time is not confined to mere business education; instead, it explores the newer domains which can leverage differentiation in the modern business world.
Supply chain management has transformed its image from just another business function to the point of differentiation in a highly competitive business environment. Companies like Amazon, Starbucks, IKEA, Walmart, and many more have been sailing because of their strong supply chains and well-thought-out logistics and operations. These modern recruiters are looking for employee competencies that help them in building an edge over other businesses. Therefore, to become an irreplaceable resource in the competitive job market, it is crucial to decide the area of specialization wisely.
Among the newer areas of specialization, supply chain MBA has been gaining traction. Advanced supply chains have become an inevitable part of successful and profitable business operations, with the corporate world looking for hires who have specific rather than general business skills. Supply Chain Management (SCM) is no longer restricted to its traditional definition, which says, "SCM oversees every touchpoint of a company's product or service, from initial development to final sale." Today's SCM also explores areas such as after-sales, returns and reverse logistics. As a result, MBA in SCM focuses not only on the nuances of the supply chain and operations but also on the advances in reverse logistics and warehousing. It further adds unique value by incorporating the latest analytical tools and techniques, thereby leading to better system efficiencies.
The supply chain MBA renders a framework to systematically put the core of the business operations at the centre and get a bird's eye view of the varied business processes. The acquired SCM skills help young professionals better decode the complexities of supply chains to develop agile and low-cost solutions by removing the inefficiencies in these identified processes. Unique solutions are possible because the latest supply chain MBA courses no longer discuss the subject at a broader level. It instead delves into concepts like design thinking to understand the product or service at a granular level and then develops ways to build a supply chain around it.
Supply chain MBA offers a wide range of career opportunities, with a chance to work as a Strategic Sourcing Manager, Operations Excellence Manager, Supply Chain Performance Analyst, Business Operations Manager, VP of Supply Chain Operations, Manager of Global Sourcing, Logistics and Transportation Analyst, and Warehouse Operations Manager among others. Apart from these core SCM roles, one can easily explore Consulting, Process Excellence, Project Management, and Supply Chain Technology domains. Digital advancements and advanced analytics in supply chain operations have also opened new doors for SCM professionals to explore digitization in Supply Chain operations.
Speaking from a personal perspective: Having worked in the research domain, I got the opportunity to work with clients across the Automotive, Aerospace, Manufacturing, and Logistics sectors. While working on projects that leaned towards sourcing, procurement, and supply chain, I understood the plethora of opportunities the supply chain domain holds for young professionals. Upon exploring and digging further to find the courses and specialization degree offered in the area, I learned about the courses offered by IIM Udaipur in Global Supply Chain Management. Having pursued this course over the last year, I was exposed to core business and management subjects in the First Term. The Second and Third Term focussed on core subjects such as Logistics, Warehousing, Global Supply Chains, Digital Transformation in Supply Chains, and Supply Chain Analytics. The highlight of the course was the Live Project component, where all students were allowed to work on projects with leading organizations in supply chain consulting, technology, and logistics. During the course, I interned with Walmart Globaltech India (Walmart Labs) to build a Warehouse Technology Strategy. The internship opportunity gave me an insight into the intricate warehousing technologies and the complex automation activities. It also helped me leverage my learnings from MBA subjects like Logistics and Warehousing to add value to the project. The MBA in logistics and supply chain management has turned out to be a truly transformational experience. It has allowed me to discover new realms in my career.
The supply chain is a vast and ever-expanding field. Especially with advancements from digital and analytics, the supply chain has undoubtedly become the centre of all business models. Moreover, with the ongoing pandemic situation, businesses have been trying to make their supply chains more robust and agile. Its revamp from traditional to modern supply chains is a budding ground for young supply chain professionals. IIM Udaipur's MBA in Logistics and Supply Chain Management offers an extensive specialization and helps one explore the natural environment by providing one-on-one industry mentorship, live project opportunities, supply chain webinars, and structured career guidance. If you believe that supply chain is the future, then IIM Udaipur's MBA in logistics and supply chain management is the stepping stone.
About the Author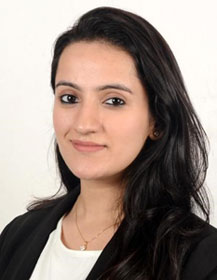 Divya Verma is a student of One Year MBA in Global Supply Chain Management at IIM Udaipur. She is a certified KPMG Lean Six Sigma Green Belt and has four years of experience in the Research and Consulting domain with organizations such as Kearney and The Smart Cube. Outside her professional life, she likes writing poetry and sculpting. You can connect with her on LinkedIn