"If something is important or you believe something is important enough, even if you are scared, you will keep going." – Elon Musk
While entrepreneurship in the current times is a key part of industrial and economic development, it is not as easy to exploit ideas into profitable opportunities while also accepting a great deal of risk and uncertainty. Entrepreneurial communities and companies' offerings add immense value to the society, along with an unparalleled professional experience for the individuals involved. Knowledge and skills of people who have walked down the same path often prove to add immense clarity in approaching the entrepreneurial challenges. Here is a list of books every entrepreneur should read, to experience known and unknown successes in this field.
1. "Zero to One: Notes on Startups, or How to Build the Future", by Peter Thiel,
Paypal co-founder, entrepreneur and venture capitalist, has penned down his ideology in running a truly remarkable and lasting business. His concept of going from zero to one, from nothing to something, and ideas on creating and protecting a monopoly within a niche market and then scaling up lead to a sure-shot path to success.
2. "Sprint: How to Solve Big Problems and Test New Ideas in Just Five Days", by Jake Knapp
The cogs of the sprint cycle, which push forward tough decisions and seemingly complex implementations in product development and design, are narrated as they work: dividing the book into five power-packed sections representing five days of a sprint. Experience of working with Google Ventures, the author elaborates on intricate aspects involving close interaction of essential stakeholders, including customers, in the iterative process of a sprint.
3. "Outliers: The Story of Success", by Malcolm Gladwell
A brilliant theory backed with evidence from diverse professional streams debunks the myth that success comes only to talented people. It introduces concepts like the 10,000-hour rule and delves into how each skill is cultivable through the right attitude and persistent efforts. One of the key learnings for entrepreneurs is the understanding of the reality about success and how extraordinary opportunities, instead of talent, pave the way to excellence.
4. "The 80-20 Principle", by Richard Koch
The presence of this book on a specific principle on the list could be debatable, but this, I believe, is by far the most crucial concept to imbibe for the journey towards sustaining a successful startup. The Pareto principle, beyond its application in different scenarios, fundamentally understands that most of the effects come from the minority of causes. The author elaborates on its uses in business, social interactions and professional and personal relationships.
5. "The Lean Startup", by Eric Ries
Unlike software development, which has evolved manifold, areas like product development and startup marketing still lie at nascent stages. With the lean startup framework, author Eric Ries, through his entrepreneurial journey, introduces a structured approach to bringing the customer into developing the product, the importance of the feedback loop, and nuances about laying out the product framework and measuring progress.
6. "Delivering Happiness", by Tony Hsieh
Through the tale of his Company Zappos, the author presents the perspective that ensuring customer satisfaction is critical for any company's path to success. It is not an ordinary book on startup strategy and methods, rather, it has its story-line firmly rooted in a happiness-driven corporate culture.
7. "Indispensable: How to become the Company that your Customers can't live without", by Joe Calloway
Bending towards a marketing perspective, the author, through his study of over thousands of different businesses, defines five primary ways to achieve the 'Holy Grail' in business. While the concepts aren't something new you've heard, the author hits the nail on the head by illustrating precisely how to perform the activity with your customers, such that they come back to you.
8. "The $100 Startup", by Chris Guillebeau
The author surveyed about 1500 people who followed their passion, spent about $100 on a business, and are successfully reaping earnings from it with no special skills. On the basis of the survey, the author arrived at principles about financing, investment, marketing and brand management. Interestingly, readers need to find the point where their passion meets their skills, and this can turn into a flourishing income.
9. "Rework", by Jason Fried and David Hansson
The book states that there are better, faster, more natural ways to succeed in business. Beyond this cliched thought, it explains why you don't need outside investors and better off-excluding the competition while advising on developing a transaction without affecting your health. It is considered a book of immense wisdom, recommended for all those who wish to build more transparent, healthy and efficient businesses.
10. "The New One Minute Manager", by Ken Blanchard and Spencer Johnson
The book is an updated version of the 1982 classic leadership book 'The One Minute Manager' and is a guide to getting more significant results in less time. Through its three techniques of 'One Minute Goals,' 'One Minute Praisings' and 'One Minute Redirects,' the authors sketch a clear roadmap towards effective management.
While these are few of the best books for aspiring entrepreneurs, the quest for knowledge shouldn't end here. There is unlimited content out there uniquely curated for new and budding businesses, including podcasts, case studies and blogs, among others. Most of the students choose various MBA graduate programs to get excellent results, but if you are the one who opts for entrepreneurship, these books should be your priority to read and instill a couple of traits in you.
In the league of growing startup culture, IIM Udaipur is firmly rooted in the list among top Indian B-schools in terms of a dedicated Incubation Center, which serves as a platform to launch and develop startups into scalable, viable and profitable businesses. Also, the Institute fosters Saksham, the student-run entrepreneurship cell, which aims to ignite the entrepreneurial spark among students to bring innovative ideas and bring them to fruition. Saksham actively engages with numerous in-house startups, collaborates with the IIMU Incubation Center, and connects budding entrepreneurs from IIMU with mentors and Venture Capitalists, to give wings to their dreams. IIMU proudly cherishes the success-stories of its alumni and their startup ventures.
About the Author: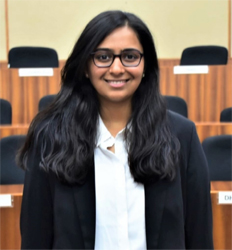 Saumya is an MBA student of the class of 2021 at IIMU. An engineer by profession and a bibliophile at heart, she is a voracious reader of management and literary classics alike. She is a software developer with keen interest in marketing and analytics. In her leisure time, she loves to write and explore local spots in the neighbourhood. You can connect with her on LinkedIn