"Whenever you see a successful business, someone once made a courageous decision" ~ Peter F. Drucker
SAKSHAM is the Entrepreneurship Cell of IIM Udaipur. The club endeavors to enable students to bring their dreams to reality and augment entrepreneurial capability in them.
Its objective is to ignite a spark within the students to take up innovative ideas and bring them to fruition. The vision of the club is to foster the spirit of entrepreneurship in the student community of IIM Udaipur and the society at large by enabling translation of ideas into successful ventures.
Previously, IIM Udaipur has entered into MoUs with TiE (The Indus Entrepreneurs) and NEN (National Entrepreneurship Network) for a long-term engagement in entrepreneurial activities.
Engagement with Start-Ups
SAKSHAM is directly involved in solving various start-up related issues and give an opportunity to the IIMU student community to work on the real-world problem and provide them a sustainable solution
Connecting with Venture Capitalist/Angel Investors
SAKSHAM is involved constantly connecting with various venture capitalists and angel investors and acts as a bridge between the investors and the start-ups.
Connecting with Mentors
PRARAMBH the flagship event of SAKSHAM is the only college level B-Plan competition in India which gives a mentorship of approximately two months to its selected participants. For this we connect with various industry stalwarts and successful entrepreneur to mentor the participants and make them ready for the pitch in front of the investors.
Collaborating with IIM Udaipur Incubation Centre
Saksham also collaborates with IIMU Incubation Centre to motivate students towards developing their ideas.
Workshop Series
Workshops such as Usage and Attitude (U&A) Survey Workshops and Design Thinking and Prototype Development workshops were conducted to give the participants a sense of what all things go into starting up. U&A Workshop aimed at giving the participants an insight into how you conduct an initial market survey to identify if there is even a need of your product/service. The Design Thinking workshop aimed at getting the participants accustomed to the need for innovation in today's world and techniques to get there. Prototyping Workshop helped the participants in knowing the importance of prototyping and the ways to go about it.
PRARAMBH: FLAGSHIP EVENT
Prarambh - The Best Launchpad for your Startup, is the flagship event of SAKSHAM. The main aim of this event was to foster entrepreneurship among students and the community. In this event, we brought entrepreneurs and entrepreneurial aspirants under the banner of Prarambh, nurture their ideas and Minimum Viable Products (MVPs) for almost six weeks through mentoring (on call/Skype), marketing, designing and IT support. Finally, the teams pitched in front of the esteemed judges/investor panel.
Prarambh 2019 was the sixth edition of it and it was a huge success. There were two tracks:
Track 1: Existing startups with Minimum Viable Products
Track 2: New ideas yet to be taken to the market
Prarambh'19 had garnered enthusiastic participation from all parts of the country. We received more than 150+ startup ideas and after two rounds of screening, we selected 10 teams from each track. They went through a 6-week mentorship period by industry stalwarts to refine their ideas even more. Twenty teams presented their ideas to the panel of Judges/Investors on campus on 3rd February 2019.
Judges/Investor for PRARAMBH'19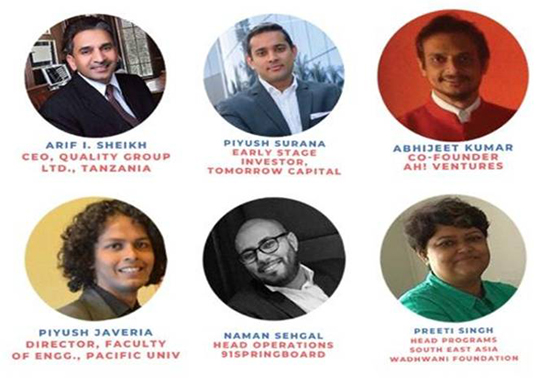 Mentors for PRARAMBH'19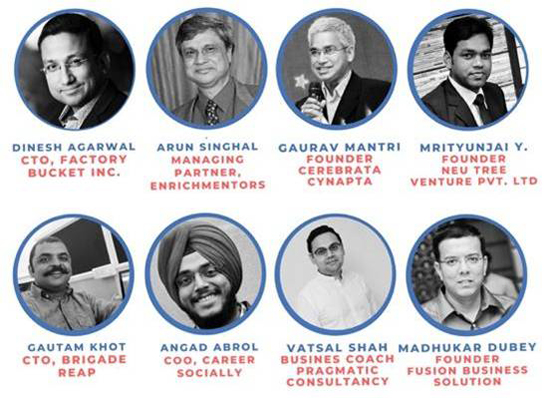 Additional pictures for Prarambh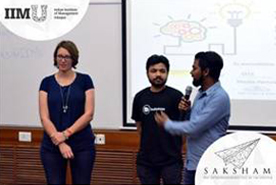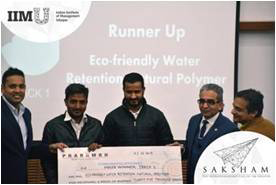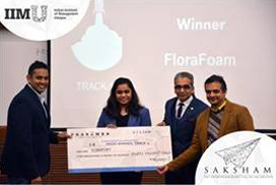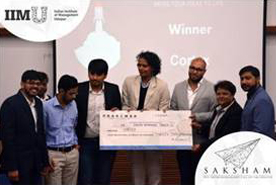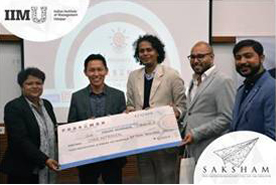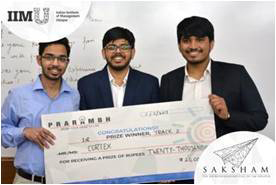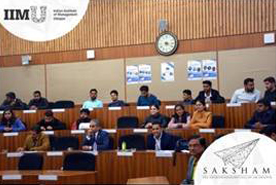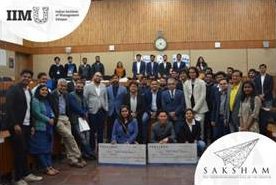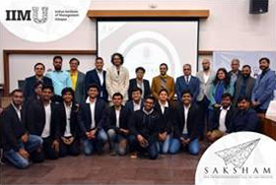 Saudagar
Saudagar is the annual interactive B-Plan competition organized by Saksham in Solaris, which takes place in three rounds. Participants got to engage in a lot of activities which help them to improve their ideation skills, pitching skills all the while keeping them entertained through an intense-yet-fun auction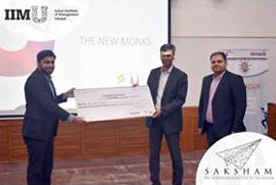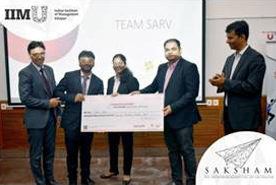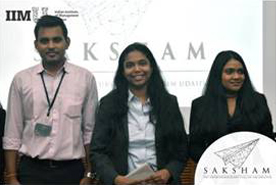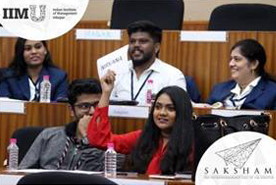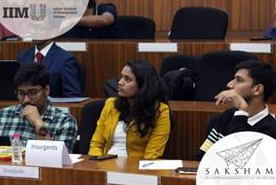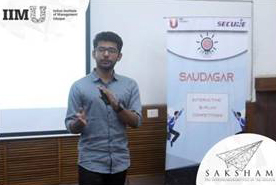 BizWiz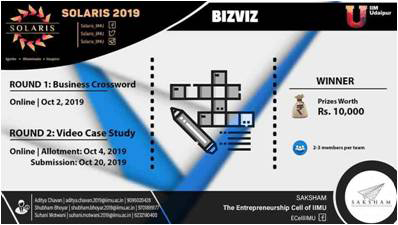 Bizwiz is the annual case study competition organised by Saksham, which takes place in two rounds. The round one online quiz competition which saw participation from 948 participants, was conducted through Dare2Compete platform. After the first round 89 teams were shortlisted for next round based on their scores in quiz. The second round was case study competition based on real life business case. The case for the round two was provided by Bombay Shaving Company, the teams were evaluated by a team from Bombay Shaving Company for the solutions submitted by them.
Josh Talks
Saksham organized for the Josh Talks team to come on campus and helped in the managing of the entire event targeted at the students of the college. Josh Talks is an Indian media company headquartered in Gurgaon, Haryana. It organizes conferences across India with speakers who deliver motivational talks to audiences, primarily young people. The event saw tremendous participation from the IIMU community and from the Udaipur community and was a whopping success with the footfall crossing 400.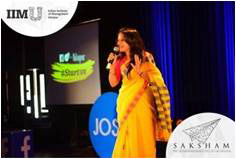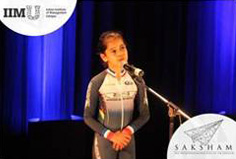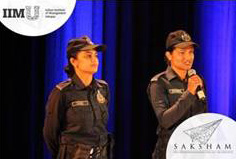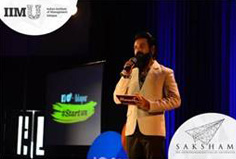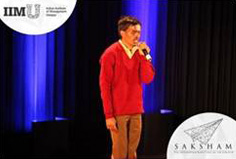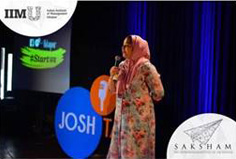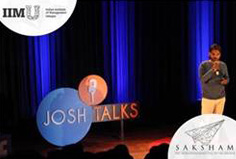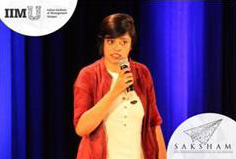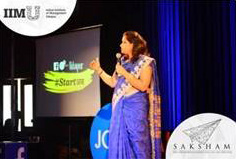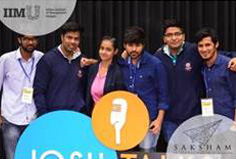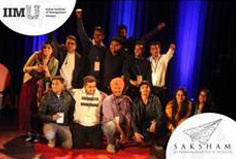 Guest talks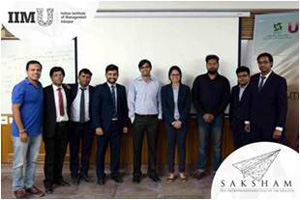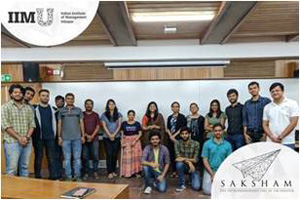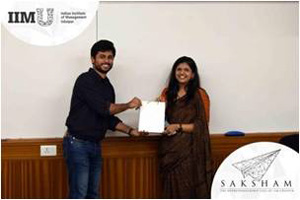 Saksham invites eminent personalities from time to time for guest talks to the campus. Gaurav Mantri - Founder, Cerebrata&Cynapta, Mahavir Pratap Sarma - Global Board Member, TiE, Pranay Gupta - CIIE Member, Founder - 91springboard, Preeti Singh - NEN Representative, Sanjay Anandaram - Venture Partner - Seed Fund, Founder – JumpStartUp are some who have graced us with their presence.
Ignite
Ignite is a series of brainstorming sessions held every month on a business idea to work on it structurally on all aspects of the business.
The purpose of these brainstorming sessions are multifold:
Understand how to write a complete B-plan which may help you in any of the national competitions
To plug the loopholes in the ideas
To understand the intricacies of the start-up and its Industry
How to take a start-up from the idea phase to the MVP (Minimum Viable Product) stage
Learn and discuss various aspects of marketing, financials, etc involved in the Business idea