Saksham is the Entrepreneurship Cell of Indian Institute of Management Udaipur. As the name signifies, the club endeavours to enable students to bring their dreams to reality and augment entrepreneurial capability in them.
Its objective is to ignite a spark within the students to take up innovative ideas and bring them to fruition. The vision of the club is to foster a spirit of entrepreneurship in the student community of IIM Udaipur and the society at large by enabling translation of ideas into successful ventures.
Previously, IIM Udaipur has entered into MoUs with TiE (The Indus Entrepreneurs) and NEN (National Entrepreneurship Network) for a long-term engagement in entrepreneurial activities.
Saksham is also collaborating with IIMU Incubation Cell to motivate students towards developing their ideas.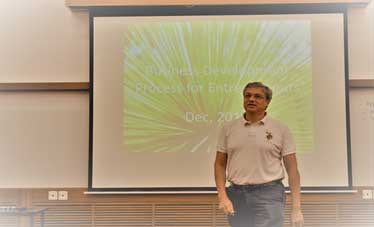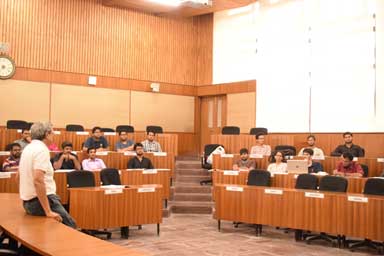 PRARAMBH 2017: FLAGSHIP EVENT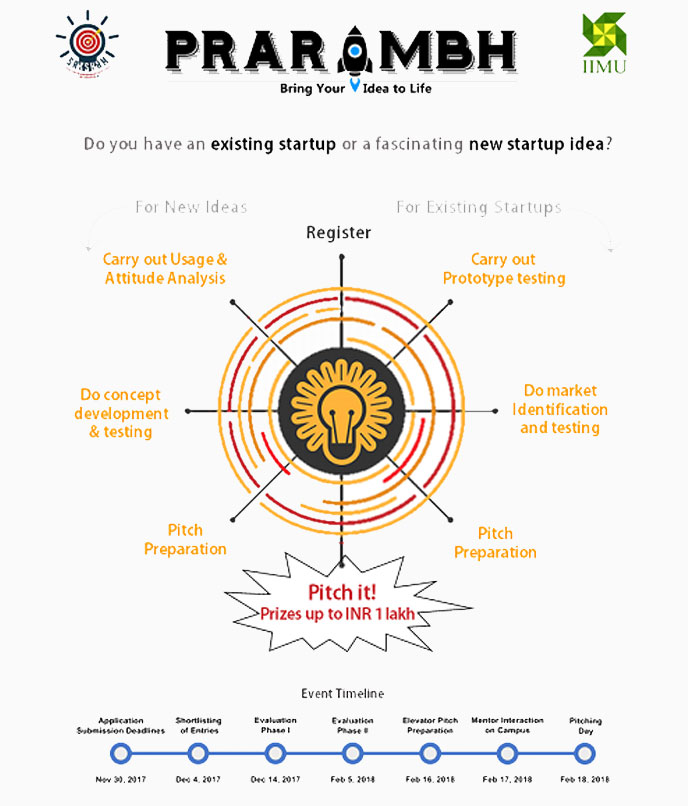 The objective of Prarambh 2018 was to ignite a spark within the students to take up innovative ideas and bring them to fruition and to help start-ups in the ideation phase to develop their ideas into working business models. It also helps existing start-ups in developing and market-testing their prototype.
The teams are registered under two categories:
Track 1: Existing start-up with a Minimum Viable Product (MVP)
Track 2: Start-ups in ideation/concept stage



For Prarambh 2018, we started a new track for the start-ups aimed at making a social change

Track 3: Social Start-ups
Saksham also facilitates the teams with mentor support for two months and provides a platform to connect the teams with a pool of skilled professionals. After completion of the mentoring phase, the teams get to pitch their ideas in front of a panel of investors.
Prarambh 2018 was attended and judged by eminent personalities. The mentors and judges who graced us with their presence were
Mr. Soumyakant Dwivedy, Supply Chain Director, Becton Dickinson
Mr. Nagaraja Prakasham, Partner, Acumen Fund, Founding Angel, Indian Angel Network
Mr. Vijay Ladha, Business Mentor, Cherie Blair Foundation for Women
Mr. Gaurav Mantri, Founder, Cynapta
Mr. Anirudh Damani, Managing Partner, Artha Venture Fund
Mr. Ramesh Alur, General Partner, VenturEast (APIDC Venture Capital)
Mr. Uma Maheshvaram Mandi, CEO, Incubation Center, IIM Udaipur
Mr. Vijay Amritraj, Partner and CEO, Voila F9 Gourmet
Mr. N Viswanathan, Director, IIM Udaipur Incubation Center
Mr. Arun Singhal, Founder, Enrichmentors
Mr. Rohit Jaiswal, Co-Founder & Head of Procurement, Bombay Shaving Company
Mr. Manish Godha, CEO, Advaiya, President TiE Udaipur/li>
Mr. Rishabh Verdia, Director, Advisory Services
Mr. Madhukar Dubey, Managing Director and Founder, Fusion Outsourcing
Mr. Rajkumar Surana, Director, Nahar Colours
Mr. Angad Abrol, COO, Career Socially
Mr. Mrityunjai Yadav, Founder, Neutree Ventures
Saudagar
A four-round competition that enables the students to ideate and pitch their innovative ideas in front of eminent judges.
The participants can register under two categories:
1. Ideators
2. Pitchers
The ideator teams will sell their idea to the pitcher teams. The pitcher team will convert the idea to a B-plan and will present in front of the judges.
Judges who evaluate the teams are:
Mr. Arun Singhal, PGDM-IIM Bangalore
Prof. N Vishwanathan, PGDM-IIM Calcutta
Mr. Gaurav Mantri, Founder-Cynapta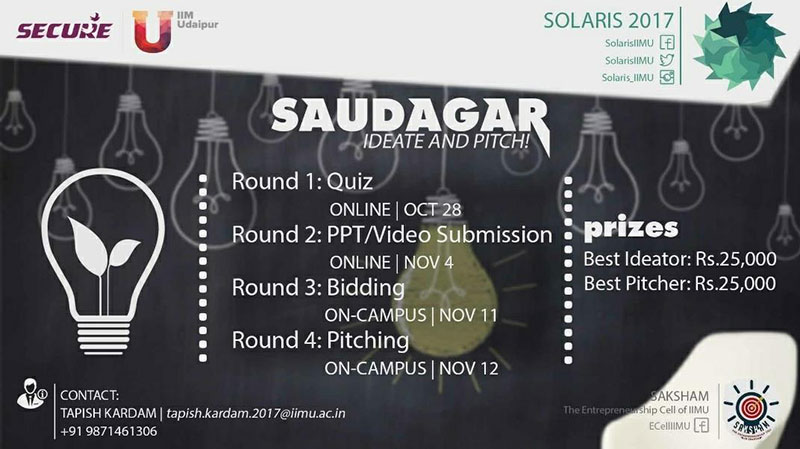 BizWiz
Saksham, the Entrepreneurship Cell of IIM Udaipur organized BizWiz as part of Solaris'17, the annual management fest of IIM Udaipur. The initial round was an online quiz and qualified students were given a case study that was curated by the Saksham team around a real-life business problem faced by one of the alumni entrepreneurs in their venture. This is aimed at helping the alum entrepreneurs in getting the best minds in the country to work on their business problems and thus helps in fulfilment of Saksham's purpose of developing an entrepreneurial ecosystem in Udaipur.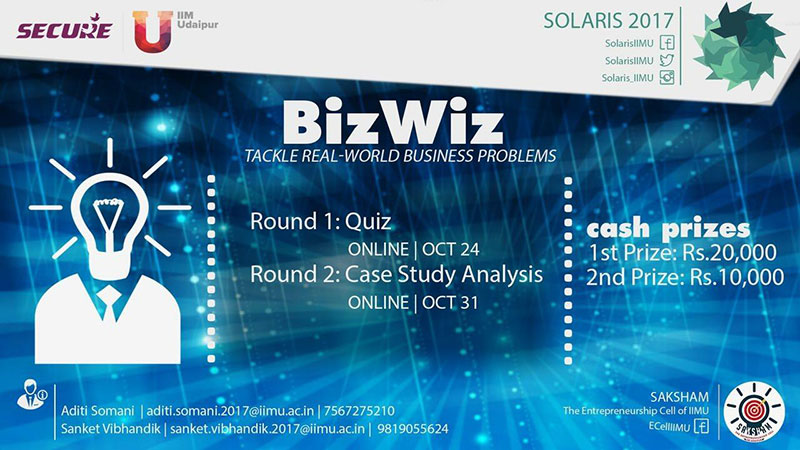 Josh Talks
Saksham organized for the Josh Talks team to come on campus and helped in the managing of the entire event targeted at the students of the college. Josh Talks is an Indian media company headquartered in Gurgaon, Haryana. It organizes conferences across India with speakers who deliver motivational talks to audiences, primarily young people.
The event saw tremendous participation from the IIMU community and from the Udaipur community and was a whopping success with the footfall crossing 400.
Guest talks
Saksham invites eminent personalities from time to time for guest talks to the campus. Gaurav Mantri - Founder, Cerebrata&Cynapta, Mahavir Pratap Sarma - Global Board Member, TiE, Pranay Gupta - CIIE Member, Founder - 91springboard, Preeti Singh - NEN Representative, Sanjay Anandaram - Venture Partner - Seed Fund, Founder – JumpStartUp are some who have graced us with their presence.
Workshop Series
Workshops such as Usage and Attitude (U&A) Survey Workshops and Design Thinking and Prototype Development workshops were conducted to give the participants a sense of what all things go into starting up. U&A Workshop aimed at giving the participants an insight into how do you conduct an initial market survey to identify if there is even a need of your product/service. The Design Thinking workshop aimed at getting the participants accustomed to the need for innovation in today's world and techniques to get there. Prototyping Workshop helped the participants in knowing the importance of prototyping and the ways to go about it.