Gone are those days when businesses used to run via manual methods. Accounts were on registers and handling sales via physical mode only.
The world is moving at an exponential pace & digitization is the new normal now. With the competition in today's market, one will have to move digital. Remaining relevant to the digital world and its customer is a long-term challenge for organizations today.
A new vision is required for the business processes to be a digital enterprise. A company that embraces technology and uses it to engage customers in innovative ways has more chances to succeed.
What is a digital enterprise?
An organization that uses technology in its operations and processes to make a differentiating factor in its business, and to have an edge in the market, is a digital enterprise. With our finite resources, we need to do more with fewer amenities when this world is going through a rapid transformation. To accomplish the same, digitization and automation can act as a game-changer for the way of industry 4.0. The technologies like Artificial Intelligence, Machine Learning, the Internet of Things, and Big Data are on the boom and disrupting business methodology. The market is in dire need of the right skill, and there is a mismatch between the demand and supply of the potential resource. The exclusive One-year MBA in Digital Enterprise Management (MBA-DEM) of IIM Udaipur has come up with a perfect blend of technology, and business, which gives unparalleled exposure to the current market demand and prepares an individual for this industrial revolution. It enables the managers in the digital industry to understand the transformation and the business aspect of it.
Digital Business Model
The acceleration and transformation of business models require technology. You may remove roadblocks to the pace and success of creative ventures by incorporating predictive analytics. You can't ignore the impact digital technology implementation is causing across all industries. It is not enough to embrace modern technologies or business models as you incorporate new technology into your company. MBA-DEM covers all these prominent vital points to make an individual future-ready. Students are prepared to adopt an agile model that allows technology to sync more closely so that they can effortlessly implement the same in their company's strategy and be at its core.
Features of Digital Business Model:
We examine the numerous elements that shape the meaning of the idea of digital business models to define it further. Only through them can a more robust differentiation between traditional business models be made
Digitally created added value is the only way to go. Traditional models, on the one hand, constantly add value in the form of analog data. They may go through a digital transition, but the added value remains the same; the method of obtaining it changes. To summarize, the digital business model's core business would not be conceivable without the Internet.
The USP of the businesses is created digitally and is only available in digital format.
The digital business model that corresponds focuses on innovation. Typically, the product is brand new to the market.
Lead generation and acquisition require digital means. Digital business model marketing deployment now has various communication channels for this objective. No hybrid forms strive to recruit clients through analogue registration, such as offline sales.
Scalability does not limit geography, and this is where we must concentrate our efforts. Organically, not every digital company model scales well in every country. Legislation, politics, and other governing elements might impede admission. However, at least in theory, the Internet's foundation allows for infinite scalability. Moreover, there is no ocean on the Internet between America and Europe.
Innovation and Teams
A company's capacity to construct teams that can swiftly create new apps supporting business aims is critical to a successful digital transformation. You risk losing money, innovation opportunities, competitiveness, and, ultimately, customers if your technology responsiveness falls short or your technology teams fail to be at the center of your enterprise strategy. The IT team's lack of resources is one of the most significant factors in this responsiveness gap. Because of the limited resources, critical innovation projects are delayed or deprioritized while your IT department faces challenges to accomplish more.
Hence, a digital manager needs to manage the resources efficiently with all the technical considerations. IIMU prepares its future managers to handle such chaotic situations. The unique MBA in Digital Enterprise Management program enables them to understand the technical aspect of business decisions and drive digital business effortlessly.
Productivity in Digital Enterprises
Diving into a digital business requires more than IT solutions to transform a company. The combination of digital aspects, as well as the business strategy, is what drives efficiency and production. One of the most enticing motivations for businesses to embark on a digital transformation is to gain a competitive advantage. However, a corporation cannot achieve and sustain a competitive advantage if it is unproductive. Adding a few extra processes isn't enough to boost your productivity. Instead, it would be best if you revamped your company's operations and the way your workers operate. Start by digitizing and automating how your staff collaborates to eliminate wasteful paperwork and optimize complex processes.
The subjects of MBA-DEM, like Operations Management and Strategic Management, lays a foundation for understanding the efficient business process and building the base for its strategic implementation.
Data Security in a Digital Enterprise
Like every coin has a dual face, the ease of digitization comes with the threat of data security. The emergence of digital enterprises will significantly impact how people work, and businesses operate in the future. With the impending global digital transformation, digital trust is one area businesses cannot afford to overlook. All stakeholders must have confidence in the security of their data and communications and the protection of their intellectual property, enabling digital ecosystems to prosper.
About the Author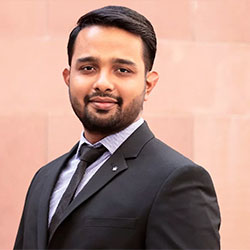 Abhishek Chakraborty is a student of 1-year full-time MBA in Digital Enterprise Management at IIM Udaipur. He is also a student representative of the Media & Industry Interaction Cell of IIMU. Before joining IIMU, Abhishek worked with organizations like Cognizant Technology Solutions and e-Zest Solution Ltd as Digital Experience & Content Management Author in the Adobe Experience Manager domain. He holds a bachelor's degree in Electronics & Communication Engineering from Lakshmi Narain College of Technology, Bhopal. Hailing from the religious capital of India, Varanasi, he is an avid reader and photographer and loves traveling and exploring new places and cultures.
You can connect with him on LinkedIn.