What's changing the business world?
Life has moved from occupying increasing physical space to occupying more digital space in the last two decades at an unprecedented pace. We all know that wherever life progresses, the businesses follow because that's where customers are. With the introduction of Metaverse, Artificial Intelligence and Machine Learning (AI & ML), and Big Data analytics, an urgency to move toward Digital and an exodus have already begun. This exodus to digital space is leaving, in its wake, gaps that need to be filled by a capable workforce, leaders, and visionaries. Businesses that can achieve the desired digital transformation will help them encash the transformational opportunities in the digitalized landscape.
Misconstrued Gaps
However, the said gap, perceived as a "Tech" gap, is a gap to be filled by IT (Information Technology) specialists. For this reason, aspiring MBA students coming from non-IT backgrounds are reluctant to take that path. We must understand that IT is only a part of Digital, not the other way around. In its unique One-Year MBA in Digital Enterprise Management (MBA DEM) program, IIM Udaipur has made the scope of Digital clear: Transformations connected to digital require managers who understand the business side of digital; leaders who empathize with consumers on their interaction with digital; and visionaries who can ideate the future flow of the formation of products and services.
Leading Vs. Coding
Does being able to empathize, lead or manage require technical expertise or coding experience? Of course, Not! It only requires a will to learn about Digital opportunities and metamorphosis. MBA Digital Enterprise Management aims to equip its students with the business aspect of digitalization and lead the physical to a digital path. Proof of this is the author himself. Coming from a Banking Finance Services and Insurance sector, initial apprehension was evident. Yet, communication with internal stakeholders and the then-current students made it clear that MBA DEM is not about IT but is always the case with MBA programs. The one-year MBA in Digital Enterprise Management focuses on business fundamentals to impart fundamental business expertise in the first semester. Followed by a spiking and distinguishing twist that begins in the second semester: students embark on a journey to understand the technical and analytical skills vital for stimulating and spurring the growth of digital enterprises.
Dealing with Digital Disruptions
The old ways of education have come to an end, and by no means does MBA-DEM vows to give a golden key to the future. Instead, it teaches a habit of perpetual learning which will assist in handling continuous expected disruptions in the digital domains and businesses of the future. Critical understanding of impact identification of digital disruptions and analytical abilities will allow students of the one-year MBA in Digital Enterprise Management to handle complex and unique transformations successfully. They will be able to become a part of the future workplace that will be a continuum of physical, digital, augmented reality, and virtual spheres. Being digital-ready is at the core of this program, encapsulated with elements of design thinking, management strategy, leadership virtues, and transformation drivers.
Industry Experts' Calling
Time and again, industry experts have asked potential and aspiring leaders to be savvy with digital innovations so that the future workplaces do not have a paucity of capable leaders who understand both the extreme ends of the digital spectrum. However, the apprehension of coding complexities and unknown "tech" jargon has kept good leaders away from digital space. But now, the technological disruptions are permeating every corner of the world. Both personal and professional dimensions and staying on the side of the road does not seem like a prudent choice. MBA DEM is offering to equip potential leaders with the knowledge and skills required to fight this preconceived apprehension of Digital regardless of your educational and work background. During this unique program, a myriad of backdrops flows into one another in order.
As expressed, if you're someone who gets excited at the thought of innovations and opportunities in the digital domain and is not shy to expose yourself to perpetual learning demands, MBA DEM can help you disseminate the knowledge of the world of digital from the lens of business without a pre-requisite of technical expertise or experience.
About the Author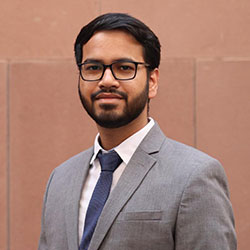 Upendra holds more than seven years of work experience in the Banking and the EdTech industry. He is a certified Financial Risk Manager (FRM), Sustainability and Climate Risk (SCR) professional, and an associate of CPA Australia. He is passionate about problem-solving, learning, innovations, and writing. He's currently pursuing an MBA in Digital Enterprise Management (DEM) at IIM Udaipur. He loves reading books, playing the guitar, and talking about the philosophy of life. You can connect with him on LinkedIn.