Introduction to 1-Year Full Time MBA and One Year MBA in Digital Enterprise Management
The One Year Full Time MBA is gradually gaining popularity in India. Those who "missed the bus" and couldn't do a full-time Two-Year MBA now have an opportunity to pursue a full-time one-year MBA program which provides both the management perspective required to excel at work and the credentials of an MBA needed for a career progression.
The world is moving towards Digital at lightning speed. The sudden burst of technology has empowered Digital Revolution. However, there is a shortage of leaders who understand the correct Digital Strategy and its implementation. IIM Udaipur has introduced a unique One Year MBA in Digital Enterprise Management program to fill this gap.
MBA Digital Enterprise Management, popularly known as MBA DEM, aims to create visionary leaders who are better equipped to take forward the digital revolution and ready to tackle challenges.
When I joined the MBA Digital Enterprise Management program, I was clueless about how to go about business. However, after having discussions with seniors and professors, I started to get a hold of it, and I created a list of tips that are helping me to get the maximum out of an MBA Digital Enterprise Management Program at IIM Udaipur.
So, let's deep dive into the details of the 8-Point Framework:
To begin with, you need to have a strong will to learn about Digital Transformation and emerging technologies that will drive the Digital Revolution. Technologies like Metaverse, AI, ML Blockchain, etc., are the future drivers; hence having good command over them will give you an edge in the long run.
With MBA DEM aiming at bringing business and the digital world together, having the ability to think critically and observe where digitalization can be implemented is a massive bonus. This will help to devise innovative solutions to the business problems which are part of academics and projects.
Make most of the tag of being an "MBA Student"- Pursuing MBA comes with a unique ability that often goes unrecognized. That ability is asking something on the grounds of being an MBA student. You can conduct interviews, collect data from various sources, and attend seminars on Digital Transformation and the Trends of Technology to learn more about its implications.
Building Strong Network – MBA DEM allows connecting with leaders of the Digital space and learning from them. Further, asking them questions and connecting with them over LinkedIn will provide you with guidance whenever you are stuck, and at the same time, you can stay updated with current trends in Digital World.
Leverage your experience – Students from an IT/Technical background can enhance their learning by understanding the concepts from a business lens. Students coming from core backgrounds and have a keen interest in the Digital, Technology, and Business domain can excel, too, as they can learn and connect the learnings with their experience to see where and how you can implement digitization.
Undertaking Live Projects – Connecting with founders of start-ups and collaborating with them to solve a real-time problem by applying the learnings one has and creating a solution for the company. Completing a live project will help to understand the practical implications of theories learned in class.
Collaboration with Peers – MBA DEM batch profile is immensely diverse in terms of education and work experience. Thus, knowledge of various fields and background is easily accessible. Form different and diversified groups as much as possible to learn something new, which will help to be better prepared for additional upcoming hurdles and help you cross the finish line.
To conclude, if you follow the above approach, MBA DEM will be an exciting journey and you will be learning with the best minds of the nation in the best possible manner, which will provide a boost to your career and take you closer to your aspirations.
About the Author: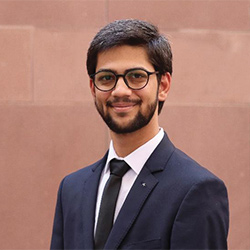 Karan Kungwani is a student of One Year Full Time MBA in Digital Enterprise Program at IIM Udaipur. He is also the vertical head for Content Creation in Utkrisht- Annual Sports Fest at IIM Udaipur. Before joining IIMU, Karan worked as a Software Developer & Business Analyst at Accenture. He is a sports enthusiast, loves music, and enjoys traveling.