MBA is considered to be a comprehensive course. For a successful manager or leader, it is essential to know about all domains, but it is equally important to have an in-depth knowledge of one discipline. So, to put it into simpler words, the knowledge of an adept professional should be in a T-shape, where the horizontal bar signifies the breadth and diversity of domains and the vertical bar indicates the depth of knowledge of one's specialization.
It is often difficult to identify the specialization one wants to do; many variables are at play here, for example, the scope, availability and feasibility of the course, one's interest and aptitude and many more. IIM MBA Courses are typically General Management courses with majors and minors in the final year. Before selecting the specialization or the major, it is essential to have a thorough understanding of the domains, their scope, your interest and then make an informed decision.
Here are some of the MBA specializations in demand:
MBA – Marketing
For as long as people are alive, they will consume products and services. Hence, marketing these products and services will always be a hot area. Over the years, a lot of elements of marketing have changed. Today, marketing courses cover the fundamental concepts as well as the new trends that have emerged. However, it is not limited to digital marketing and marketing analytics. Opportunities in marketing range from consumer behaviour to product sales to building marketing strategies, and there is a vast scope for professionals in this domain.
MBA – Human Resources (HR)
"At the end of the day, you bet on people, not strategies." – Lawrence Bossidy, Former Chairman and CEO, Honeywell International Inc.
HR has been an integral part of an organization ever since organizations have been known to exist. And now more than ever, another most in-demand MBA specialization is Human Resources. Currently, we are witnessing unprecedented changes in the structure of organizations, and HR professionals are at the forefront in establishing new protocols and business models. MBA in HR continues to be one of the most sought-after courses with abundant opportunities.
MBA – Finance
Finance is one of the most important legs of any business. Good finance decisions are the key to a successful and profitable business. The business models might transform completely, but every model will need to be supported by finance. Some of the key roles in this domain are Credit Analyst, Financial Analyst, Investment Banker, Manager Consultant and Risk Manager. Apart from these roles, there is a wide scope of finance in every industry. MBA-Finance has been one of the MBA specializations in demand and will continue to be so.
MBA – Digital Enterprise
Digital transformation was inevitable, but COVID-19 has brought it about sooner than the organizations had planned. It is imperative for today's leaders to have not only extensive knowledge about this model but also be comfortable with it. Even though it is not very common currently, it will soon become one of the most in-demand MBA specializations. One-year MBA in Digital Enterprise Management is one of its kind courses offered at IIM Udaipur, which is in line with the need of this hour.
MBA – Operations
"You will not find it difficult to prove that battles, campaigns and even wars have been won or lost primarily because of logistics." – Dwight D. Eisenhower, 34th president of the United States from 1953 to 1961
Logistics, operations and supply chain form the backbone of all businesses. MBA in Operations or Supply Chain has a vast scope in the present world. It opens doors to innumerable opportunities in the fields of planning, evaluating, product development and inventory control. Most industries need an operation or supply chain department to utilise their resources efficiently. IIM Udaipur's One Year MBA in Global Supply Chain Management offers an intensive specialization in supply chain management perspectives.
MBA – Entrepreneurship
Time and again, we see a lot of entrepreneurs go back to B-school to learn more about business. Entrepreneurial mindset and ideas are not something that can be taught or learned, but they do have to be nurtured and cultivated. MBA in entrepreneurship is all about what goes into building a start-up and running a business. The spirit of entrepreneurship is encouraged by IIM Udaipur through its student entrepreneurship cell – Saksham and its Incubation Centre.
Apart from all these specializations, one of the most in-demand specializations is General Management, offered by most IIMs. The general management course aims at providing a thorough knowledge of all domains, where a student learns the skills and perspectives for all fields. Deciding on specialization is an important decision that should be taken after careful analysis and research, and you can choose your MBA specialization even after joining the B-school.
About the Author: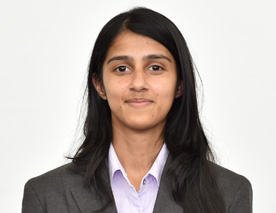 Nayanika is an MBA student at IIM Udaipur and a member of the Media and Industry Interaction Cell of the institute. An avid reader and a curious explorer, she enjoys learning about the workings of the world. You can connect with her on LinkedIn.