RIGHT TO INFORMATION AND OBLIGATIONS OF PUBLIC AUTHORITIES


Indian Institute of Management UdaipurInformation: Right To InformationStatutory Information under RTI, 2005
1. Introduction (Information under RTI Act, 2005)
2. Particulars of Organization, Functions and Duties
3. Powers and Duties of Officers and Employees
4. Procedure followed in Decision Making Process
5. The norms set by it for the discharge of its function.
6. Rules, Regulations and Instructions
7. Statement of the categories of documents that are held by it or under its control
8. Mode of Public Participation
9. Board, Sub-committees and other bodies
10. Directory of officers and employees
11. Pay Structure of Institute staff
12. The Budget Allocated
13. Subsidy Programmes
14. Particulars of recipients of concessions, permits or authorizations granted by it
15. Information available in electronic form
16. Means, methods and facilities available to citizens for obtaining information.
17. Public Information Officer & First Appellate Authority
18. Such other information as may be prescribed
1.Introduction
Background of this Handbook - Right to Information Act 2005 (RTI Act)
Objectives and purpose of this Hand-book - To provide information about the Institute and sources of information
Users of this Handbook - Students, Faculty and Staff of the Institute, general public etc.
Organization of the information in this Handbook - As per guidelines of the Ministry of HRD, Government of India
Definitions - Institute: Indian Institute of Management UdaipurAct: Right to Information Act 2005Status: Memorandum of Association & Rules of the Institute
Contact Person-
Lt.Col. Dinkar Hiteshi (Retd.)
Public Information Officer

For Additional Information -

Refer the various books on Rules and Regulations of the Institute./li>

Contact the appropriate officer as per the Institute website.
2. Particulars of Organization, Functions and Duties
(a) Establishment
In 2009, the Indian government decided to start six new IIMs including IIM Udaipur. IIM U started its PGP programme with 58 students in a temporary campus located at Polymer Science Building, Mohanlal Sukhadia University (MLSU), Udaipur. The new campus for IIM Udaipur will come up in about 300 acres of land in the Balicha area of Udaipur, Rajasthan which have been allocated by the Government of Rajasthan for the this purpose.
Shri C.K.Birla, the Chairman of Hindustan Motors Ltd. India, was appointed as the Chairman of the Board of Governors for IIM Udaipur.
(b) Main activities/functions of the Institute Teaching, Research & Management Development Major educational programmes are:
1. PGP
http://iimu.ac.in/programs/post-graduate-program/pgp-at-a-glance

2. PGPX
https://iimu.ac.in/hi/programs/post-graduate-programme-in-management-for-executivespgpx/pgpx-at-a-glance
(c) Services being provided by the Institute
Teaching at Post-graduate levels in Management
To undertake research, training and consultancy
To cater to continuing customize education program
To organize conferences, seminars and short-term courses
(d) Address of the Institute
Indian Institute of Management Udaipur,
Mohanlal Sukhadia University Campus,
Udaipur 313 001,
Rajasthan,
India
(e) Organizational Structure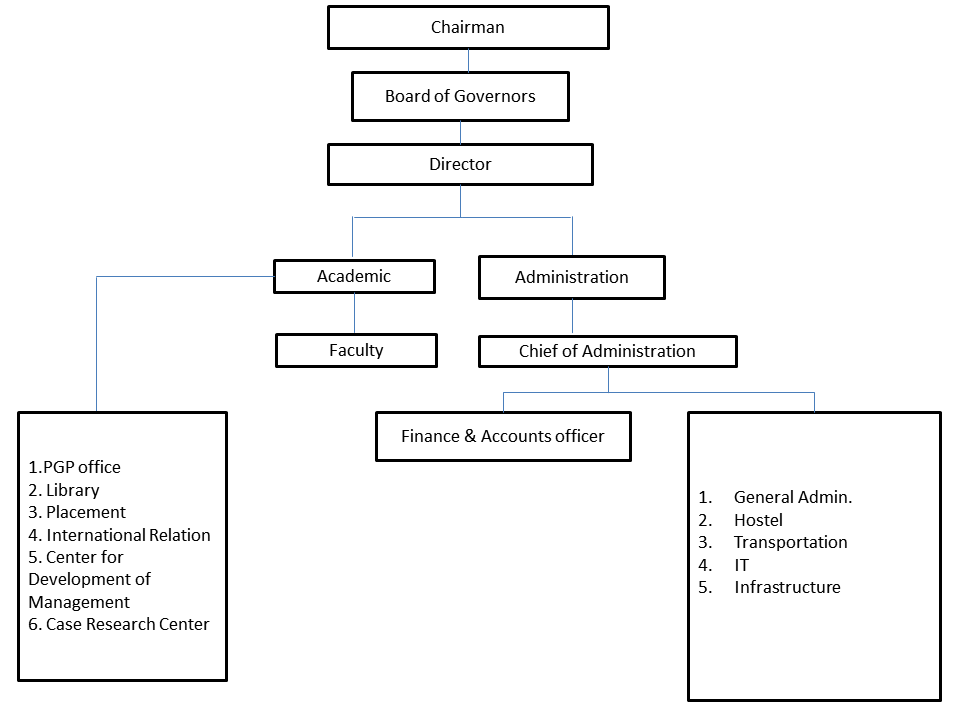 The Institute needs support, co-operation and suggestions of the citizens in academic endeavors.
(g)Arrangements and methods made for seeking public participation/contribution The Board of Governors has representatives of the Central Government, State Government and Central Government nominees representing Industry, Commerce. (h) Institute working hours
Teaching: (as per academic planner)
Administration: 9 am to 5.30 pm (Monday to Friday)
Saturday & Sunday - Holiday
Library: 9.00 AM to 5.30 PM Library Reading Room: Round the clock
3. Powers and Duties of Officers and Employees
The Institutes' governing body is the IIMU Board of Governors. The general superintendence, direction and control of the affairs, its income and property are vested with the Board of Governors headed by the Chairman, Board of Governors and its members. The Director is the Principal Academic and Executive Officer of the Institute. The Director shall be responsible for the proper administration of the Institute and for imparting of instructions and maintenance of discipline therein. The Director is vested with academic, financial and general powers under the 'Delegation of Powers' approved by the Board of Governors from time to time. The powers of the Director have been sub-delegated to the faculty and officers under him.
The Chief of Administration will assist them in administrative matters.
4. Procedure followed in Decision Making Process
The Institute has the Chairman, Board of Governors, Director, Chief of Administration, who carry out the various functions of the Institute as per procedures laid down in the Rules of the Institute. The decision is communicated to public by announcements, advertisements and through website. The final authority to vet the decisions is the Director. The Institute takes decision regarding academic matters, students' affairs, staff affairs, finance, facilities of the Institute and infrastructure.
5. The norms set by it for the discharge of its functions
The various programmes of the Institute are set by the respective Academic Committees, which monitors progress and achievements of students undertaking various academic programmes.


6. Rules, regulations and instructions used:
Click Here
7. Statement of the categories of documents that are held by it or under its control.
Memorandum of Association and Rules
Annual Report
Research and Publication
Any other relevant information sought by general public are being furnished
8. Mode of Public Participation
The Institute encourages public participation and guidance through members representing them in the Board of Governors.
9. Board, Sub-committees and other bodies
Board of Governors
Academic Advisory Board
Campus development Commmittee
10. Directory of officers and employees


Click Here for faculty officers and staff's contacts
11. Pay Structure of Institute Staff
Pay Scales of Faculty
1
Assistant Professor
15600-39100/-
2
Associate Professor
37400-67000/-
3
Professor
37400-67000/-
Non Faculty
1
Director
Rs. 80000/- fixed
2
Chief Administrative Officer
Rs. 15600 - 39100/-
3
Librarian
Rs. 15600 - 39100/-
4
FA & CAO
Rs. 15600 - 39100/-
5
Administrative Officer
Rs 9300-34800/-
6
Stores & Purchase Officer
Rs 9300-34800/-
7
Secretary to Director
Rs 9300-34800/-
8
Sr. Library & info Assistant
Rs 9300-34800/-
9
Accountant
Rs 9300-34800/-
10
Jr. Engineer
Rs 9300-34800/-
11
Personal Assistant
Rs 9300-34800/-
12
Office Assistant
Rs 9300-34800/-
13
Driver
Rs. 5200-20200/-
14
Attendant
Rs. 4440-7440/-
12. The Budget AllocatedClick here for Expenditure 2013-14, 14-15
Annual report 2011-12 (English)
Annual report 2012-13 (English)
Annual report 2012-13 (Hindi)
13. Subsidy Programmes
For the Post-Graduate Programme in Management, scholarships and tuition fee waiver are given to needy students on the recommendations of the Financial Aid Committee. Based on the personal interview, the household income, and the number of dependent being supported with the household income, it was decided to sanction tution fee waiver in the range of 25% to 75%.
GRM tech, Kolkata, has instituted a Merit-cum-Means scholarship of Rs 1,00,000.

14. Particulars of recipients of concessions, permits or authorizations granted by it
The institute is processing with various competent authorities for availing various statutory exemptions.
15. Information available in Electronic Form
All relevant information about Institute activities are available in our website.
16. Means, methods and facilities available to citizens for obtaining information
Citizens can avail information from notice boards, post, email, website, advertisements, press releases, telephone etc.
17. Public Information Officer & First Appellate Authority
Lt.Col. Dinkar Hiteshi (Retd.)
Public Information Officer
Indian Institute of Management Udaipur,
Mohanlal Sukhadia University Campus,
Udaipur 313 001,
Rajasthan
Email: dinkar.hiteshi@iimu.ac.in
Contact: +91294-2477107
First Appellate Authority
Prof. Janat Shah
Director
Indian Institute of Management Udaipur,
Mohanlal Sukhadia University Campus,
Udaipur 313 001,
Rajasthan
Email: director@iimu.ac.in
Contact: +91294-2477101

18. Such other information as may be prescribed
PGP Admission Policy 2016
Research Projects
Research Papers
Centre for Case Research
Working Paper Series