Classrooms
On IIMU's permanent campus at Balicha, students benefit from newly-built, ergonomically designed A/C teaching spaces with a variety of layouts and capacities as well as multiple conference rooms and meeting spaces. Each classroom is equipped with fixed projectors and high-end sound systems and there are video conferencing facilities with swivel cameras in all classrooms and conference rooms. The classrooms are acoustically engineered and are equipped with goose-neck mikes, lapel mikes and cordless mikes. Power sources are located at each desk.
IT Resources
IIMU's information technology infrastructure is among the best at any B-school in India. The internet connection is 1Gbps with a back-up of 100 Mbps. All areas of the campus have secure access to Wi-Fi on a 24/7 basis. The system is constantly monitored to ensure uploading and downloading sufficiency. Email is Google-based with access to all Google apps and features. Local printing facilities are available in all student residences. The IT Services team provides comprehensive IT support.
Bloomberg Financial Markets Lab
The financial markets lab at IIMU features 12 fully equipped terminals with subscriptions to Bloomberg's suite of financial market information and analysis tools. The lab is open 24/7 and also provides a remote user facility to allow students to access the terminals from their residences.
Student Residences
The student residences on campus are located within easy walking distance of the Academic Block. At present, PGP students are provided with double occupancy in spacious rooms equipped with cooling units in summer. Once construction of additional hostels is complete, all PGP students will have single occupancy rooms. PGPX students are provided with single occupancy. The residences have televisions, projectors and washing machines and there are common rooms where students can relax, socialize or study. There is also a convenience store where basic necessities are available.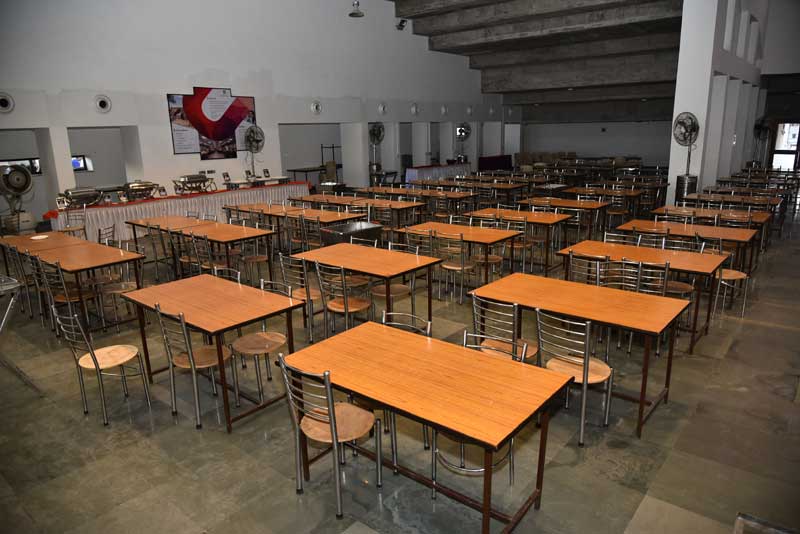 Dining Options
The mess hall is adjacent to the residences. The menu is designed in consultation with the students and provides veg and non-veg cuisines from all parts of India. For night owls and those studying late, a night canteen is open until 4 a.m. Additional mess facilities and food options will be added to the campus as construction is completed.

Off-campus, the city of Udaipur offers foodies a wide choice of options – Rajasthani delicacies, Mumbai vadapavs and even Keralite non-vegetarian dishes. Fast food outlets like KFC, Domino's and Pizza Hut are easily available.
Sports and Recreation
A gym is open 24/7 in the Academic Block. Facilities and equipment are available for football, cricket, badminton, volleyball, carrom, table tennis and basketball among other options.

Udaipur and the surrounding mountains in the Aravalli Range offer enthusiasts wildlife and nature trails, motorcycle excursions, bird-watching, camping and trekking.