Leadership Summit
The Leadership Summit is the flagship event of Solaris, the annual management fest of IIM Udaipur, and is a student-driven initiative organized by MiiC. The summit hosts corporate leaders and distinguished speakers from diverse industries and academia. The objective is to gain unique insights from the speakers and understand how economies, corporate policymaking, and businesses are heading vis-à-vis globalisation and competition. Over the years, numerous eminent dignitaries and industry stalwarts have graced the summit, from whom the IIMU community has gained insightful perspectives on leadership.
The summit has proven to be an exceptional success, with each successive variant further strengthening its brand name and raising the bar. The theme for Solaris 2020 was 'Transcending Ideologies', and it witnessed charismatic personalities such as Mr. Bhargav Dasgupta, MD & CEO, ICICI Lombard, Mr. Ajay Sevekari, Managing Director, Bridgestone India, Ms. Ameera Shah, Promoter & Managing Director, Metropolis Healthcare Ltd., and Mr. Rajender Sud, Founding Team Member & CEO, Max SkillFirst Ltd. To visit the official website of Solaris, click here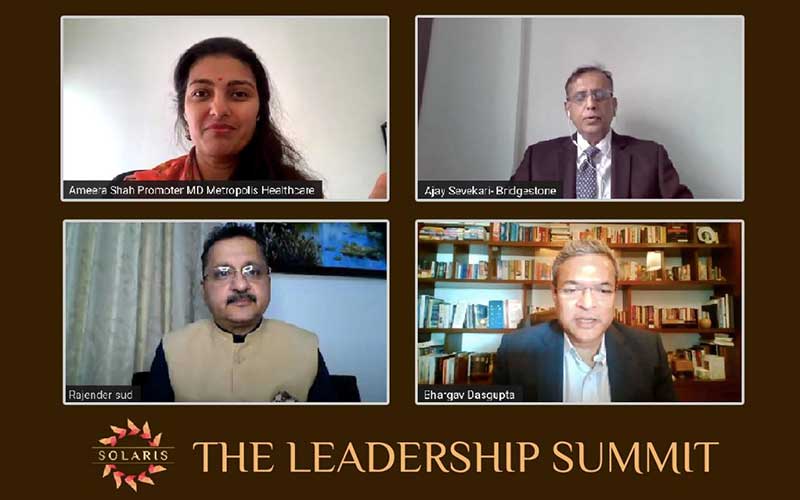 Netratva
Netratva is the leadership talk series of IIM Udaipur, jointly organized by MiiC and the Placement Committee. This series aims to provide the student community a platform for regular interaction with industry leaders, both corporate and non-corporate, from various organizations and across industries through guest lectures. Netratva, over the years, has hosted many eminent personalities like Mr.Harkawal Singh, Head Markeing, Oral Care, Dabur India Ltd., Mr. Judhajit Das, Chief of HR, ICICI Prudential Life Insurance, and many others as a part of this series.
The non-corporate Netratva speaker interaction is hosted by MiiC, under which we were graced by the eclectic presence of Ms. Asavari Moon (Marketing Leader, Loreal Australia|Uber|Nivea), Mr. Deshraj Bhatt, AVP Sales, Tech Mahindra Australia, Ms. Aarti Keshikar, Intercultural Coach & Author, and Mr. Mike Murali, Chief Fun Officer, Capgemini in the academic year of 2020-21. Information about more speakers can be found on the Netrava page.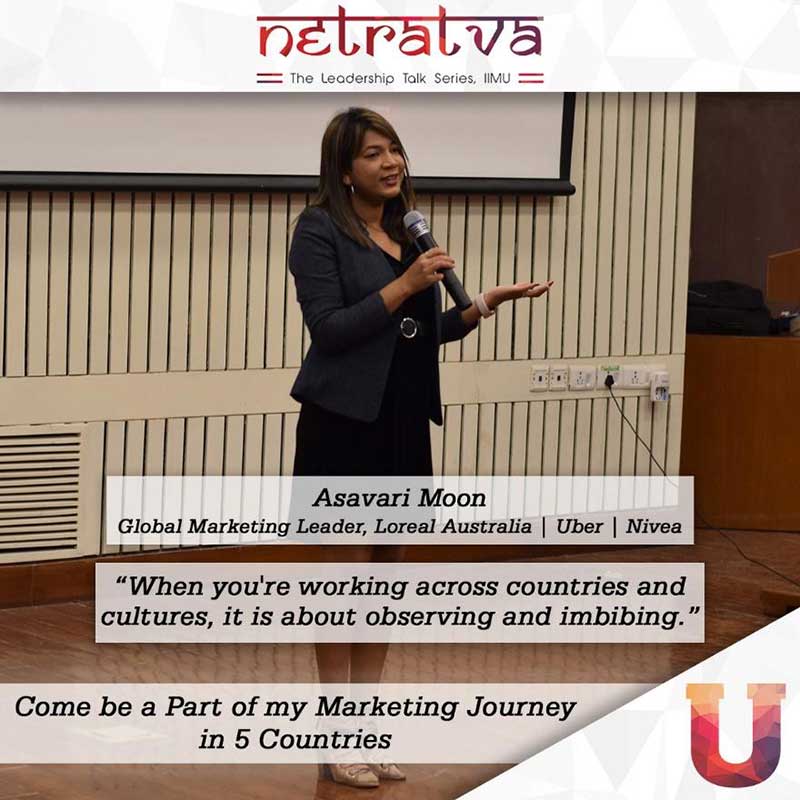 Humans of Balicha
Humans of Balicha is a medium for sharing inspiring stories of courage, indomitable will, and the perseverance of members of the IIMU community. The initiative aims to reflect on the qualities which encourage people to inspire, pursue, and achieve. The stories are shared through social media platforms of the institute on Facebook, Instagram, and Twitter. You can read about many more such interesting Balichans here.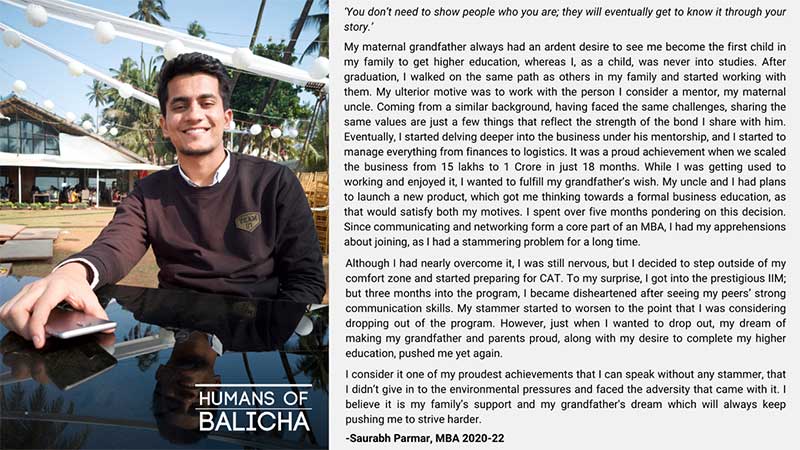 Diversity Video Series
The culture of IIM Udaipur appreciates and preserves all forms of diversity, be it regional, educational, professional, or interest-based. One way of implementing this is through student participation in clubs and interest groups. Further, a video series highlighting this diversity of each incoming batch is released, marking their introduction into the campus. The videos can be viewed on our YouTube channel here.
Utkarsh
IIMU Internship Stories is an effort at recognizing our students' exemplary performance and learning opportunities during their 2-month Summer Internship. As part of the series, which is released on all social media platforms of the institute, internship experience and key learning of several final-year students are shared.