Media and Industry Interaction Cell (MiiC) plays the role of liaison between the Institute and the corporate world. In the management world, it is essential for an institute to be abreast with the happenings and advancements in the industry. The MiiC team strives to meet this need by arranging several events and guest lectures to enhance the interaction of students with corporate leaders. As part of its media activities, MiiC acts as a voice of IIM Udaipur by publishing the activities and happenings in the campus across the media channels and managing the content on the IIM Udaipur website and various social media platforms. It also assists the aspirants by providing suitable guidance and information for their queries during the admission process.
Industry Interaction
MiiC is involved in fostering relationships with corporate leaders from different fields and industry sectors. It is facilitated through the Leadership Summit and ad-hoc workshops. These sessions enable students to interact with and be guided by industry leaders who have excelled in their respective fields. The MiiC team also regularly connects with the speakers to establish long-term relationships with the corporate world.
Social Media Management
MiiC team is responsible for managing the IIM Udaipur website – structuring it, adding relevant content and updating the same with the latest happenings on the campus. It also strives to increase the visibility of IIM Udaipur on various media platforms like Facebook, Twitter, YouTube, Instagram, MBASkool, LinkedIn, PaGalGuY, InsideIIM, MBAUniverse and Career360. The official pages and blogs of Indian Institute of Management Udaipur on Facebook, Twitter, LinkedIn, Instagram and YouTube are administered by the MiiC team.
Engagement with Aspirants
An important duty that MiiC takes on is assisting aspirants during their admission process by providing proper guidance and answering their queries. It is carried out with the help of several IIM Udaipur students through the mentorship program, student-speak & know your faculty initiatives, arranging interactive sessions with the director for the aspirants, city meets through social media platforms.
Media Relationship Management
The MiiC team handles the press releases and media including TV coverage of all the events that take place at IIM Udaipur. It maintains strong relationships with media houses like India Today, Times of India, Economic Times, Business Standard and Hindustan Times. MiiC also collaborates with other clubs and committees of IIM Udaipur during their events and assists them with regards to media relations.
Information Maintenance
MiiC also contributes to the implementation and maintenance of a speaker database with the relevant information of the speakers who have visited the campus.
Workshops
The Cell organises workshops for students to help improve aspects of corporate communications and professional media presence on platforms like LinkedIn.
Leadership Summit
The flagship event of Solaris, the annual management fest of IIM Udaipur, the Leadership Summit is a student-driven initiative which is organized by MiiC. The summit hosts corporate gurus and distinguished leaders from diverse industries and academia. The objective is to gain unique insights from the speakers and to understand the direction in which economies, corporate policymaking, and businesses are heading vis-à-vis globalization and competition. Over the years, numerous eminent dignitaries and industry stalwarts have graced the summit, from whom the IIMU community has gained insightful perspectives on leadership.
The summit has proven to be an exceptional success, with each successive variant further strengthening its brand name and raising the bar. The theme for Solaris 2019 was 'Success through Synergy', and it witnessed charismatic personalities such as Mr. Kunal Jeswani (CEO, Ogilvy India), Lt. Gen Satish Dua, PVSM, UVSM, SM, VSM. (Retd.) (Ex Chief of Integrated Defence Staff), and Mr Sanjog Gupta (Executive Vice President, Star TV Network). To visit the official website of Solaris, click here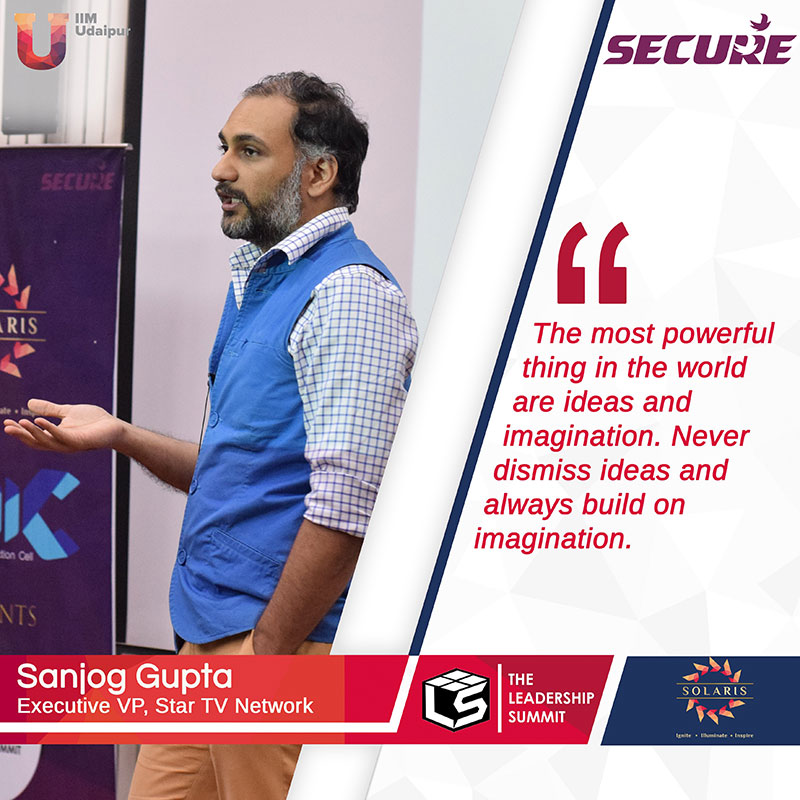 Netratva
Netratva is the leadership talk series of IIM Udaipur which is jointly organized by MiiC and the Placement Committee. This series aims to provide the student community a platform for regular interaction with industry leaders, both corporate and non-corporate, from various organizations and across industries through guest lectures. Netratva over the years has hosted many eminent personalities like Mr. Suresh Narayanan, CMD, Nestle India Ltd; Mr. Harish Bhat, Brand Custodian Tata Sons Ltd., and many others as a part of this series.
The non-corporate Netratva speaker interaction is hosted by MiiC, under which we were graced by the eclectic presence of Ms. Naaz Joshi (Miss World Diversity 2017, 2018, 2019) and Mr. Raj Shamani (Entrepreneur) in the academic year of 2019-20. Information about more speakers can be found on the Netrava page.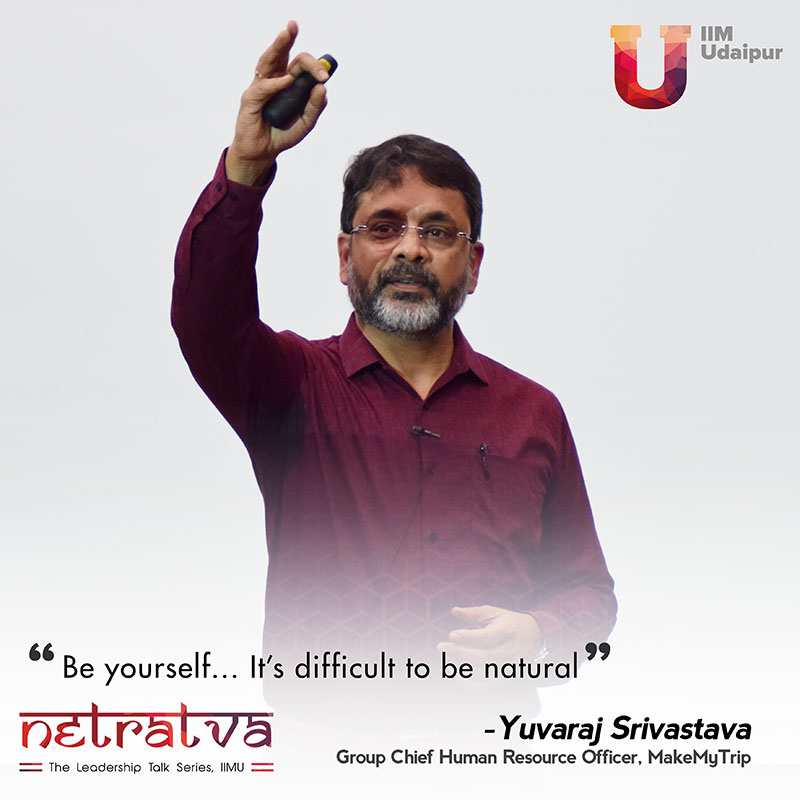 Humans of Balicha
Humans of Balicha is a medium for sharing inspiring stories of courage, indomitable will and persistent efforts of members of the IIMU community. The initiative aims to reflect on the qualities which encourage people to inspire, pursue, and achieve. The stories are shared through social media platforms of the institute on Facebook, Instagram, and Twitter. You can read about many more such interesting Balichans here.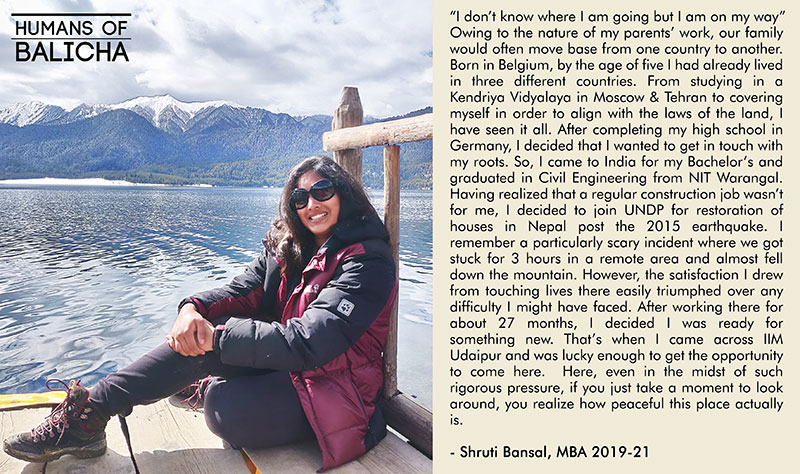 Diversity Video Series
The culture of IIM Udaipur appreciates and preserves all forms of diversity, be it regional, educational, professional, or simply passion. One way of implementing this is through student participation in clubs and interest groups. Further, a video series highlighting this diversity of each incoming batch is released marking their introduction into the campus. The videos can be viewed on our YouTube channel here.
Utkarsh
Utkarsh - IIMU Internship Stories is an effort at recognizing our students' exemplary performance and learning opportunity during their 2-month Summer Internship. As part of the series, which is released on all social media platforms of the institute, internship experience and key learning of a number of final-year students are shared.