Faculty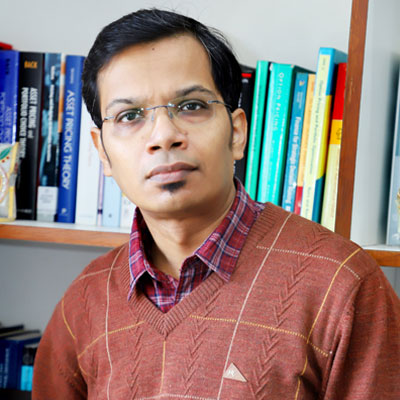 Ph.D.(Economics),Iowa State University, USA, June 2012.
M.S. (Quantitative Economics),Indian Statistical Institute, India, 2002.
Research Interest
Dynamic Decision Making, Public Economics and Applied Mathematical Finance.
Research Paper
Publications:
Das U. and Basu R. (2021). "Approximate confidence intervals for the difference in proportions for partially observed binary data", forthcoming in Statistical Methods in Medical Research.
Subhamoy Ganguly, Ranojoy Basu and Viswanathan Nagarajan. "A binomial decision tree to manage yield-uncertainty in multi‐round academic admissions processes.Naval Research Logistics (2021).https://doi.org/10.1002/nav.22012.
A measure of authorship by publications (with C. Mukherjee et al) Managerial and Decision Economics, 43(1), (2020), 354-361.
Basu R. (2016). Diffusion Approximations for insurance risk processes. Stochastic Models, 32(1), 1-25.
Basu R., and Roitershtein, A.(2013). Divergent perpetuities modulated by regime switches. Stochastic Models, 29(2), 129-148.
Experience
Center for Industrial Research and Service, Iowa State University, Post-Doctoral Assistant -: May 2012-2014.
Conference Presentations
Quantitative Methods in Finance 2018 Conference (QMF), Sydney, Australia, December 11-14, 2018.
40th Stochastic Processes and their Applications conference, SPA-2018, 11-15 June 2018 in Gothenburg, Sweden (Could not Attend).
Quantitative Methods in Finance 2017 Conference (QMF), Sydney, Australia, December 12-15, 2017.
9th Midwest International Economic Development Conference in Minneapolis, April 20 and 21, 2012.
12th Annual conference , The Association of Public Economic Theory, June 2-4, 2011.
Mathematical Association of America (MAA) conference at Coe-College, Cedar Rapids, October 22-23, 2010.
47th Annual Meeting of the Missouri Valley Economic Associations, St. Louis, Missouri, October 28-30, 2010.