ConsultU, the Strategy and Consulting Club of IIM Udaipur, aims to provide students with an exposure to the Consulting domain and the required expertise by closely engaging with the students and industry experts through various activities and undertakings. This is to encourage student interest in consulting and help them better achieve their placement goals.
Live Projects
ConsultU provides students with exposure to real-life problem scenarios being faced by various firms in the industry through Live Projects. While working on live projects, students gain crucial insights which help them understand diverse industries and competitive environments in which firms operate. They also get the knowledge required to guide them in making decisions on their future consulting roles. The club has worked with several prestigious firms to successfully execute Live Projects in the domain of Marketing, Finance, and Analytics. The project duration is decided by the company and can vary from anywhere between a week and three months. Some of the companies which we have worked within the recent past are Gateflix, Lava International and LifeViate Pte Ltd. Following is the process flow that is followed during the project period.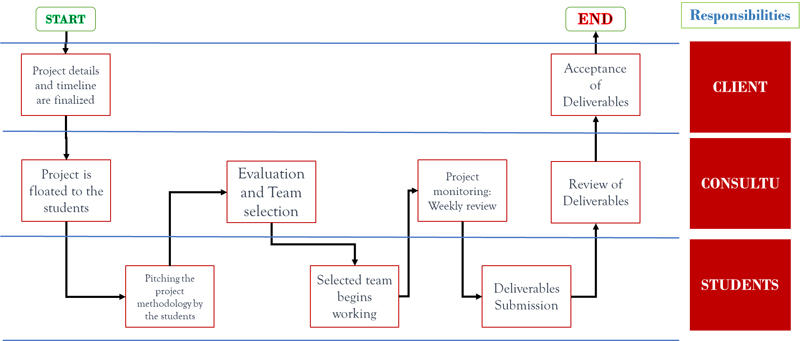 Case study competitions
We at ConsultU believe that the best way to hone consulting skills and techniques is by applying the same in a competitive setting. We organize competitions throughout the year that test students on how effective they are as consultants and provide critical feedback for improvement.
Bullets
In the consulting world, Bullet means presenting a detailed analysis. In this initiative, we post consulting terms, industry analysis, and frameworks used in the corporate world on our Instagram and LinkedIn handle.
Webinars and Speaker Sessions
ConsultU invites industry stalwarts to its summit - Samvadya during Solaris, the annual management fest of IIM Udaipur. Last year we had the honour of hosting top industry leaders, including Mr Ambarish Dasgupta, Senior partner, Intueri Consulting LLP (who interacted via video conferencing), Mr Ramachandran G, Founder – CreaSakti, ex-consultant-World Bank and Mr Manish Godha, CEO and Founder, Advaiya.