Live Projects
ConsultU provides students with exposure to real-life problem scenarios being faced by various firms in the industry through Live Projects. While working on live projects, students gain crucial insights which help them understand diverse industries and competitive environments in which firms operate. They also get the knowledge required to guide them in making decisions on their future consulting roles. The club has worked with several prestigious firms to successfully execute Live Projects in the domain of Marketing, Finance, and Analytics. The project duration is decided by the company and can vary from anywhere between a week and three months. Some of the companies which we have worked within the recent past are Easy to Pitch, Collegedunia, Muthoot Microfin Ltd. Following is the process flow that is followed during the project period.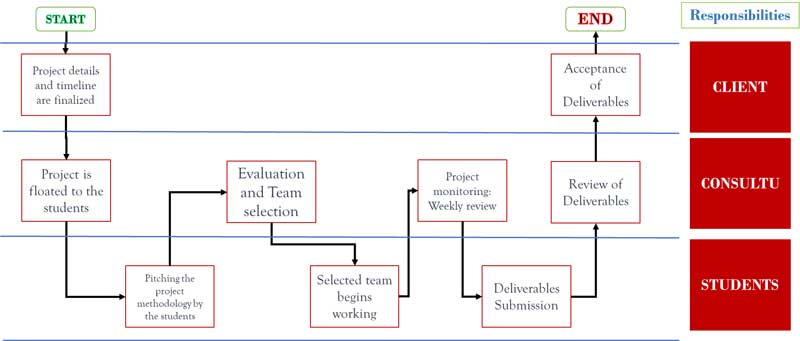 Case study competitions
We at ConsultU believe that the best way to hone consulting skills and techniques is by applying the same in a competitive setting. We organize competitions throughout the year that test students on how effective they are as consultants and provide critical feedback for improvement.
Ingenium and Mantravat
Ingenium and Mantravat are the mind-boggling competitions conducted by ConsultU, the Strategy and Consulting Club of IIM Udaipur, in which students from all over the country participate. This year the competitions included Quizzes, Decision-Making, and Case Studies. For Ingenium, students worked on developing strategies for businesses in the rapidly changing landscape. For Mantravat, students develop strategies for the Pertiwi Foundation that is on the mission to impact the lives of people. These competitions required students to think on their feet and out of the box.
Umbrella Genix workshop
ConsultU has collaborated with Umbrella Genix to make students of IIM Udaipur realize their latent competence and understand what it takes to win National case study competitions and crack their consulting interviews. Umbrella Genix is a firm that provides comprehensive and personalized mentorship to students who want to stand out. We have organized two workshops, the Ultimate Case Competition Certification Program and Consulting Insights Certification Program, where Mr. Shubhrajyoti Bhattacharya has helped bridge the gap that students experienced when faced with case competitions and Consulting Interviews.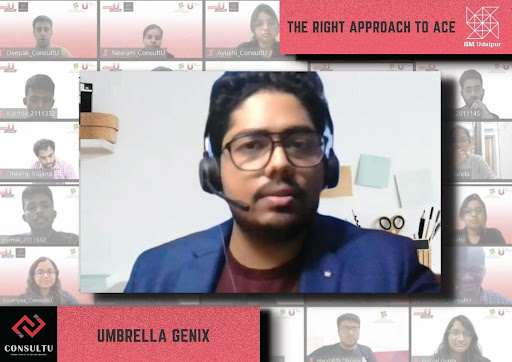 CSRN
ConsultU has associated with CSRN, which works with a global network of leading student consultancies to help secure and scope high-impact management consulting projects with organizations driving social impact in regions impacted by crises. CSRN was profiled by the UK Government as a 'case-study for an outstanding volunteer-led response to COVID-19' and received the High Sheriff Award for the county of Bristol. This collaboration has enabled ConsultU to work with NGOs doing impactful work with the communities to better understand their problems and ambitions.