dHRuva, an acronym for the HR yuva - HR club of IIMU. It was conceptualized and formed with the aim to bring together all the students interested in HR and explore different opportunities in this domain to enhance their interpersonal skills, knowledge and practical experience. As the name suggests dHRuva being the brightest star which enlightens and shows direction, the HR club also is currently doing the same through its strategic objectives:
To enhance the quality of learning by gaining practical exposure through live projects
To keep abreast with the recent happenings in the HR domain
To increase practical knowledge by frequent interaction with the industry experts
To nurture young talent and to guide them to be proficient in HR domain
dHRuva in-line with its objectives hosted a national level HR conclave "Spandan 2017" and has also conducted a quiz competition "HRdiya" and a role play based crisis management "Arohan" in annual management fest Solaris'17.
Spandan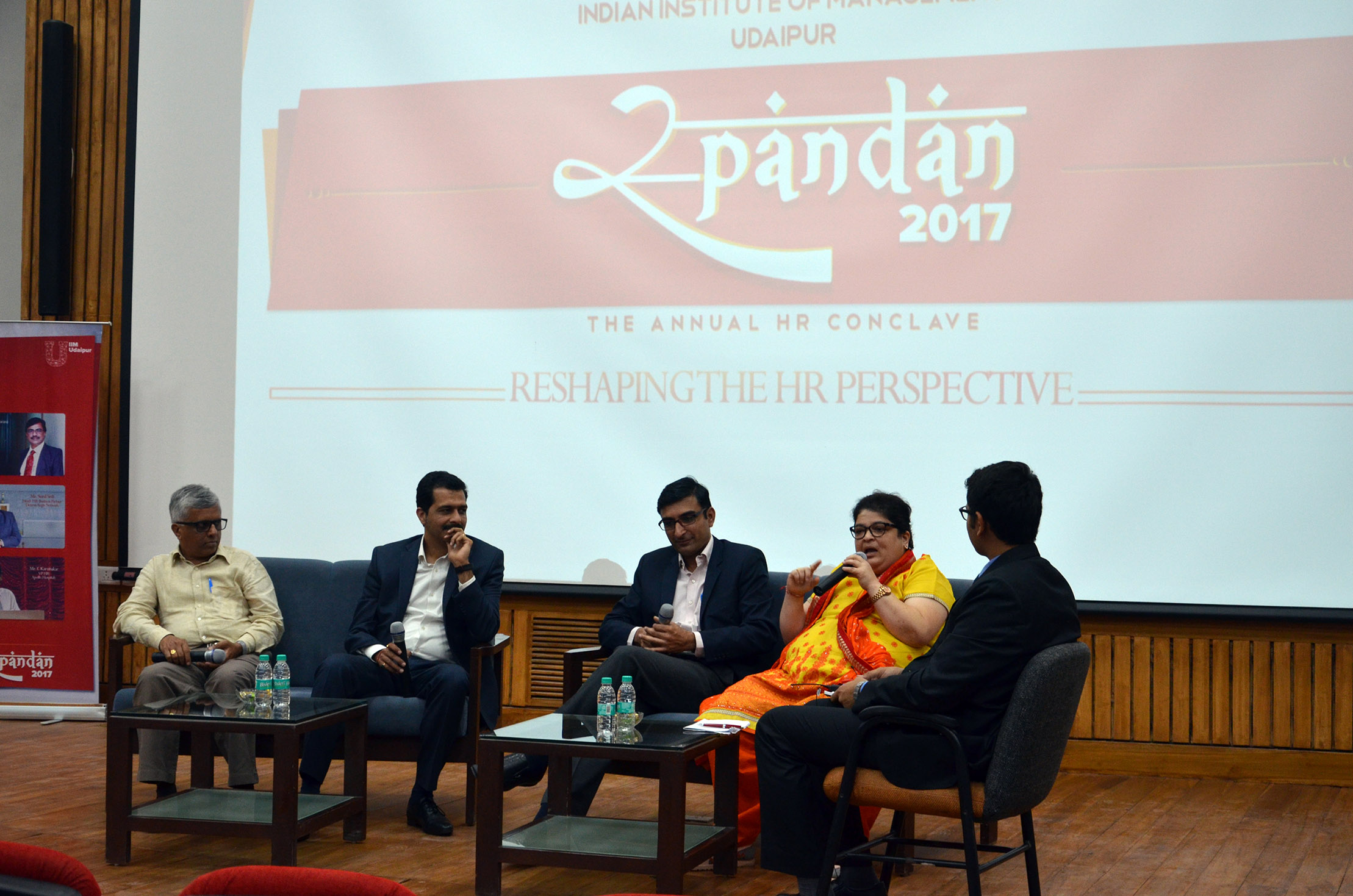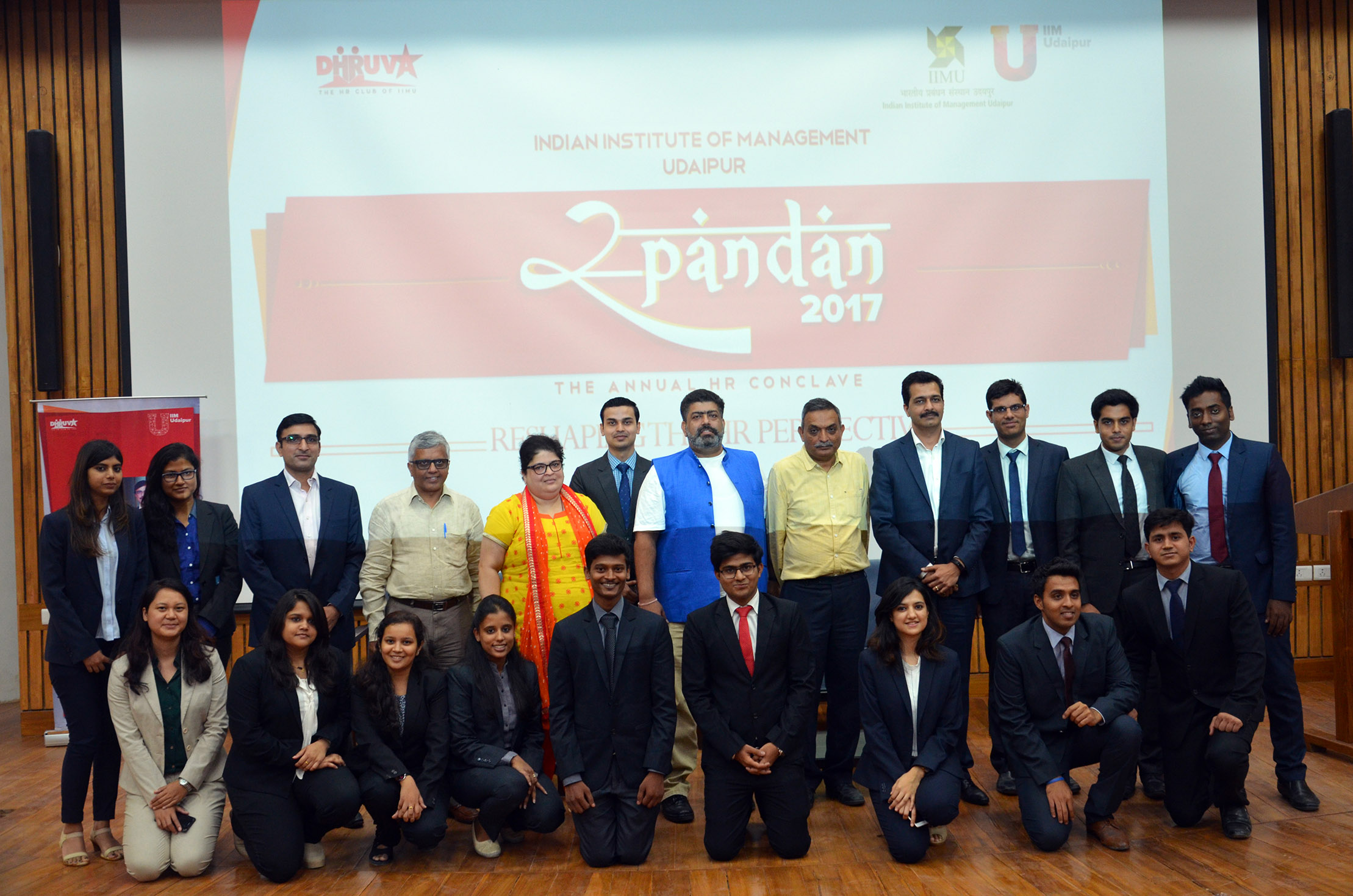 The annual HR conclave of IIMU, the event is a completely student driven activity which aims to bridge the gap between the corporates and academics and to give a common platform where exchange of knowledge and insights is facilitated. In the past the event has been very well received by the IIMU community. The panel from various domains and various industry leaders was an enriching experience for the students of IIM.
HR buzz
HR Buzz is a weekly newsletter from the team to give an insight of various activities in the HR Domain to the students of IIMU. It contains news about recent happenings in the corporate world.
HRidya
dHRuva conducted an event in Solaris 2016 which was a huge success with many participants turning up from different B-schools across the country . The event took place on 3rd, 6th and 9th November, 2016. The event mainly consisted of three rounds. It was conducted for people interested in HR and also to increase awareness of latest news in HR domain. The first round was an online quiz, second round was a crossword puzzle and the third round was a surprise event which was a combination of "connect" images, people etc. All the three rounds were elimination round.
Welcome Kit
The diverse batch of 2016-18 was given a warm welcome to IIM Udaipur by providing them the quintessential 'Survival Kit' – list of contact details for various hospitals, food joints, and modes of transportation, shopping places and places to visit in this beautiful city of lakes.
dHRuva was inaugurated on August 29th, 2013 by Dr. Devi Prasad Shetty at IIMU. Dr. Shetty, an Indian philanthropist and cardiac surgeon and also the founder of one of the India's largest multi-specialty hospital chains. He was the best choice for inaugurating the club as he was able to manage, motivate and retain his doctors and staff for the philanthropic activities with reasonable pay though they can earn much higher pay in the outside world. He is a true manager in every aspect as he possesses not only his domain specific skills but also skills to manage finances, marketing, supply chain requirements, human resources and at the same time undertake philanthropic activities.
The inauguration started off with our Director's note followed by Dr. Shetty's inspirational speech about various aspects of human resource development keeping humanity as a major aspect. The speech was followed by a Q&A session and gifting Dr. ShettydHRuva's memento. The inauguration was attended by students and faculty of IIMU.