Finomina, the finance club of Indian Institute of Management Udaipur, is a student-run initiative that works towards nurturing interest, creating awareness and promoting student-industry interaction in the field of finance. It aims to provide students with insights in different domains of the financial services industry, such as investment banking, equity research, corporate finance, retail banking, and microfinance. Finomina organizes various competitions, workshops, and thought-provoking seminars with distinguished industry leaders as well as academicians from reputed institutions.
Arth-Samvaad: Finance Symposium
One of the most acclaimed annual events of IIM Udaipur, Arth-Samvaad, is the finance symposium that provides students with the opportunity to interact, discuss and analyze the changing trends that affect financial decision-making with industry stalwarts. The session consists of an Interactive Panel Discussion followed by the launch of our annual finance magazine, Arthaarth. The magazine provides a holistic interpretation of recent developments in the field of finance.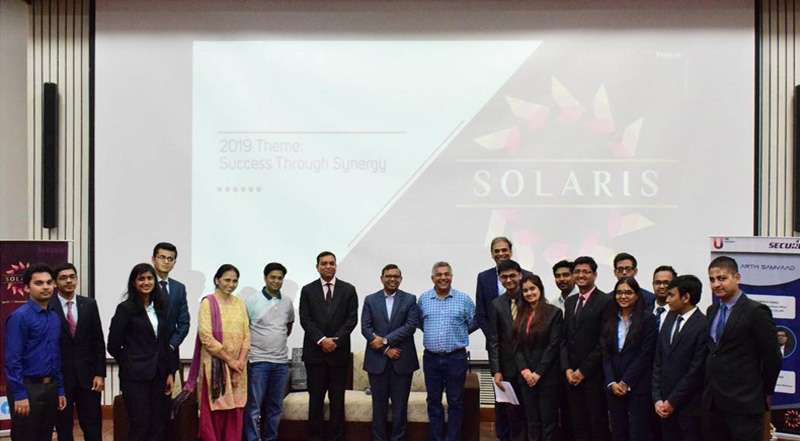 Vitt-Sangram: Case Study Competition
Vitt-Sangram is the annual case study competition conducted as a part of Solaris, the annual management fest of IIM Udaipur. The competition is held in three parts with the first being a quiz conducted across all the B-Schools in India. It encompasses questions from various domains of finance as well as current affairs. The shortlisted students proceed to the next round, which is a Case Study analysis. Five shortlisted teams are invited to the campus to present their analysis in front of esteemed judges.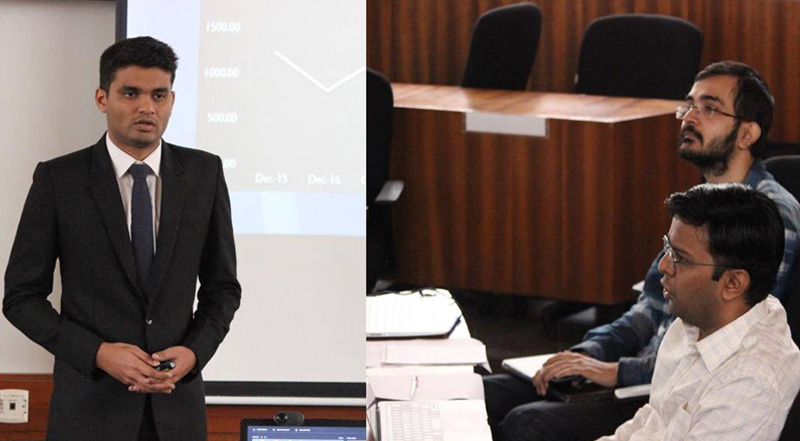 Fin-Talks: Lecture Series
Finomina conducts a series of interactive, thought-provoking lectures delivered by esteemed industry experts and academicians in the field of finance. The sessions have been graced previously by the likes of Prof. Aswath Damodaran (Stern University), Mr Ramesh Venkat (CEO, Reliance Private Equity), Mr Ashish Chauhan (CEO & MD, Bombay Stock Exchange), Mr Gaurav Gupta (MD, Morgan Stanley) to name a few.
Open-Outcry
The intra-institute event, Open- Outcry, provides an excellent platform to students for understanding the basics of commodities trading, through the simulation of an "on-the-floor," OTC stock exchange.
Mock Stock
An annual intra-institute event that helps students grasp the concepts of equity trading based on historical events. It helps the student understand the various factors that affect the stocks.
Inquizitive
A series of quiz competitions are conducted that test the students' knowledge of financial concepts as well as helps them in keeping up with the happenings of the finance world.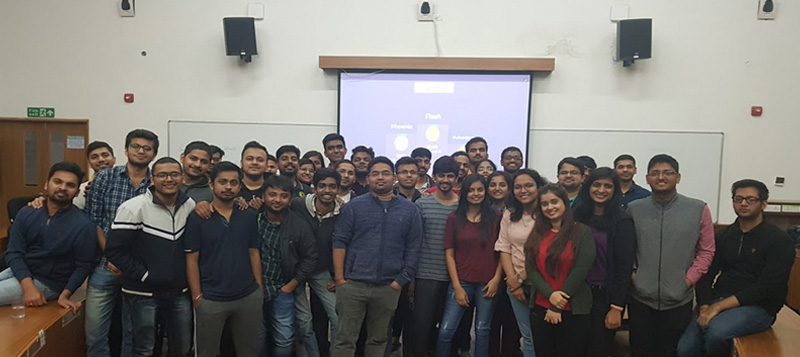 Fin- €lixir
Fin-€lixir is the weekly newsletter of Finomina that aims to create awareness about the significant events in the world of finance and economics. It gives the student an insight into the performance of the stock market, the volatility of gold and exchange rate in the past week and covers the major world events.
Fin_Focus
Fin_Focus is a concept note series that helps the student understand various financial concepts by explaining them in a facile manner.
Mr Maneesh Dangi, ABSL
Mr Dangi is the Co-Chief Investment Officer at Aditya Birla Sun Life Asset Management Company and leads the Fixed Income Investment Unit that is responsible for managing funds such as ABSL Banking and PSU Debt Fund, its Corporate Bond Fund, Credit Risk Fund, and ABSL Dynamic Bond Fund. He joined Aditya Birla Sun Life Asset Management Company in 2006 from Pioneer Investcorp, an integrated financial services company where he led their Fixed Income consultancy and Merchant Banking Division.
Mr Sandeep Upadhyay, MD & CEO, Centrum Infrastructure Advisory Ltd
Mr Sandeep Upadhyay is currently MD & CEO at Centrum Infrastructure Advisory Limited, where he leads a specialized Investment Banking team that is focused on the infrastructure & energy sector. Previously, he was a manager at SBI Capital Markets. He is also an alumnus of XLRI Jamshedpur and has been awarded XLRI Distinguished Alumnus Award for his significant contributions. Mr Upadhyay's exposure includes Advisory, Strategic Debt Restructuring, Insolvency & Bankruptcy process, and Investment Banking.
Mr P. Rakesh, YES Bank
Mr Rakesh is working as the General President, Financial Markets at YES Bank. He has an extensive work experience of 18 years spanning across Investment Advisory and Debt Capital Markets. In his 14-year stint with YES Bank, he has been instrumental in executing fundraising mandates across Corporates, Banks, Financial Institutions and NBFCs. Mr Rakesh is responsible for providing an overall business direction for the Debt Capital Markets group in line with the current economic environment and the Bank's strategy.