A club created with the purpose of grooming marketing talent within the campus and providing a platform to the marketing enthusiasts to showcase their skills. What lies within every MarClanner is the ideology of 'Knowledge Creation & Dissemination'. These ideas are aptly captured in the name of the club, "MarClan"- a clan of marketing devotees. The club is equally committed to helping the student community in each and every field of marketing, be it studies or placements. In doing that, we are not limited to the IIM Udaipur campus, rather our expanse includes colleges and institutes at Pan India level. It strives to motivate and help the student community of IIM Udaipur to participate in marketing events outside campus boundary walls. Marclan's long term vision is to create MarClan as one of the most renowned marketing club of the country.
Samvaah:
Marclan, the marketing club of Indian Institute of Management Udaipur organized its Annual Marketing Conclave - Samvaah on 13th November, 2016 at IIMU Campus. Samvaah was a common platform for students, academia and industry to share their exciting ideas and insights. The topics for Samvaah 2016 were "Marketing Beyond Conventional Strategies" and "The Sway of Brand Communication".
Samvaah was embraced by the presence of eminent personalities: Ms. Manmeet Vohra, Director – Marketing and Category, Starbucks, who guided the audience on how Starbucks built "Brand Loyalty through Social and Digital Platform"; Mr. Vikas Mehta, President, Group Marketing Services, MullenLowe Lintas Group, who talked about "Marketing in the Age of Disruption" and Ms. Suparna Mitra, CMO - Watches and Accessories, Titan Company Limited, who talked to the audience about how "Titan JUXT" came into existence.
The second half of the summit saw industry stalwarts like Mr. Subhranshu Singh, Executive Vice President, Head Marketing - Sports, Star India taking the stage and sharing his experience of facing an extremely uphill task – of making a sport that had been relegated to the verge of oblivion – and transforming it into a million dollar brand- 'Pro Kabaddi' by marketing the three salient factors of the game – the gripping physical action, the "Indian-ness" and the basic rules which are extremely simple to understand. He was supported by Mr. Subhamoy Das, Former Director, International Association of Business Communications (IABC) and Mr. Suraja Kishore, National Head – Planning, McCann Erickson, who talked about why brands need to reinvent themselves, evolve themselves by understanding what the audience wants.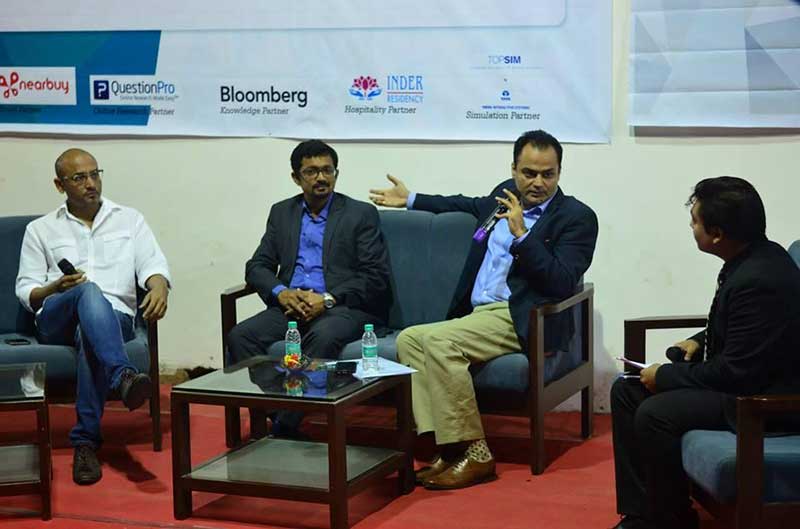 Auctionnaire
Auctionnaire, an unusual bidding game, was conducted by MarClan in Solaris 2017. Students participated in teams of two or three. It consisted of three rounds with eliminations after every round. Round 1 was an online quiz to test the participants' brand knowledge. In Round 2, the teams needed to critically analyse an industry or brand through the lens of marketing and submit a write-up on the same. The shortlisted teams were invited for Round 3 at the IIM Udaipur campus. The final round was a simulation of an auction where participating teams played the role of bidders. Each team was assigned two products and they had to bid for brand ambassadors of their choice. The event was equal parts fun and thrill, where participants had to make decisions under time pressure & stiff competition, putting their marketing and strategic skills to test while posing as a bidder!
MadAd
MadAd was the first event organized by MarClan during Solaris, the annual management fest of IIMU. It consisted of two rounds. In Round 1, a poster was to be created keeping the Rule of Two in mind which stated: take two characters from two different TV series of two different genres. The teams had to link the characters, create a story and work towards promoting it. Teams qualifying to Round 2 had to create (or shoot) an advertisement campaign on any social cause that they deemed fit and run it on social websites. Teams expressed their thoughts on the chosen social cause by either creating a poster or by shooting a small video.
Connaissance
A series of open house sessions is conducted by MarClan on regular basis which is aimed at generating the interest of the batch towards marketing. They are interactive knowledge sharing sessions where new marketing concepts are disseminated as well as the old concepts are also brushed up.