Samvaah
Samvaah is a Marketing Conclave of IIM Udaipur, which is conducted every year as part of Solaris. The event showcases leaders in the Marketing community all over India. Samvaah provides a platform for students to learn about the developments in the field of marketing from industry experts. We give a chance for students to express their thoughts and get opinions from esteemed speakers. It's been a pleasure to organize Samvaah as part of Solaris.
Samvaah 2021 hosted three great marketers Mr. Shardul Bist, Mr. Mukul Varshney, and Mr. Sandeep Shukla, who enlightened the students with their experiences about how they transcended ideologies & broke conventions to create brand value for their customers.
Mr. Shardul Bist (Chief Marketing Officer, Modi Naturals)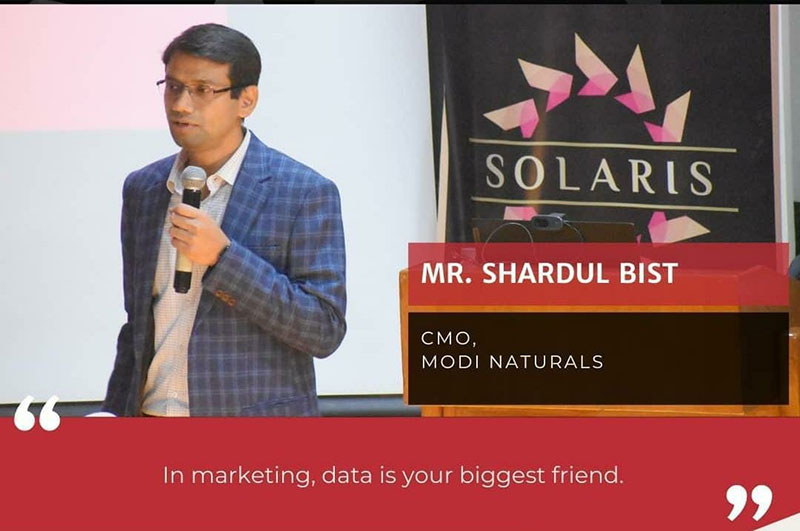 A MICA post-graduate with 13+ years of experience spanning various sectors ranging from FMCG, Food, Fashion, and Brand Consulting. Mr. Shardul is amongst the youngest CMOs in the country and heads a team managing all the consumer brands of one of the fastest-growing FMCG brands in the country, Modi Naturals.
Mr. Mukul Varshney (Director of Corporate Affairs at John Deere)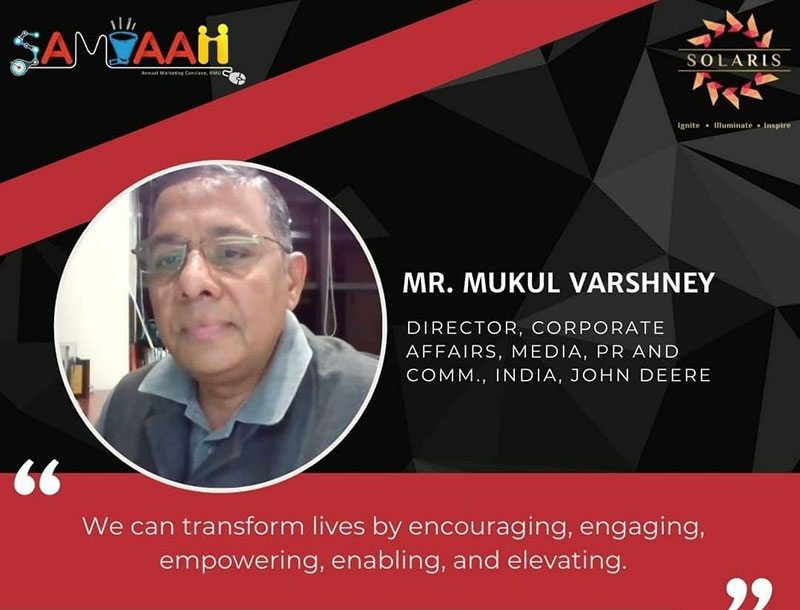 Mr. Varshney leads John Deere's efforts in various capacities as a board, governing council, and executive member on trade and industry association bodies. Varshney brings over 31 years of experience in channel management, strategic and business planning, new business models, sales, human resource process re-engineering, agri-solution, and biofuels management.
Mr. Sandeep Shukla (Head Marketing & Communication – Global Operations, Jaquar Group)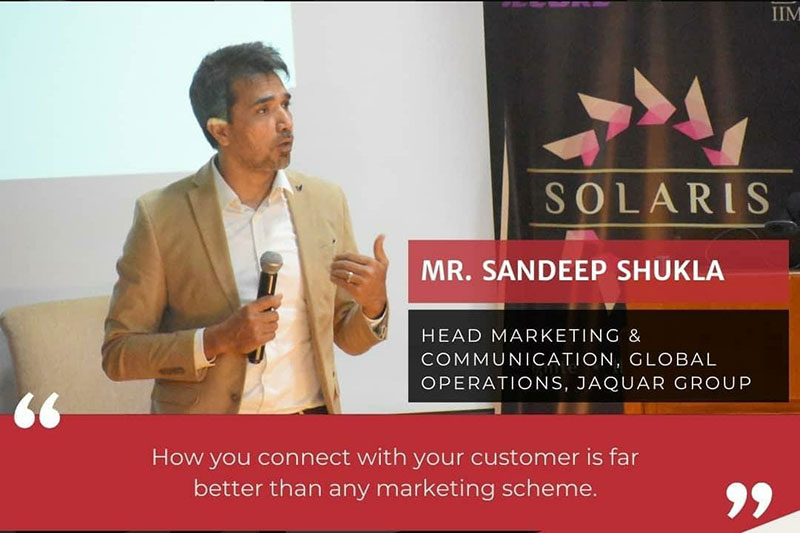 With over 23 years of experience and having worked with the Jaquar group for the last 11 years, Mr. Sandeep has been a crucial player in establishing the Jaquar Group as a leading global brand in the complete bathing and lighting solutions space. Sandeep has a post-graduate degree in business studies, known for his eloquence as a public speaker and progressive thinking on strategic marketing.
Auctionnaire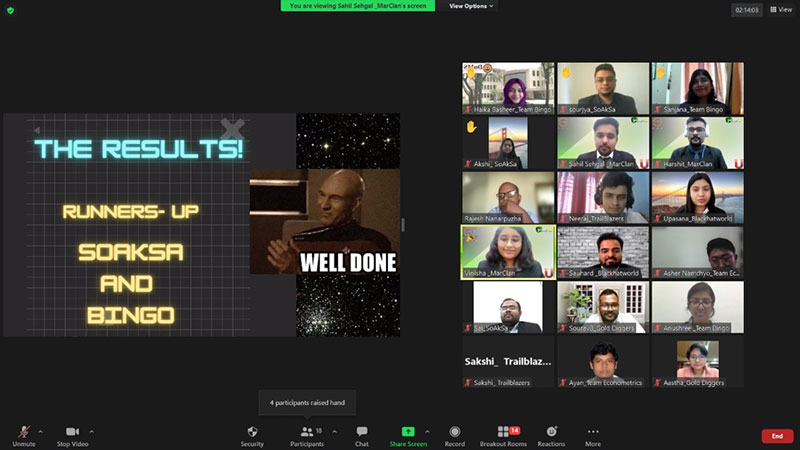 This event was conducted to test the knowledge and understanding of the industry along with a simulation of the real-time auction and the ability to channelize one's bidding for fulfilling a marketing challenge. It was the flagship event of MarClan, the marketing club of IIM Udaipur.
Marcwars
Marc Wars, one of our popular events, is lined up for Solaris by Team MarClan. This event was conducted to test ability to create a promotion strategy for fictional products from your favorite movies, TV shows, video games, and books.
Triathlon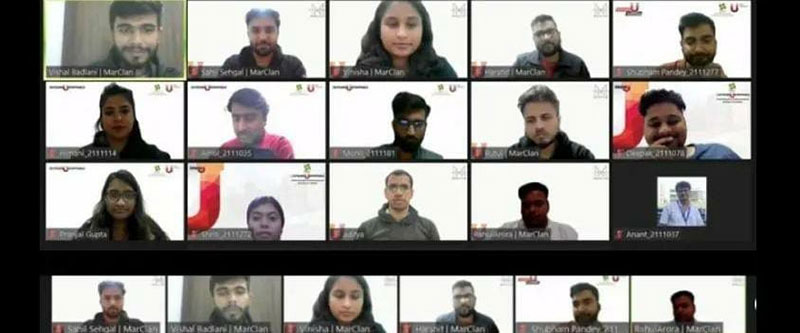 Triathlon is a unique marketing marathon of three unconnected rounds which required participants to think on their feet and come up with creative solutions. The rounds were a step away from normal marketing competition and were connected to our day-to-day life. To be the ultimate champion one needed to conquer all three rounds.
Marc-Ace
Marc-Ace was the intra-college competition conducted by MarClan which consisted of two rounds. The first round tested the brand knowledge of the participants while the second round was Brand Roast, where participants were required to use their humor along with their marketing knowledge.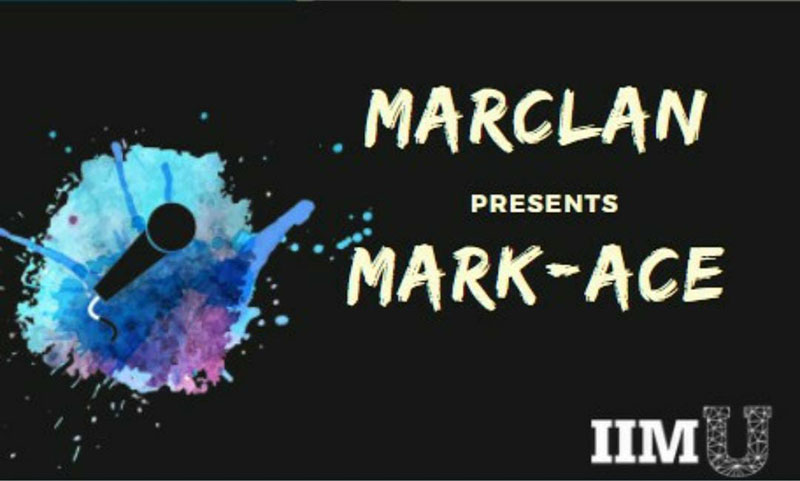 The Team