The objective of LakeSiders, the Sports Committee of Indian Institute of Management Udaipur, is to promote every individuals' health, physical well-being and the acquisition of physical skills among the community of IIM Udaipur. The committee is designed to serve the interests of the student community in competitive sports and other recreational activities i.e. both indoor and outdoor. LakeSiders as a team espouses the value of Ownership, Enthusiasm, Excellence and Team Player. Team LakeSiders ensure that the sporting and fitness culture is an integral part of the curriculum through activities around the year which have been outlined below. The committee aspires to make each sporting event a holistic approach to building qualities such as sportsmanship, team spirit and bonding, and have put in great effort to deliver these.
Sporting Activities
LakeSiders are responsible for various sporting leagues for both outdoor and indoor sports throughout the year such as the Football League, Cricket League, Badminton League, Volleyball League etc. We also work in tandem with other committees such as the Cultural Committee and organize numerous events such as Ground Quidditch, Devil Circuit etc.
Institute Representation
We maintain contacts with various colleges to organize various tournaments and matches. We are responsible for our college's representation at various sporting events such as IIM A's Shaurya, MICA Sports fest and the hard work has seen us put up a splendid show in the previous years and are certain that we can help the college achieve further laurels at such events.
Gymming Activities
We are responsible for supporting Gym related activities which have greatly contributed to the overall fitness of the students of IIM Udaipur community.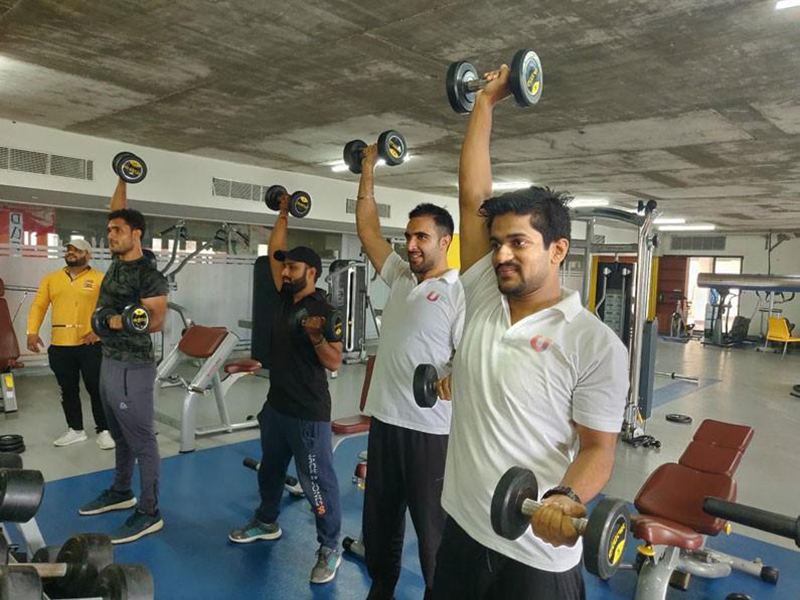 Social Media Management
All the media handles of sports on Instagram and Facebook are managed by the sports committee. We use our social media reach to highlight the vibrant sporting culture of IIM Udaipur for IIMU community as a whole as well as the outside audience who associates with us in promoting sports culture in educational institutes.
Utkrisht
The inaugural edition of Utkrisht –The annual sports festival of IIM Udaipur was organized from 18-20 January 2019. The sports fest was unique in the sense that it had a mix of 9 conventional sports along with 5 Adventure sports and E-games. More information about the fest can be viewed here
After the great success of Utkrisht'19, we have organized the sports fest Utkrisht'20 from 17-19 January 2020. Major highlights of the fest can be viewed here
Udaipur Runs
Udaipur Runs is a promotional event for the Annual Sports fest - Utkrisht held 7 days before the date of sports fest. It was a run organized around the scenic Fatehsagar Lake in three formats - 3 km, 6 km and 8.2 km and saw the participation of more than 1100 people including 200 Jawans. Every year there is a theme for this mega event. The theme of Udaipur Runs v2.0 was to "spread awareness about cancer" and this year the theme was to "Run with Jawans". More information about the run can be viewed here
Udaipur Runs v2.0 https://bit.ly/2ZLOQC4
League Matches
Sports committee, in the past year, has organized various league tournaments of various sports like Football (Football League of Udaipur), Cricket (CLU), Volleyball (VLU) Badminton (Shuttlerz League), Basketball (BLU), Throwball (TLU), Table-Tennis (TTLU). Apart from League matches, we have successfully organized Indoor games such as Carrom and Chess tournaments.
Shuttlerz League (SLU)
Shuttlerz League is the badminton tournament conducted by LakeSiders in the mess area in the year 2018. The tournament was conducted in five formats – Men's Singles, Women's Singles, Men's doubles, Women's doubles and Mixed doubles and span across the whole week. The tournament was a huge success among the community as it saw the participation of more than 150 students
Cricket League of Udaipur (CLU)
The tournament was organized in the year 2020 and was welcomed with great enthusiasm and support from the batches who witnessed some spectacular sporting performances during the event. Teams were formed based on an auctioning process on the lines of the IPL with girls as the team managers and responsible for bidding for CLU. A total of 68 participants were divided into 4 teams - Balicha warriors, Dhaakad Balichans, Runzillas and Udaipur Vikings who battled in league stages to get into the final.
Football League of Udaipur (FLU)
The tournament was organized in the year 2020 right along with the Cricket League of Udaipur(CLU). Teams were formed based on an auctioning process which is similar to CLU'20. A total of 40 participants were divided into 4 teams - Balicha warriors, Dhaakad Balichans, Runzillas and Udaipur Vikings who battled for the winners title.
Aarambh'19
Aarambh was the inaugural sports event of the academic year 2019-20 where the students competed individually for four different sports (Table Tennis, Carroms, Chess and FIFA). It was a great success with over 150 participants who battled for glory.
Campus Run
A campus run was organized by LakeSiders in collaboration with the Admin team and CSA on National Sports Day celebrated every year on the birth Anniversary of hockey wizard Major Dhyan Chand. The run started with a warm-up session by the Gym instructor at Faculty lounge and then flagged off from the Faculty gate and ended at Hostel gate followed by a cool-down exercise in front of Mess. The event saw the participation of more than 60 volunteers comprising the Students, Faculty and Admin team. Post the run, a live telecast of PM Modi addressing the nation on his vision of Fit India Movement was screened inside the mess area.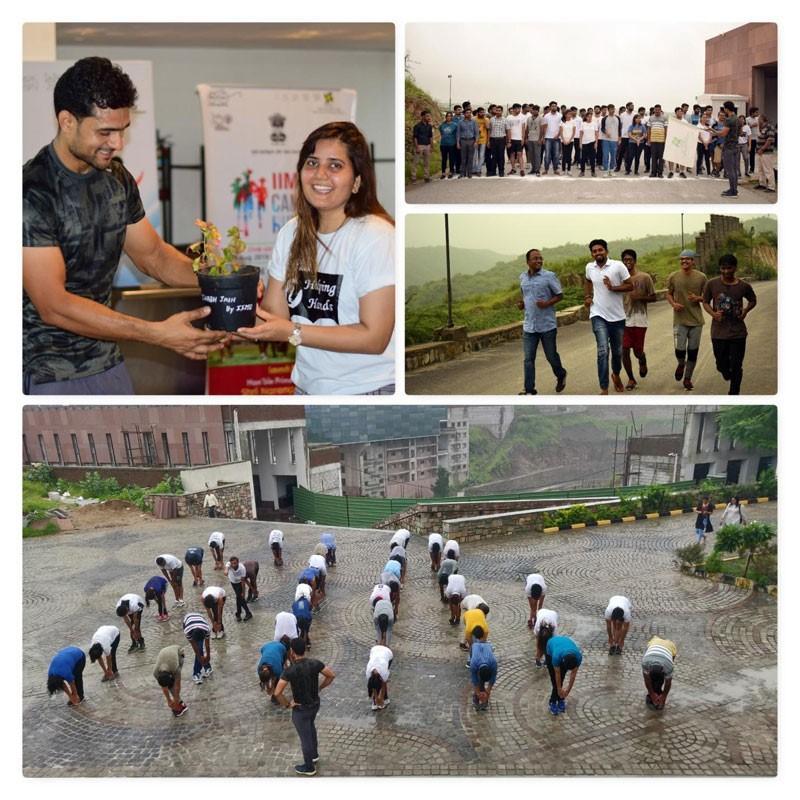 Farewell Series
Farewell series was organized by Team LakeSiders to conduct different sports competitions between MBA1's and MBA2's. The Farewell series has its significance as it is the last event conducted by LakeSiders in the Academic year and it is also the occasion where captains of the respective sports handover the legacy to MBA1's.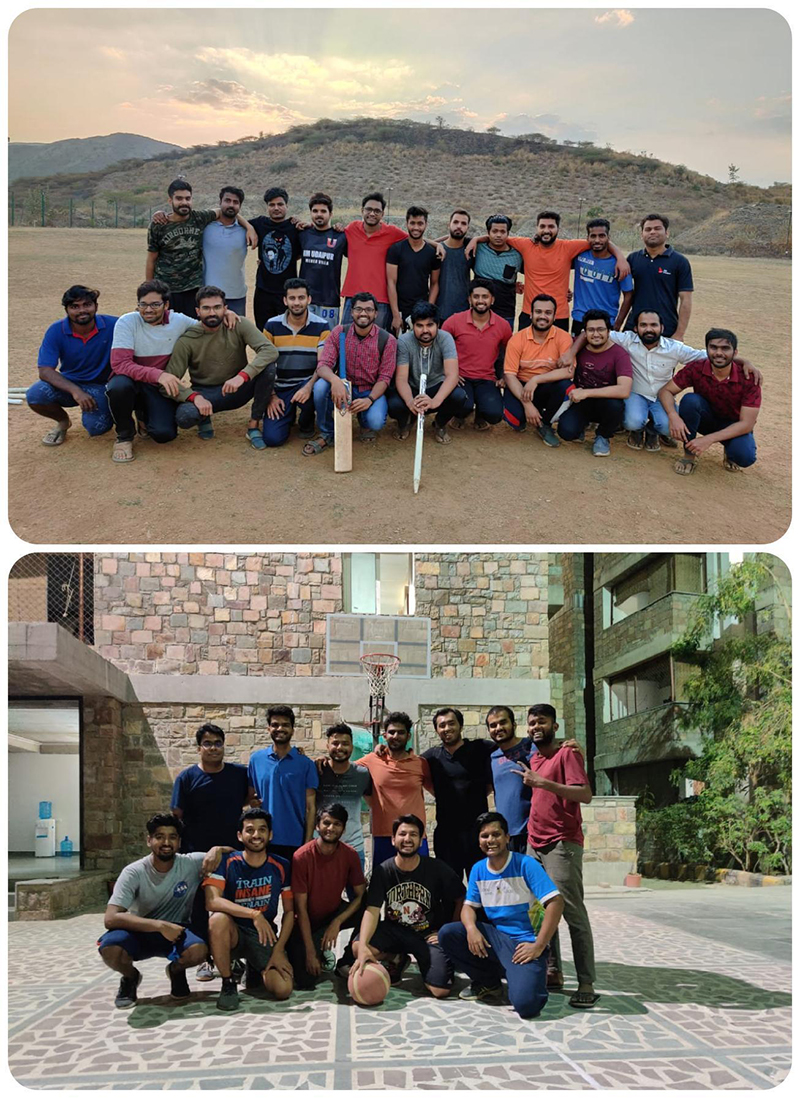 Sports Events in Section Wars
LakeSiders organizes various innovative sports activities during section wars like Devil Circuit, Ground Quidditch, Volleyball and Throwball. Devil Circuit is an intense activity and the flagship product of LakeSiders which judge students on various parameters. In the year 2019, LakeSiders came up with a unique offering of organizing Ground Quidditch at the Football ground. It was a huge success and engaged the audience in a highly competitive battle between the sections.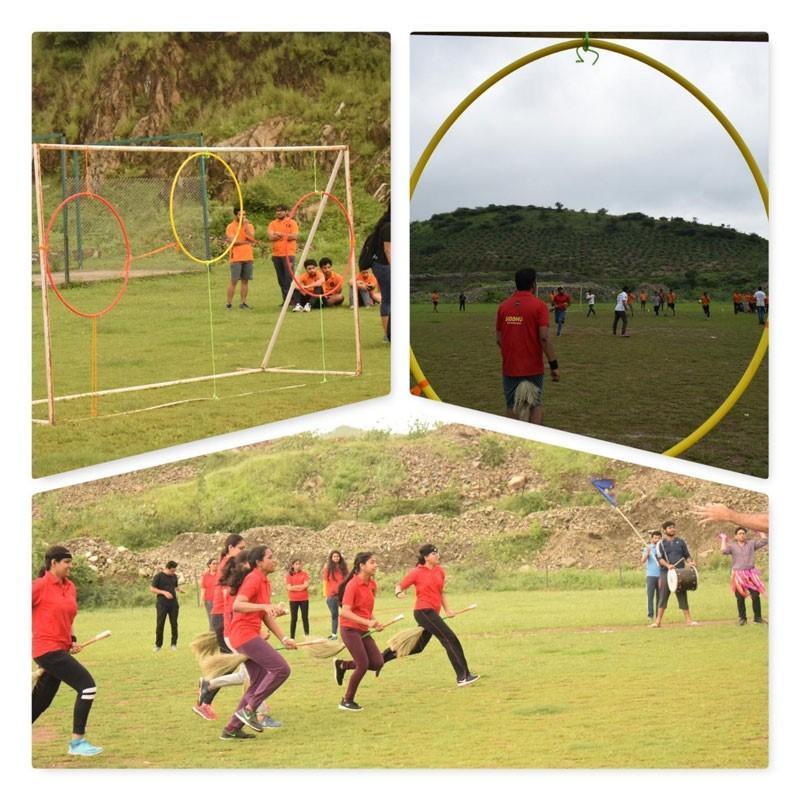 Sports Events in Flashback
Team LakeSiders organizes Football, Volleyball and Cricket matches in Flashback which is the annual Alumni meet. The event sees some high intense clashes between Alums and IIMU students and it also serves as an opportunity to interact and build long-lasting bonding with Alums and seek their guidance on corporate culture and hear inspiring past stories about their life in IIMU.
Charity Matches
As part of the tradition Team LakeSiders organizes charity matches between the Title Sponsors of Utkrisht and IIM Udaipur in different sports such as Cricket, Football and Volleyball. These matches serve as an occasion to interact with corporates and build lasting bonds. The match is also used to highlight the cause of Udaipur Runs.
Past Events
Participation of various teams in SAMAR (MICA sports fest), SHAURYA (IIM-A sports fest) . Our contingent participated in 6 different sports namely Cricket, Football, Table Tennis, Lawn Tennis, Snooker and Volleyball. IIMU won its first- ever gold medal in Shaurya after a magnificent win in Snooker.
INSOMNIA NIGHT (at Audacity)
This was an event which was organized for the ardent fans of FIFA, CS and NFS. It was a huge hit with hundreds of participants from Udaipur and beyond, competing for the honours. The event has been very aptly named as it involves a unique experience of a night-long intense battle among clans and individuals for the ultimate glory. The event also saw participation for games like Neon Bowling.
SNOOKBALL (at Audacity)
A new initiative by LakeSiders which was a huge success at Audacity. The setup was a unique combination of Snooker and Football where the audience witnessed the beautiful game differently. Movement constraints and strict refereeing made it extremely difficult for even the best in the business as the event attracted high participation among students and guests alike.
Handball Tournament
The event was specific to girls and it was conceptualized and executed along with War of the Wings during the calendar year 2016-17. The handball tournament had 3 teams competing with each other with a total of 27 participants.
War of the Wings
It is an intra-hostel cricket tournament which had 9 teams with a total of 63 participants and was played in MDS quadrangle. This was the first event organized by LakeSiders for the calendar year 2016-17. The teams participating were divided into three groups who then had to go through a round-robin phase followed by the knockout phase. A commentary box was set up for the tournament and had mini-contests during matches to keep spectators interested.