'PRAYATNA', the social responsibility club of Indian Institute of Management Udaipur, strives to sensitise the future business leaders of the institute towards social responsibilities. Team Prayatna attempts to bring about momentous changes in the society through interactions at the grassroots level with regards to different sectors including education, healthcare, and environmental care. Prayatna shares the social responsibility with IIM Udaipur community, and further invites everyone to participate actively in all of its events and activities. It works hard to empower underprivileged society and simultaneously adds strength to the IIM Udaipur community by involving them in the decision making.
DAAN UTSAV 2017
Daan Utsav was initiated in 2017 at IIM Udaipur, to be seen as an annual charity event. It was the first event of its kind for the city. A screening of the "Jungle Book" for forty-six underprivileged children was held in the IIM Udaipur campus on 2 nd October 2017, in association with the 'Robin Hood Army'. Wish-trees were placed on the campus to facilitate donation for the children by the IIM Udaipur community. The IIM Udaipur community contributed to the cause in huge numbers, and the event was a huge success.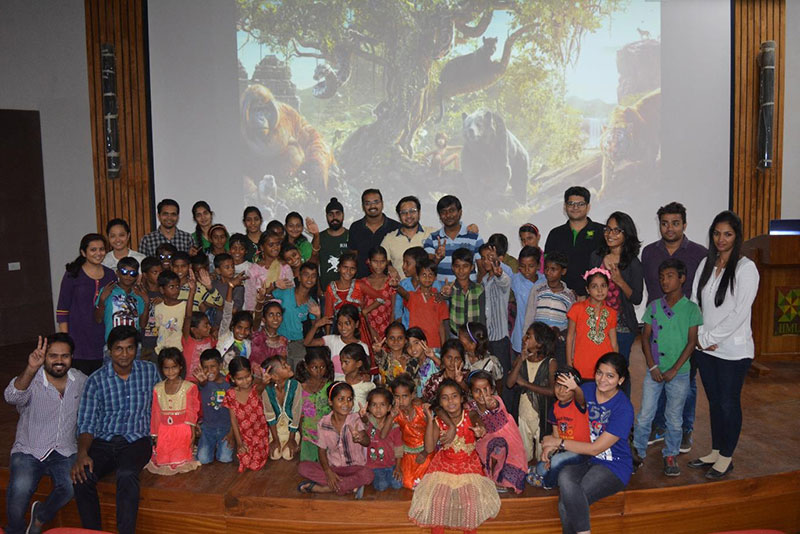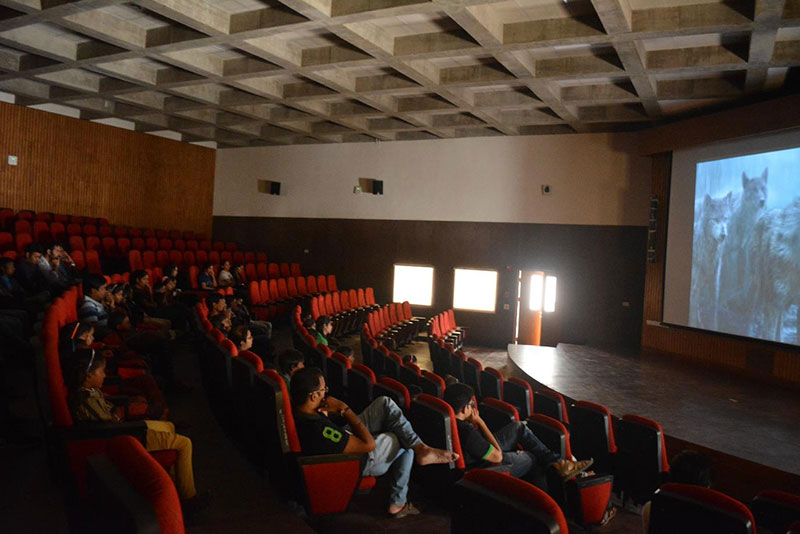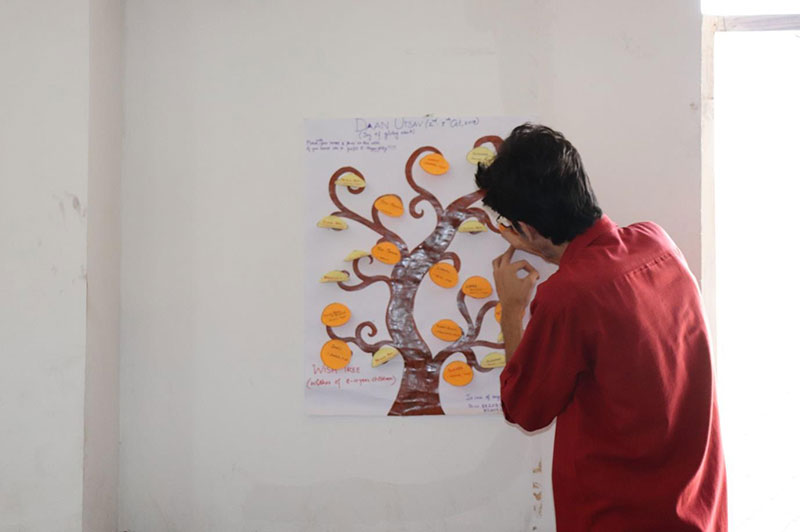 UDAAN
Udaan is a program which tries to help meritorious students who are unable to pursue higher education due to financial constraints. It is a CSR initiative of Terapanth community and TT Textiles. They have collaborated with IIM Udaipur (Prayatna) to build tie-ups with the educational institutions in and around Udaipur, to help them pledge vacant seats from various institutes for this cause. Recognised students can get up to 100% scholarships through this initiative.
Navonmesh
Navonmesh is an initiative taken up by the members of the club to provide education innovatively and intuitively. It aims to broaden the scope of thinking of young minds. It encourages them to ponder and discover reasons which discourages rote learning. The students study in the institute's classrooms. Interactive YouTube videos and the software "Gyantantra" are among the novel methods of teaching adopted. The software "Gyantantra" is voice-interactive software provided to us by Literacy India, an NGO spread across the country. It teaches basics of Mathematics, English, Hindi, Shapes and Colors using the medium of Hindi language. The initiative has been successful in mentoring students from a school where daily activities involve teaching the students of class 6th, 7th and 8th standard. Prayatna plans to expand the initiative to other schools in the region.
Waste Management
Under 'Waste Management', two compost pits have been dug; a Bio-gas plant is planned to be set up to convert waste generated from the student's mess into Biogas. IIMU has now adopted a new initiative wherein proper disposal of waste, especially paper, plastic and metal, is to be done by segregating them into separate bins. Paper recycling technology will be used to recycle and use paper waste, generated by the institute. The team also plans to incentivise the cleaning staff for proper segregation, collection and disposal of waste, and avoid any harmful effects to the environment.
Swar (Audio textbooks for blind school students)
A team from Prayatna Club, IIM Udaipur visited Rajkiya Pragyachakshu Madhyamik Andh Vidyalaya, a blind school in Udaipur that has 94 visually impaired students. Here, students wait for Braille textbooks or constantly depend on another person who can read for them. Prayatna has taken up the initiative to record audio guidebooks that help students to prepare for exams anytime. Students from IIM Udaipur are volunteering for this noble cause, and audio CDs would be donated to the blind school. Prayatna plans to expand Swar to other Blind Schools in Rajasthan.
RTE Initiative
IIM Udaipur is also working in the better policy implementation of RTE Section 12. The members of Prayatna team aspire to support the government initiative by interacting with the key stakeholders like students eligible for primary education. It also works towards creating awareness among the parents, helping them comply with the policy regulations, interacting with school authorities for sharing inclusive practices and gathering relevant information from government authorities. The team also plans to expand the scope of the initiative by understanding and executing the launch of School Management Committee (SMC), a related government initiative, in various schools in the city. The initiative is well supported by the collectorate office in Udaipur District..
BLOOD DONATION CAMP 2017
Blood Donation, one of the prestigious annual events of Prayatna, witnesses huge participation from the whole IIM Udaipur community. Prayatna organised the drive in collaboration with Geetanjali Hospital, Udaipur on 10th September 2017 at IIM Udaipur campus. A total of 75 Students donated blood and made this event a huge success.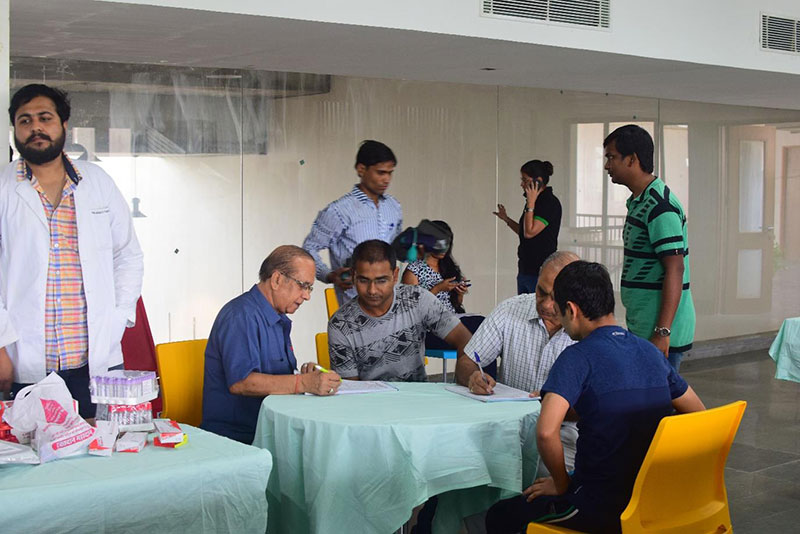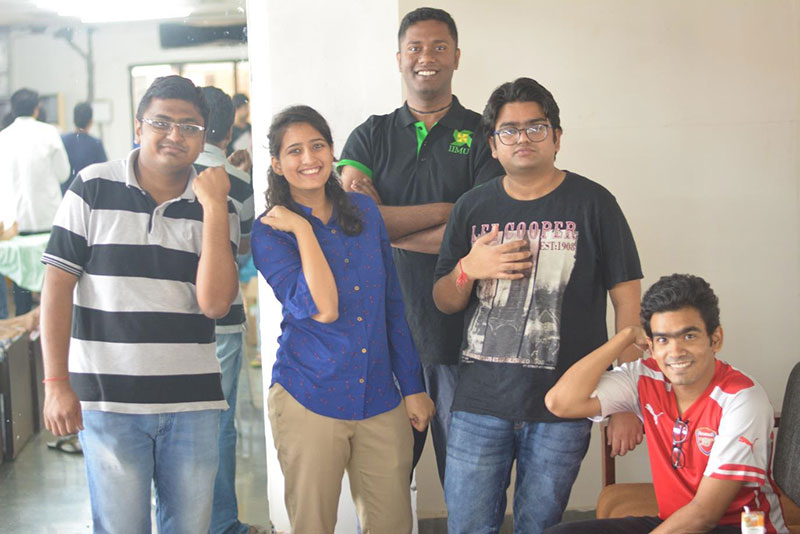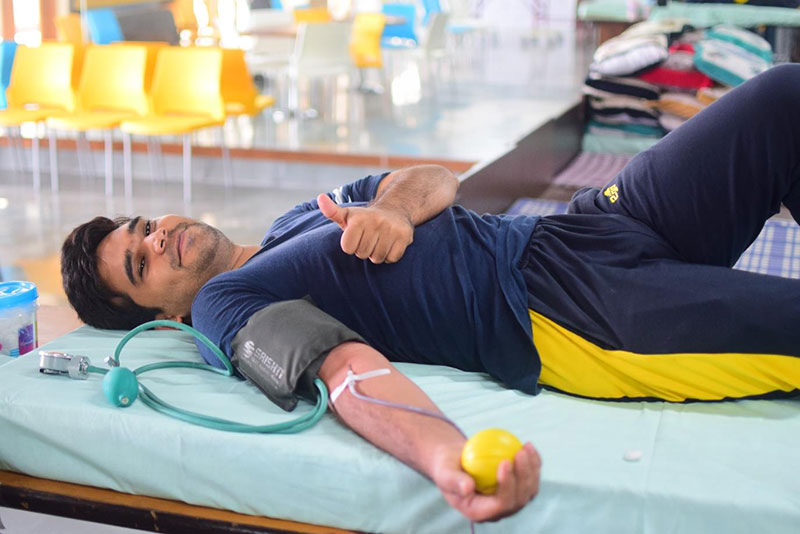 Share Your Joy
Members of the IIM Udaipur family annually visit Jeevan Jyoti Child Home in Udaipur to share a few moments of happiness with the children. Jeevan Jyoti Child Home is a Govt. run boarding school for children belonging to poor families from in and around Udaipur. The day constitutes a fun-filled time with students from IIM Udaipur teaming up with children and conducting various activities like quizzes, sports competitions and games.
Swachh Bharat Abhiyan
IIM Udaipur took part in the Swachh Bharat Abhiyan, launched on 2nd October 2014 by the Prime Minister of India, Shri Narender Modi. The initiative began in 2016 with a talk by one of the professors, who explained the importance of cleanliness and hygiene. In 2017, a green drive was held on campus as part of Swachhta Hi Seva campaign.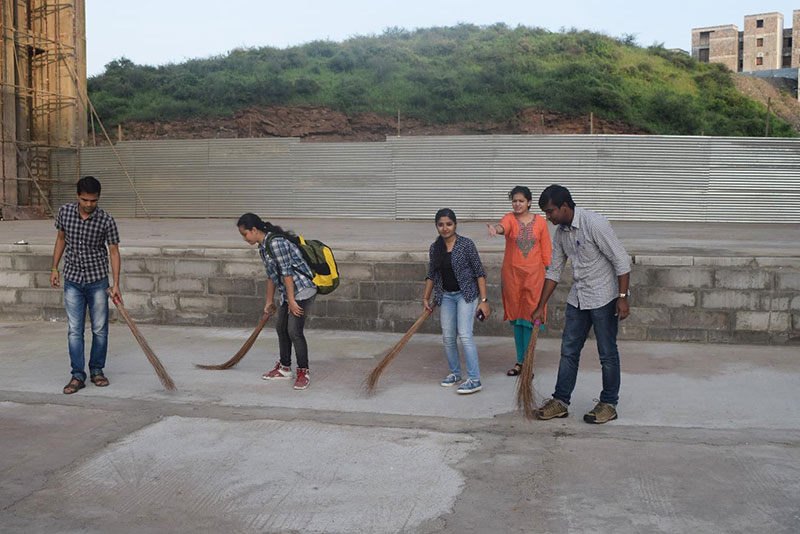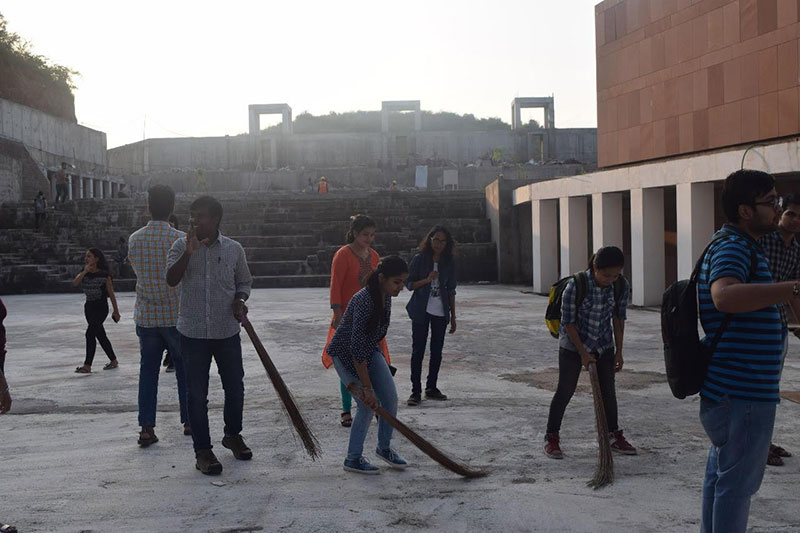 Aspiring Minds
On 11th and 12th November 2017, a leadership workshop entitled "Aspiring Minds" was held for the school students of Udaipur, in association with Secure Meters, as part of Solaris, the management extravaganza of IIM Udaipur. The students were exposed to keynote addresses and panel discussions involving renowned industry leaders, and an engagement session was conducted for the students to help explore career opportunities and inspire them to be great leaders. The students were allotted volunteers from the IIMU student community as mentors, and they'll act as PoCs for the students to guide them whenever they need help throughout the year.
ICICI RSETI
Prayatna, the Social Responsibility Club of IIMU addressed the tailoring and beautician batch of ICICI RSETI on 9th December 2017. We presented on women empowerment, and conducted activities to facilitate the candidates' understanding of problem solving and decision making.The team educated them about various government schemes and types of savings and motivated them to learn, work and be independent.
Paricharcha
To connect with the local community, Prayatna organised 'Paricharcha', an inter-school debate competition in January 2017, as a part of the cultural fest - Audacity. It is done in collaboration with Silvertongues, the public speaking club of IIM Udaipur. This event aims to unravel the enigmas by debating the issues and finding relevant solutions to problems prevalent in the country.
Teaching Initiative
Prayatna undertook a teaching initiative at Jeevan Jyoti Child Home, located in the Sukher area of Udaipur. As a part of this, our students tutored the students studying in classes IX and X in the Child Home. The event witnessed students from the IIM Udaipur community turning out in good numbers and mentoring the students.
Best-out- of-Waste
As a part of Audacity - the cultural fest of IIM Udaipur, Prayatna organised a Best-out- of- Waste competition for the visitors. The participants were given objects like empty cool drink cans, cardboards etc. and were asked to build anything useful.