Unravel
Unravel, held in August 2021, was an analytics-based treasure hunt event that tested participants on the basis of their analytical concepts and Excel skills. Participants were subject to 5 analytical problems as part of the competition. There were participants from the batch of MBA 2020-22, MBA 2021-23, MBA DEM 2021-22, and MBA GSCM 2021-22.
Digital-U Summit
The summit was aimed to enable students with a perspective of business challenges on account of data and technologies influencing management decisions and business processes and the skills that management students must equip themselves with. The esteemed panel for the discussion was Mr. Ganesan Ramachandran (Accenture), Mr. Harishankar (Unilever), Mr. Kamesh Mullapudi (Deloitte), Mr. Pranay Chulet (Quikr), Mr. Hitesh Oberoi (InfoEdge), Mr. Sreejit Roy(IBM).
Mind-Wizz and Brain Games
As a part of Solaris'21, the annual management fest of IIM Udaipur, we conducted two inter-college competitions. Mind-Wizz was an analytics-based business case competition. Our second event, Brain Games, was online analytics and aptitude-based quiz. The enthusiastic participation from B-schools across the country was genuinely encouraging, and in fact, the participation numbers surpassed those of all previous editions.
Anveshan
The Analytics Summit held during Solaris'21 was conducted successfully, with two speakers joining us in person and one speaker joining us online. The theme for the summit was 'Synergizing Technologies for Rebuilding Tomorrow'. Eminent leaders from Dell Technologies, Zee Entertainment and Aegon Life attended the summit and shared their diverse experiences with the student community.

Our unique association with the students from the newly introduced Digital Enterprise Management Program has strengthened our commitment to foster the analytics culture in the IIM Udaipur community. We will strive to add value to the community through our new initiatives and ensure a continual learning process.
Cross-Tech
Cross-Tech was an analytics and aptitude-based crossword game organized in the online mode with the winners being the participants able to complete the crossword at the minimum possible time. The event was open to all MBA1 & MBA 2 students. The registration window started on 20th Jan 2022 and ended on 24th Jan 2022, 5 PM. The participants can register in groups of 1-2 members. The competition saw a total of 55 Team registrations, consisting of around 70+ participants.
TechnoQuiz
TechnoQuiz, held in Feb'21, was an IT and analytics-based quiz for the students of IIM Udaipur. There were participants from the batch of MBA 2019, MBA 2020, MBA DEM 2020, and MBA GSCM 2020. Participants were tested based on their analytical concepts and their ability to interpret the technical terms based on the pictures provided.
Quiz-A-Thon
Quiz-A-Thon, held in Oct'2019, was an analytics-based quiz series event that tested participants based on their analytical concepts. It was held across six rounds where both the PGP-1 and PGP-2 students from IIM Udaipur participated. The series consisted of 6 quizzes based on various analytics concepts for which study material was shared the previous evening. Each quiz had ten questions that tested the analytics concepts of the participants.
War of Clans
Techanalytics, in collaboration with Marclan, the Marketing Club of IIM Udaipur, conducted the first edition of "War of Clans" in March 2019.
It was a memorable event where all students got to wear their section colours and bat for their team one last time across three rounds. The final battle was held at the auditorium, where 15 participants from each section participated in the event. All the rounds involved questions from the marketing and analytics domain.
After the thrilling competition, Section A emerged as the winner.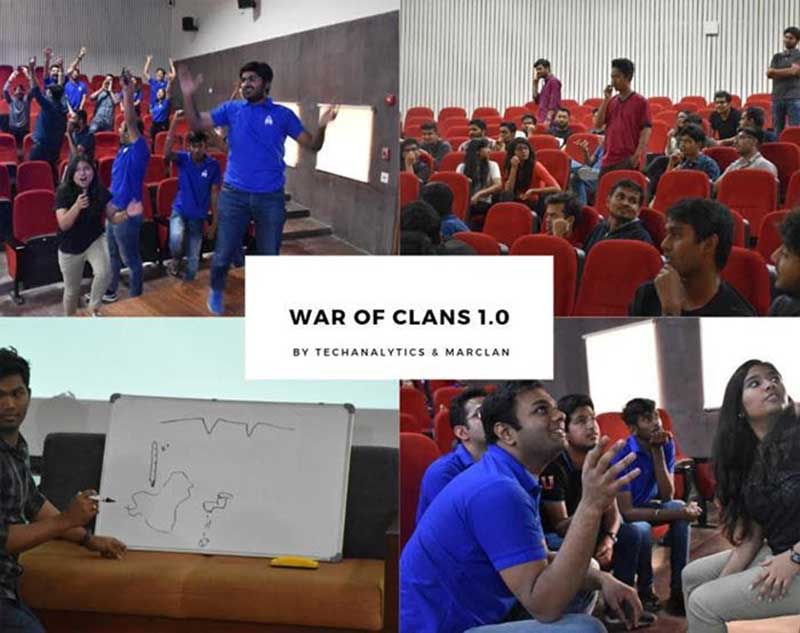 SPSS Workshop
A case-based workshop on SPSS statistical tool was organized to help the students get a hands-on understanding of the application of the tool, which would be helpful to them during summer internships.
R Workshop
In this workshop, students can get hands-on R software where they could learn to create predictive models using data. This can be helpful to students during their summer internships, where they might have to apply analytics concepts using R.
Python Workshop
We are aware that Python is a valuable part of the data analyst's toolbox. Having gauged the interest of the student community to learn about Python, we organized a workshop on Python programming language for beginners.